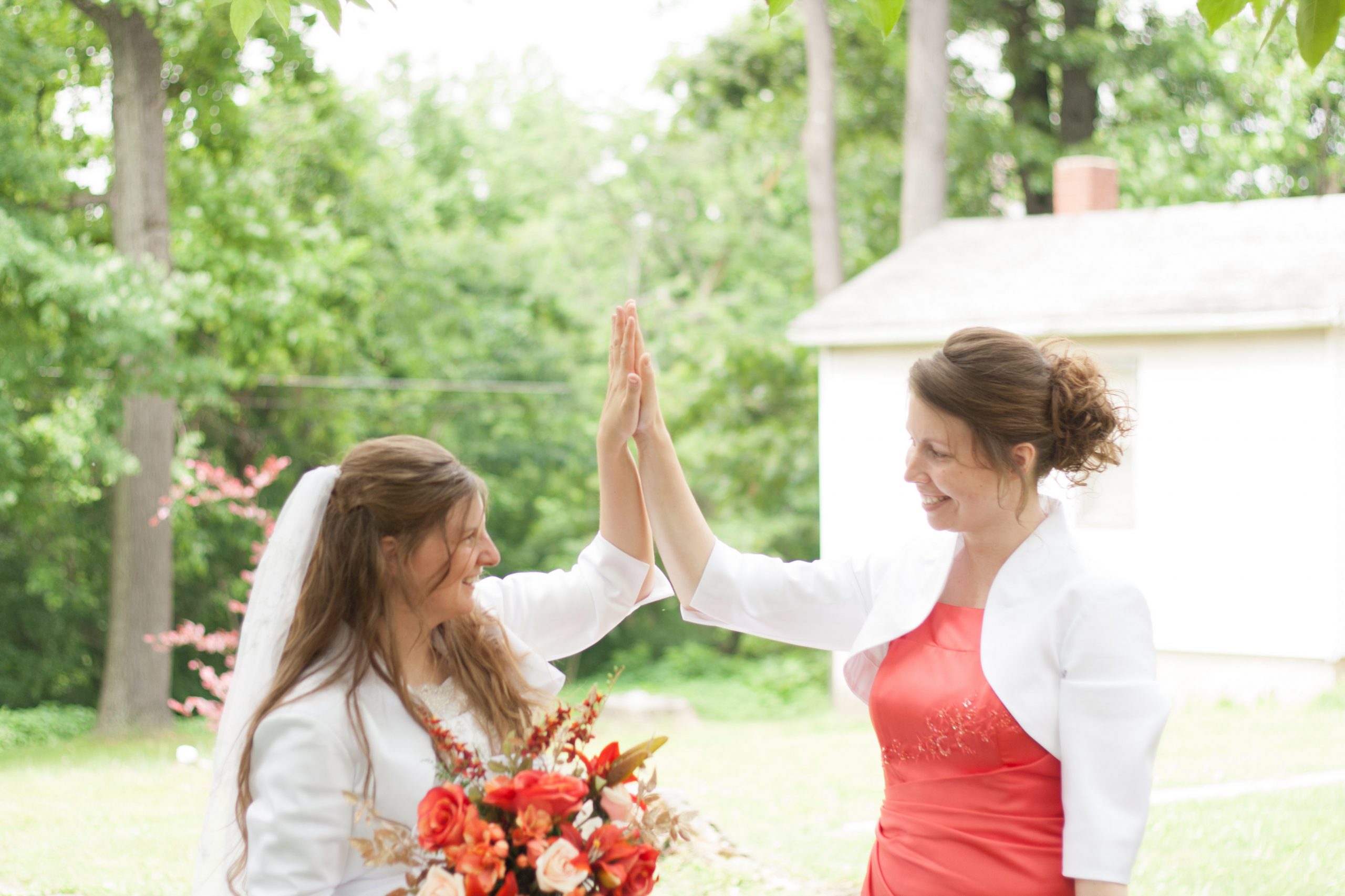 Wedding Details – 5 Things I'm Glad I Changed Last Minute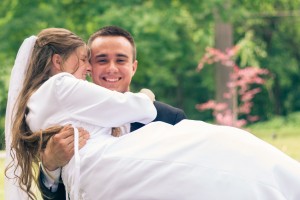 You know how they say every girl has been planning their wedding from the time they were little? Well… not me. I may have occasionally thought about who my bridesmaids would be, or how many I would have or what colors I wanted, but, other than that… it was the farthest thing from my mind.  But, when Mark asked me to marry him and I began planning in full force… it was
SO FUN.
The majority of the wedding was DIY since I like to be creative. We pulled it off on a minimal budget (less than $1000) and I do not feel in any way that our wedding was less than what I wanted. It was PERFECT, even with its little hiccups and hitches.
As fun as the entire process was however, there came that"crunch time" where the final days bring out the opinions and bossiness of the most random people. In those final days I felt pressure like I had never experienced. Every time I turned around, it seemed like someone was trying to get me to change the wedding of my dreams to the wedding of their dreams. I heard all of the critiques from "This is a formal occasion and you need to do it this way" to "Nobody does that at their wedding- you shouldn't do that."
The truth is I did NOT want a "cookie-cutter wedding". 
I did not want the boring, generic guestbook or meal or cake that went to waste. I wanted our day to be special, to reflect who we are and where we come from and Who we serve, so in a very passive, gentle way, I stood my ground for many details and I'm glad I did.
There were some things though, that I heard people out on, and I did modify at the last minute when the importance of them sunk in.
5 things I'm glad I changed in those final hours:
1.  Proper Wedding March Music
I absolutely detest the stuffy boring wedding march, and I did NOT want to walk down the aisle to it. I planned instead to walk down the aisle to a song with lyrics that "kind of, sort of" meant something to me. Two days before the wedding though, I did a search for wedding marches online and discovered that there are BEAUTIFUL and more modern versions of the wedding march. I am SO GLAD I changed this because it felt ABSOLUTELY MAGICAL to come in to this music and walk down with it playing. Now, every time I here it I get butterflies all over again. Here is the music I chose.
Embed Music Files – Share Audio – Bridal March Extended
2.  An aisle runner
I didn't want one because it felt vain and conceited to me have a carpet rolled out before me, a simple person. All I could think was, "I'm not royalty- I'm just me." The thing that changed my mind? It wasn't a "Bridezilla Moment" where I suddenly decided I should be treated like a princess. It was what my Pastor said about marriage and how it was intended to resemble the relationship between Christ and the church, and that when the "bride" (the church) was presented to Christ, it would be done gloriously. I was told, "for this occasion, you have to forget you are 'Becky' and realize you are a BRIDE, you are presenting yourself to your husband in the most sacred, special way, you are pure and undefiled, and this is THE MOST SPECIAL MOMENT of your lives for you two. Embrace that, and be a bride." When I realized just how special and sacred and once in a lifetime this moment would be, I decided he was right. While I was walking down the aisle, my mind was not only on my soon-to-be-husband standing at the end. It was on my Savior and how gloriously He has redeemed us by His grace, and how one day, my husband and I together, will present ourselves to Christ as part of that glorious church that He has made "without spot or wrinkle".
I asked my brothers to roll it out, and it was probably one of the most humbling things I've ever experienced to watch them roll out this carpet before me, their little sister. But… as a bonus I never would have gotten a picture like this without an aisle runner and a minor fluke. 🙂 Priceless!  (Love her!)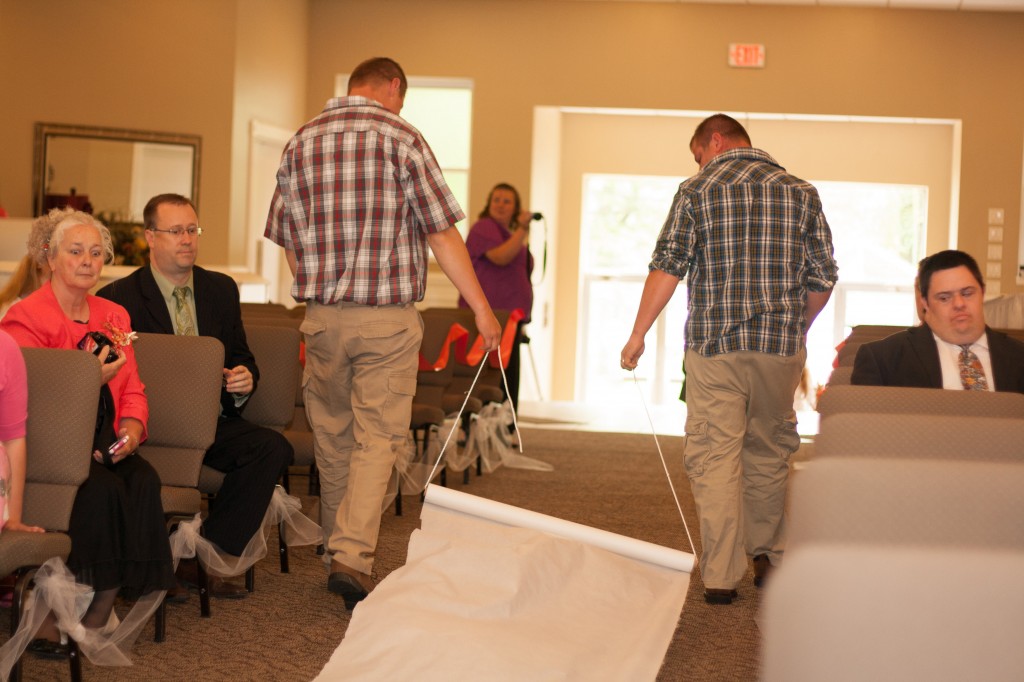 3. Multiple Videographers & Photographers
We didn't pay to have professionals come do our pictures and video (obviously- it would have absorbed our entire budget) BUT, I do have several friends and family members that are great with their cameras. I initially had one good friend that I knew would do a great job for the photographer, and then another friend videoing from my cell phone so distant relatives could watch a live broadcast online, but at the last minute, I sent word to two other guests with videoing capability on their cameras asking if they would mind taking video, and not to worry about moving around during the ceremony. I was SO glad that person helped us out because the live stream broadcast turned out pixelated, and the "last minute videographers" video quality was SUPERB. I cannot imagine not having those videos to watch and cherish for the rest of our lives. They make my heart melt all over again every time I see them. As for multiple photographers, the various perspectives, and locations at the same point in time was great. I couldn't be omnipresent, but they did a pretty good job of being so with their lenses. And what one missed with their camera, another got with theirs. Every precious moment was captured and I will forever be grateful to those people.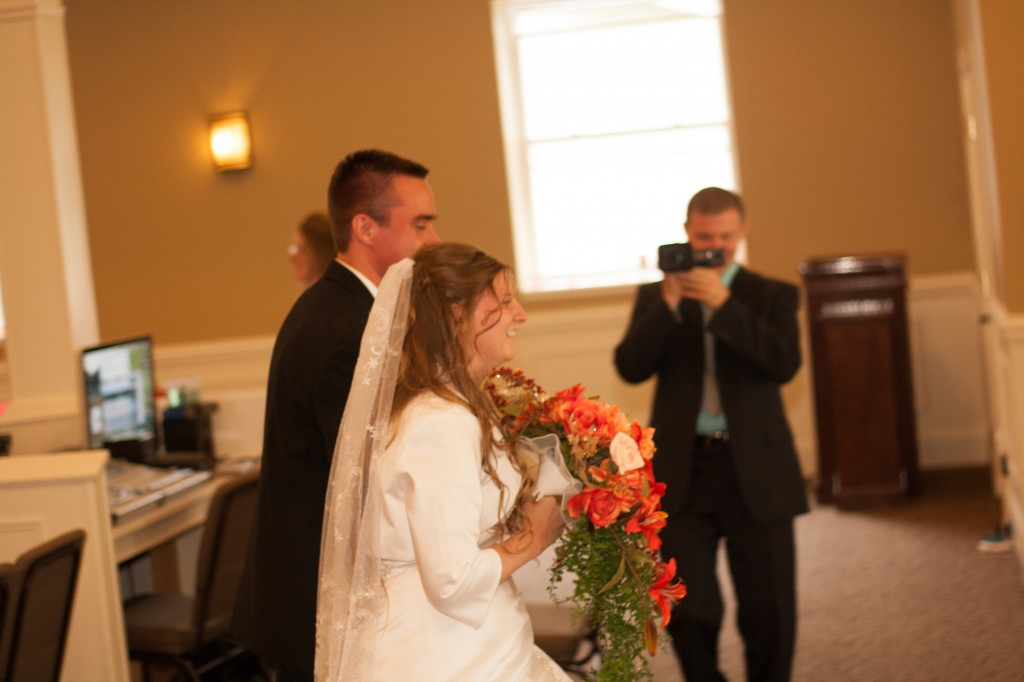 4.  A 12-hours-to-event dress alteration
We believe in being modest around here, so I was going to pin some white silk at the top of my dress to raise the neckline. With all the gorgeous beading it looked kind of… out of place, but, I was never so fussy that this bothered me. One of my Matron's of Honor though thought the beautiful dress deserved better and came to the rescue. She took a piece of beaded material from a hidden location on the dress and sewed it to the top. Gorgeous and modest and very last minute!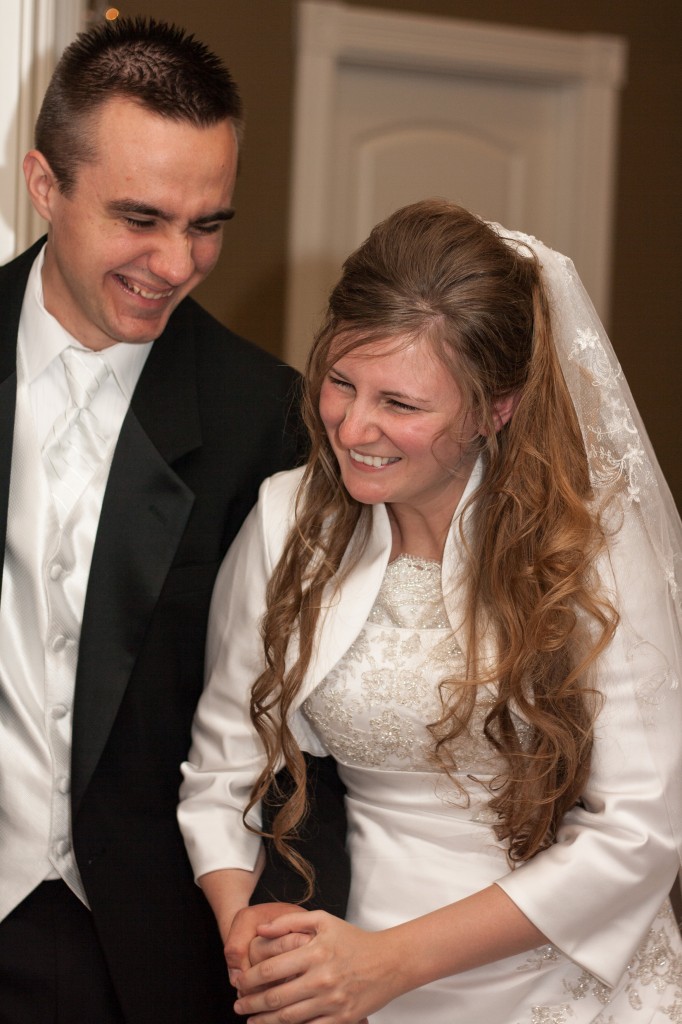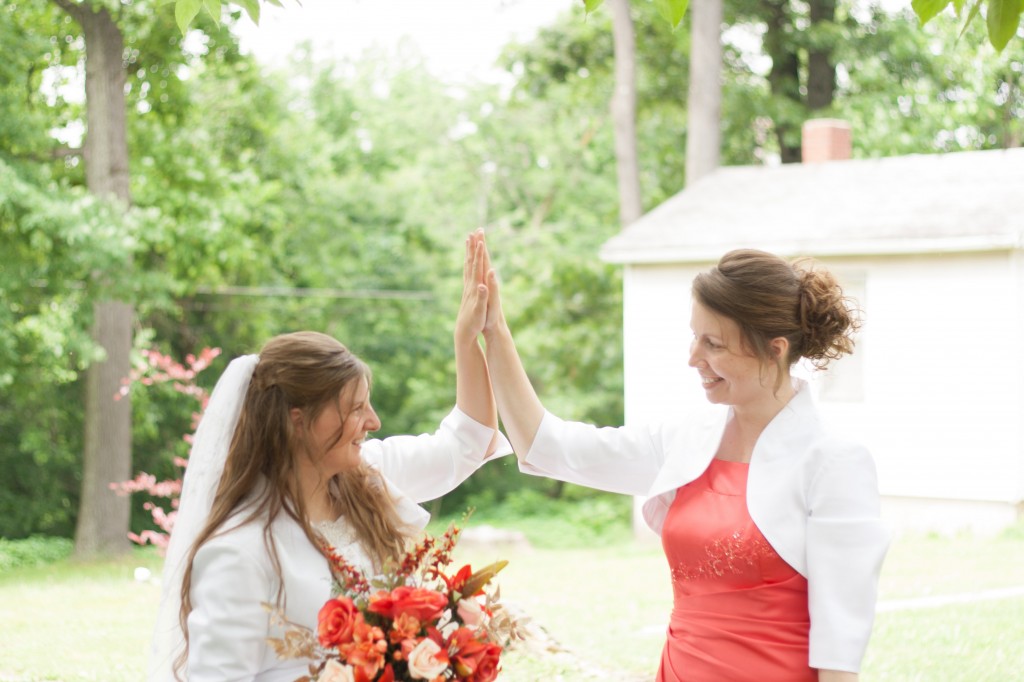 5.  Our Vows
These are the number 1 thing I'm glad we changed. I didn't know anything about vows. I told our Pastor to just do a typical set of vows. Somewhere in the final two days before the wedding though, we researched out vows and did some writing of our own, and came up with vows that reflected something much deeper than the classic vows would depict. They were very personal, very Biblical, and they are vows that bring Christ glory and honor. When I read them, I don't just get mushy over our own love, but something rises up inside of me and rejoices in the truth of God's Word that is so very evident in them. I rejoice that God preserved me for my husband, and I rejoice that God preserved His Word for us. I rejoice that my husband will lead as the head of our home, and I rejoice that Christ will guide and direct us as the head of our lives.
One day I'll make a post about the details in our wedding that weren't last minute, and share some of those DIY plans, but for now, there's a few that were important enough to alter, and hopefully, you will have the opportunity to deal with them well before the final 48 hour countdown. 🙂
Married already? What were some of the "detail pressures" you faced at the last minute? What were some things you changed that you were glad you did?