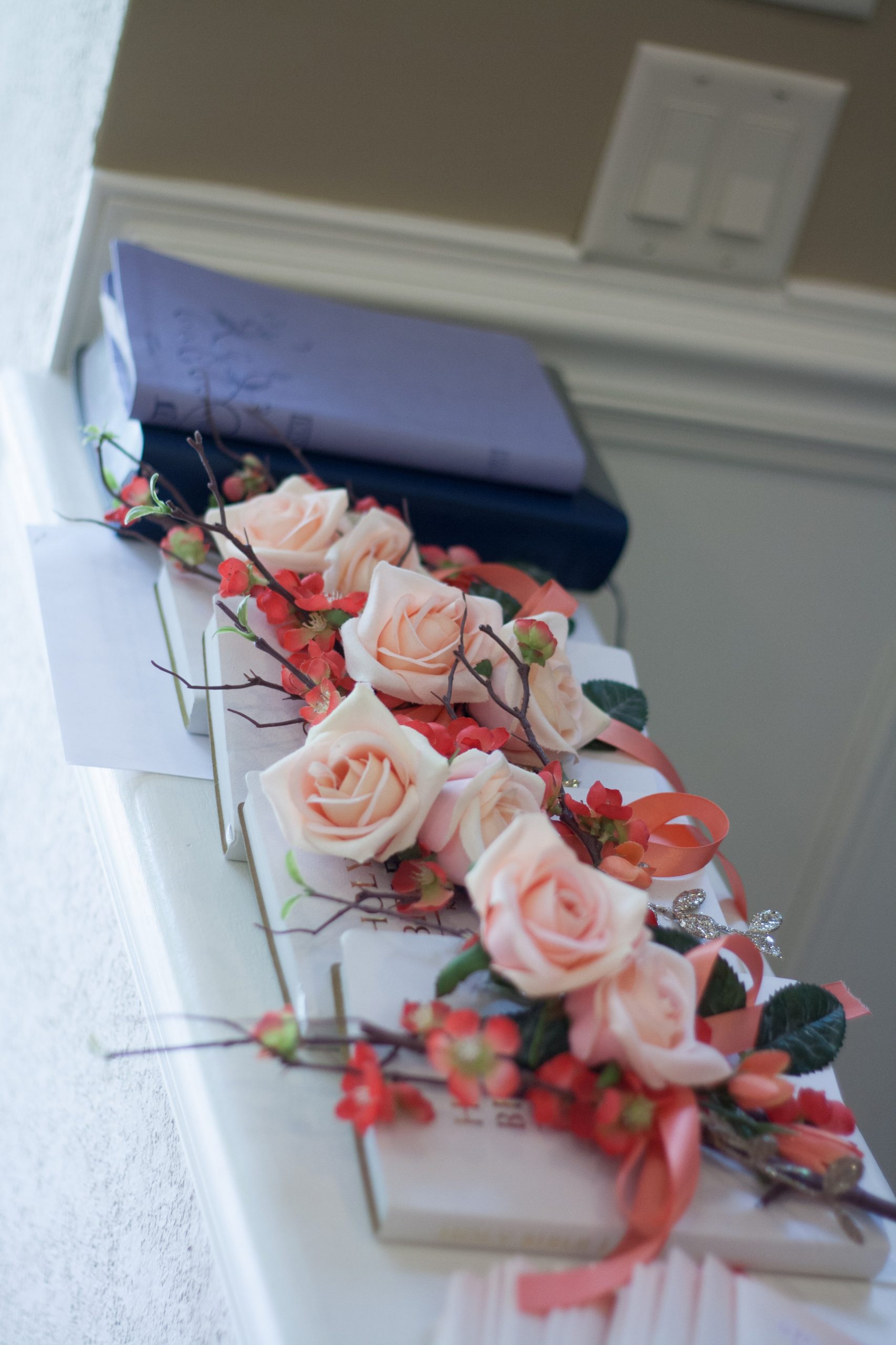 Wedding Bibles: More Than A Symbol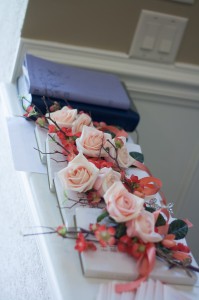 I think I have mentioned in previous blog posts that I am a sentimentalist. Like many women, I am very fond of little trinkets, tokens, and keepsakes that evoke a flood of special memories.
I save almost everything that has any remote significance.
The items I hold most dear are the mementos intricately linked to my husband and the relationship God built between us. My wedding dress and veil, cards and love letters from him, an impressive collection of dried roses and petals. Dozens of little shreds of paper that probably look like garbage to others, but are actually sweet notes written on napkins or ripped corners of notebook paper with "I love you Rebecca Pruett-to-be" scrawled across them. Each one still has the faintest scent of my (then) fiancé's cologne. I have pictures from our earliest days together peppered throughout the house, and little objects from our wedding like our cake topper and one of the bridesmaid's bouquets that was left behind. I could probably fill an entire truck with all the precious items I cherish from such a special love.
I have one very special and important keepsake though, that is near and dear to my heart. Something that stirs up not only my love for my husband, but for my Savior.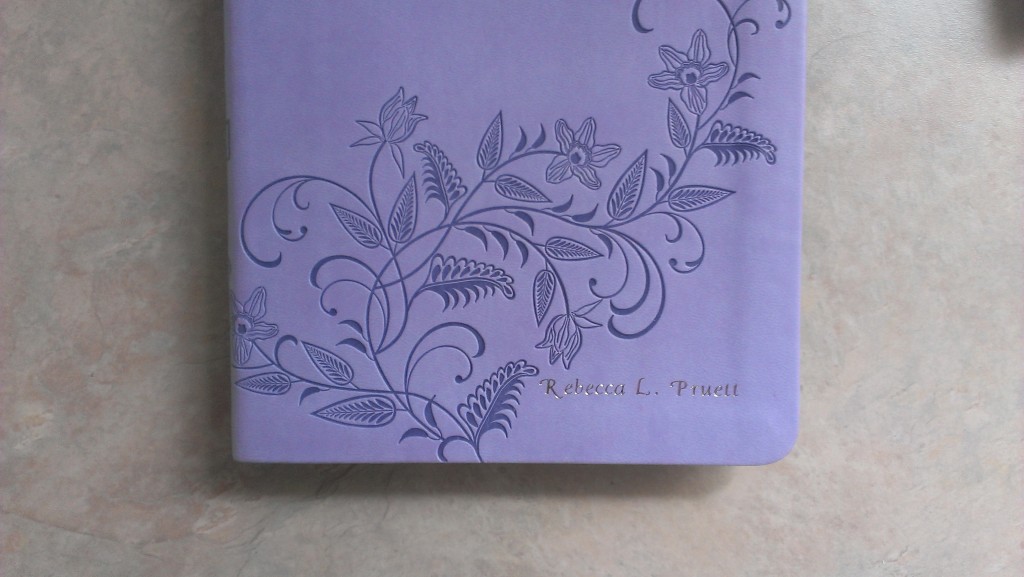 My wedding Bible.
I'm not talking about a Family Bible that a guest may present as a gift on someone's wedding day.
I'm talking about the Bible Mark gave me when we exchanged our vows.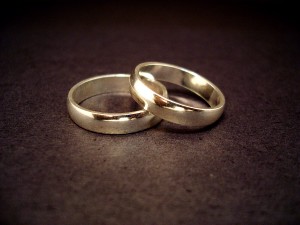 Recently I posted an article about "Why We Don't Wear Wedding Bands." My intent was simply to lend a little insight into why my husband and I personally chose not to exchange them for those who had been curious.
What some of my readers mentioned was the great fondness they have for their rings and all of the memories they hold. I realized that my post had not indicated that though we did not exchange rings, we did exchange Bibles.
Just as those women cherish their rings, I absolutely treasure and adore the beautiful purple Bible with delicate silver letters printed on the cover, spelling out my brand new name. I have all of the sweet memories that flood my heart and mind with joy when I turn its pages to read God's words.
The point I was making in my article about rings, is that they are a cultural symbol of commitment and marriage and many times, an unreliable testimony of a person's heart. We did not want to exchange something simply because it was society's most accepted symbol. Especially since it is a symbol that has been so tainted and polluted by the last several generations of people (including Christians) who have completely disregarded the vows they made before God.
Here's the thing though.
Mark and I weren't looking for a symbol.
We were looking at a foundation.
That little purple Bible? Yes… it is a token of the vows and commitment we made to each other on our wedding day. Yes it brings to mind all the cherished memories of those beautiful moments. Yes, it is a keepsake that causes me to reflect on all the wonderful times we have had together.
But it was so much more than a token or a symbol or a keepsake.
It is the very foundation upon which our marriage was built and the base of every aspect of how our lives move forward together, with God.
It was so much more than an item that was exchanged between the two of us that centralized the focus to our own ability to retain a commitment to each other.
God's Word is so intricately woven into the pattern of our lives that we wanted it to be an inseparable aspect of our marriage. He was included as a fundamental and critical third party, Who must be in the center of our relationship, always. The words we chose for our vows carefully and deliberately wrapped God and His Word into our commitment to each other. Every time I read them my heart magnifies Christ in worship because He has been and continues to be integral to our marriage.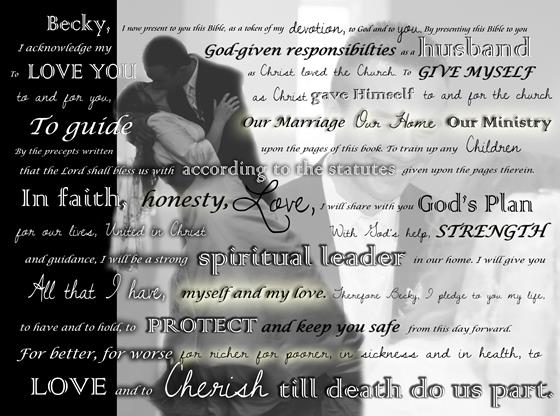 Every night Mark and I read together from the Bible I presented to him; a hefty blue leather Study Bible with his name printed in silver block letters.  This "token" of our commitment does more than remind us of our love and commitment to each other. It reminds us that it is our God Who has and will continue to keep us. It is a constant reminder that Christ is at the very heart of our relationship.
Rings are a cultural symbol of marriage. All they do is symbolize commitment. They do nothing to improve it, strengthen it, grow it in the grace of God. They are just a sign to the world that you belong to someone.
But the Word of God is not a symbol.
We took our vows upon an instruction manual that our marriage is very literally and completely dependent upon.
We took our vows upon the letters God gave to us, to demonstrate that we too, belong to Someone. We are indebted to Someone. We are living our lives according to the will and purposes of Someone. We belong to each other. Marriage made us one. Now, not only as individuals, but as one, we belong to God.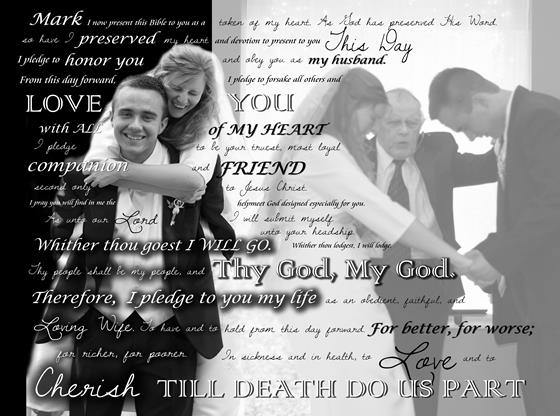 As we spend each day together, the words we read in that book are the words that God directs our lives by.
They are the promises that we cling to when we go through a storm together.
They are the declarations of wisdom that aid us when we face uncharted territory and hard places.
They are the pleas of warning that keep us walking a straight path, side by side.
They are the commands of commission that cause us to join hand in hand and forsake whatever we must to fulfill the call of God.
They are the stories that encourage us to hold fast, stand strong, and wait on the Lord together.
They are God's special letters to us by which we jointly draw nigh unto Him.
They are the very foundation of our marriage.
Directives by which our conduct, our direction and our attitudes are all derived from pages that are the ultimate authority in our home. Every questionable circumstance is taken to that book. Every heartache we face is comforted by that book. Every faltering and fumbling is corrected by that book. Every wrong spirit is convicted by that book.
Every aspect of who we aim to be is governed by the content of that book.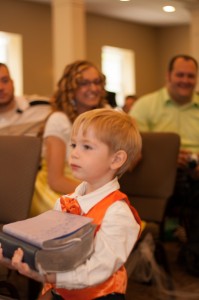 It wasn't an abstract inclusion of God by means of a symbol or the brief mentioning of a handful of popular scriptures to "sneak Him in there somewhere" in the ceremony.
It was our purposeful goal to make Him and His Word the emphasis in the uniting together of Mark and myself as man and wife.
It is the entire Book that is the guide by which I can become exactly what Mark needs me to be, and Mark can become exactly what I need him to be. It was the very real commitment to abide by the words within that Book as we live out our years together as man and wife. By it we draw closer to each other, and by it we grow closer to God, together.
I love Mark and I know that Mark loves me. Each of us loves our Savior with a greater passion than we love each other. It was vital for Him to be the primary focus of that special day when we would be not only united together ourselves, but our marriage would be holy and sanctified, united in Christ. As I walked down that aisle, believe it or not, I was not only thinking about the blissful conclusion of the "I do's" and the rest of our lives. I was enraptured by the joy that we were entering a relationship that the Bible likens to that of Christ and His Church. As my dad escorted me to the altar in my beautiful white gown to give me to my groom, I marveled that one day, the Church would be presented to Christ without spot or blemish. I smiled from ear to ear with joy that we were getting married, and simultaneously, I was rejoicing in what our new relationship represented.
Our focus was not on symbols and traditions and meeting certain cultural criteria. It was about laying a foundation. Setting a standard for ourselves before Christ, and inviting Him to be the ultimate core of our marriage from the very first minutes as man and wife. It was about a marriage so wrapped up in God that it would never be about us. It was about bringing honor to Christ in how we, as a married couple, represented Christ and His Bride. It was about establishing groundwork upon His Word which would be our highest authority together for the rest of our lives.
Perhaps in that light, you may be able to see now, why a ring, a mediocre emblem at best, seems so insignificant to us. What we wanted to establish was so much deeper than a token.
It was about so much more than a symbol.
It was about a foundation.
________________________________
Blog Hops & Link-Ups
Marriage Monday, Anything Goes Link-Up