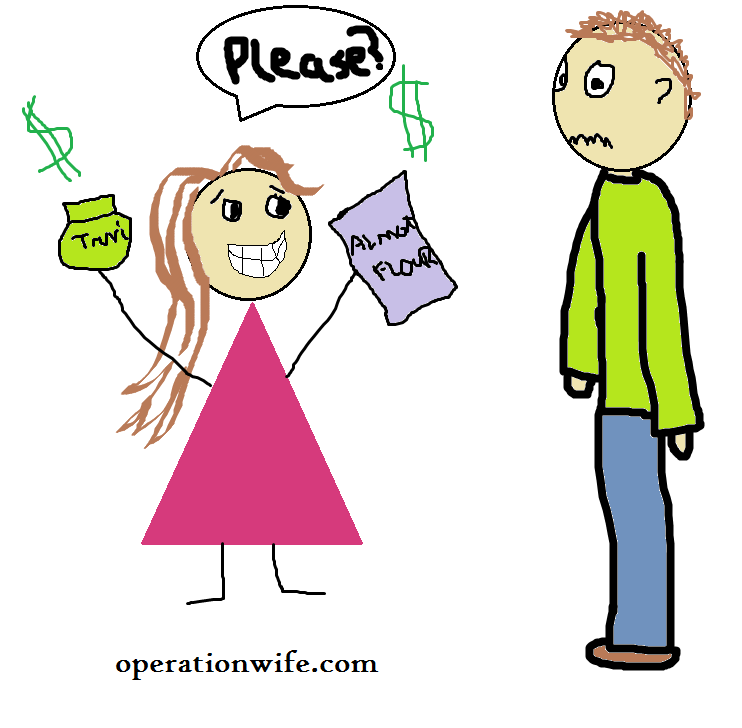 Trim Healthy Mama on the Learning Curve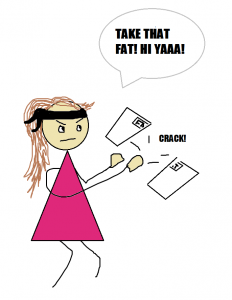 Today makes one full week on "Trim Healthy Mama".  I'm still working my way through the book, but, since I am reviewing it, I thought I would share a few of my experiences about being on the "learning curve."  I have been implementing the concept and have definitely already seen some encouraging results.  In one week, I have lost 4 lbs. and 5 inches, so I'm a pretty happy lady. 🙂 (I will add that these were MUTANT pounds that would not be budged in any manner previously!) And if you still aren't impressed with those numbers, (though I do not advocate this!) they were in spite of several instances of major cheating… and by major… I mean MA-JOR. If I told you specifics you would be astonished, but I don't want you to get the idea that cheating is OK.
I have not exercised at all, I have stayed satisfied all week, and had amazing results with such little effort. I am astonished that I did not have to punish myself with small (and cruel!) calorie counts. I can fulfill my husband's desire for me to be healthy AND be satisfied AND lose weight!

Listen to me… I sound like an infomercial!  (Except this is TRUE! YIPPEE!)
First, let me say, I have not been *completely* on plan for the entire week.  This, I guess is all part of that learning curve.  I have been taking steps and making transitions. As the days go on, I get more and more on plan than previously.
Here are some of my first impressions (and a helpful chart of beginner's dilemmas and tips is down below).
1.       Liberating Knowledge :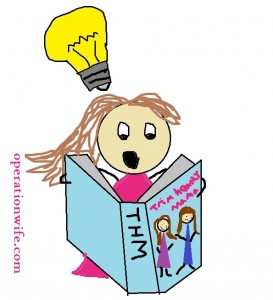 First, reading this book cleared away all of the dietary fog that clouded my understanding previously. As a "Drive-Thru Sue," (I'm pretty sure Pearl & Serene must have stalked me to get such specific information for that chapter!) This world is full of conflicting advice when it comes to eating healthy, and when you try to eat healthy, it's this desperate, confused, lost struggle to make sense of it. Not only that, but diets never seem to work long term. You work hard, exercise a ton of self-discipline, and ultimately you gain double what you lost. Even when you try your best to eat healthy you gain weight.
In Trim Healthy Mama, Pearl & Serene push all of the earthly knowledge and wisdom back, and bring you a Biblical understanding of food, and what our relationship with it should be. Our bodies were designed for food, not only to gain nutrition and sustenance by it, but to ENJOY it.
They take you through the science of how gaining weight happens and show you in a fun and entertaining way, precisely what goes wrong and how to fix it.
One of the greatest things I have enjoyed while reading this book is that they don't just tell you the problem and push you off and say "there…go figure it out." Instead, they give you the information you need to implement it into YOUR life. It is so fluid and adaptable that anyone can do it. Not only is the "know-how" in the book, but they have developed an awesome support system through their Facebook page where THMers from all over can help each other find great recipes, plan approved items and awesome deals.
2.       That Daunting Financial Scare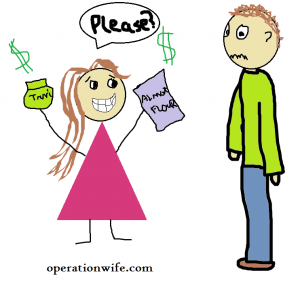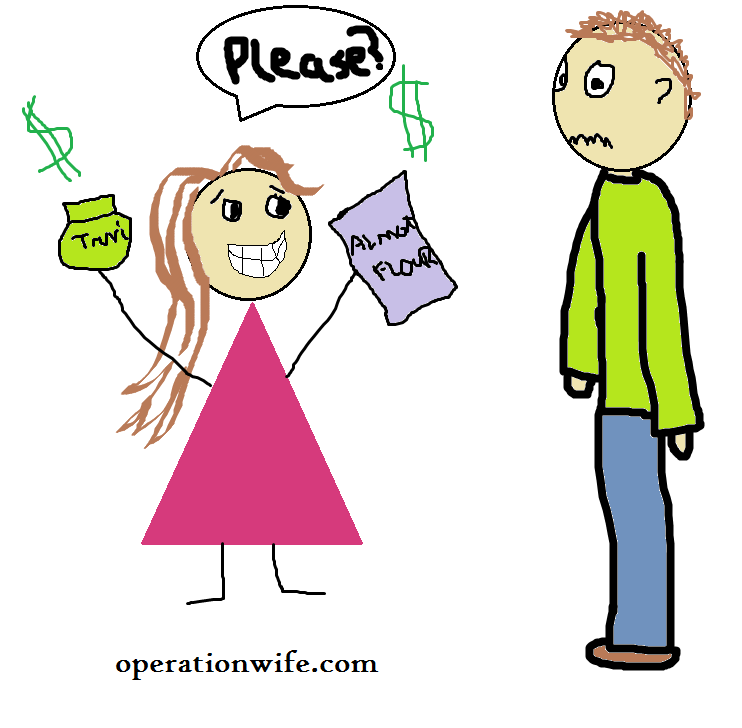 I think a lot of people starting out on THM see the recipes and the strange new ingredients and wonder how they will be able to afford to do this. Mark has been especially nervous since he saw the price of Almond flour and Truvia. (Which I did not make him buy, being the understanding wife that I am  🙂 )
Several people told me, "You can do it without special ingredients!" but I was very skeptical because to me, special ingredients were not just gluccomannan, almond flour, and Truvia; they were cottage cheese, cauliflower, and greek yogurt! I had never bought or eaten any of these things.
The truth is, as your lifestyle changes, the groceries in your cart will change too. Instead of spending $3 on a bag of chips, you may spend $3 on a tub of Greek Yogurt to make smoothies with. Your 2-liter of pop every two days adds up to a lot, that, when you're no longer purchasing it, gives a little freedom for some of those things you're not used to buying.
As for the expensive ingredients, you really can get around them. The chart below has a handful of suggestions, and just by sticking to some whole, unprocessed foods like meat and vegetables , you eliminate the need for a lot of them.
3.       Do-Ability
Trim Healthy Mama is a low-glycemic approach with a little extra science to lose, gain, or stabilize your weight, depending on what you need.  If you are like me, words like "low-glycemic" are synonymous with "yuck", but "yuck" is not doable long-term. Truthfully, the sky is the limit and what you can eat is anything but yuck.  I am one picky eater, but here are some of this week's selections that were 'doable' for me.
Lunch meat, beef hot dogs, or tuna fish on low carb tortillas . This was great for my love of convenience. I did not miss the thickness of bread at all. The tortilla was an easy switch that made this kind of meal fine regardless of whether I was eating E or S. (Hot dogs were always an S) I could S or E them with my condiments and other fillers.  (I'm still looking for a cheaper way to buy the tortillas!)
Buffalo Chicken bites & green beans: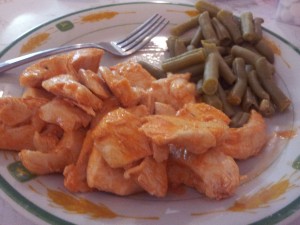 I wasn't sure what giving up 'boneless buffalo wings' would do to my happiness but this was an awesome alternative and I did not miss the breading (or the fat they were fried in!) one bit! All I did was cut up some chicken breasts in pieces (just like you would for wings) and spread them out to bake on a cookie sheet, (to avoid using oil). When they were cooked I tossed them in 1/4 cup Frank's hot sauce (we found a cheaper store brand at our grocery store that is on plan! More bang for your buck!) with 2 tsp. of butter (1 for me and 1 for my husband). Each of us got a heaping serving with some green beans on the side. Believe it or not, this is a Fuel Pull by itself, but we added a carb source to make it an E. (since we are beginners and don't want to pull out Uncle Fuel Pull quite yet!) No one could ever feel deprived eating a meal like this! Not to mention, this is so much EASIER to prepare than breading and frying wings!
Here are a few of my beginner's dilemmas and some tips for others on the learning curve.
Trim Healthy Mama on the Learning Curve
PROBLEM

Experience

Tips

SUGAR
Sugar is hiding everywhere, so I haven't been able to expunge this from my diet, but I'm working on it.

Continuing to consume sugar is not ideal, but may be impossible to get around at first. I have found that implementing the "3-Hour" principle works wonders for multiple reasons.  By eating every 3 hours you are able to bring a lot more stability to your blood sugar. It also helps me IMMENSELY with portion control. By eating in this structured way, I am easily content with a smaller portion when I do eat, which in turn affects how much is going in, which affects your blood sugar.
Gaining the awareness of sugar and all its hidden forms is a great step in the right direction. I've started reading labels and am now able to identify it and other evils in products. I won't waste what I have on hand, but it makes me better prepared when it comes to purchasing a similar item in the future.

BAD CARBS
Starting out I did not have access to any of the 'good carbs'. There are on-plan recipes for breads and such, and specialty items you can buy, but our funds are too tight and limited for the new ingredients and slightly pricier on-plan options.

I don't believe in wasting what has been provided, so I went ahead and used our current bread options, but I made sure to keep the carb count within the 'E' guidelines, even if they weren't the right kind of carbs. I considered it "practice".
We had plenty of cans of corn, so within the guidelines, this was an inexpensive and approved carb source. Fruits and other starchy vegetables (not white potatoes) worked as well.

CHEATING
I have had to outright cheat here and there because of our budget.  Sometimes a fourth of July special for a $2.38 medium Pizza at Dominos just makes better financial sense when the green is low, can I get an "amen?"

I try to avoid cheating altogether, but I don't beat myself up over it or get discouraged when it is necessary or makes really good use of what my husband works so hard to provide.
I don't blow the whole day just because of one miss. I used to do this when dieting. If I slipped, I just let go and "took the day off". Now, I make a decision every 3 hours, and jump right back on the wagon. As a friend once said, we make bad decisions one at a time, and we can make good decisions one at a time.
There are plan-approved alternatives to almost every weakness, but in the beginning, you may not have all the ingredients or means to pull them off. When you find them, tuck them away someplace for next time. I have a mint-chocolate chip shake recipe on hand from Gwen's Nest that I have bookmarked in my browser!

PLANNING

The first few days I was getting discouraged because I would have a meal idea for an S or an E but realized it was actually a Crossover, or I would crave something, but couldn't figure out how to get a source of protein or carb in there. I ended up eating a lot of bland meals, or very weird combinations.

Instead of planning based on the meal as I always did in the past, I have found it so much easier to ask myself "What protein source do you want next?" and I work around the protein.  After I figure that out, I go by whether I want to feel more full or more energized, and choose S or E.
I also set a timer for every 3 hours. This may be too rigid for some people, but I am one of those people that craves structure.  I don't walk into the kitchen and try to figure it out on a whim. In between meals I think about what I have in the fridge that needs to be used up, and what sounds good, and what to avoid, and when I get there, I've already figured it all out.
I designated an entire shelf in my pantry for all THM approved items, and I plan to do this in my fridge as well. All things off-plan are on other shelves. This way, there's not a whole lot of thinking required when I go to eat. I know that anything on that shelf is a possibility and that helps a lot.

EXPENSE

My husband and I typically operate on a grocery budget of $25/week so we're somewhat anxious about the expense. All the special ingredients and new grocery items are scary. We have never eaten 'healthy' so buying whole foods and natural items is putting some strain on the wallet.
Protein is great, but all that meat will bury us financially.

Buying 1 or 2 new items at a time and replacing a "baddy" with a "goody" when we run out makes it less noticeable.
I have been researching ways to substitute expensive items. You can use Greek Yogurt or cottage cheese as a substitute for whey protein in shakes and smoothies. I already had Xantham Gum on hand and that is a substitute for gluccomannan.
Buying in bulk online is also something we are looking into.
We make use of online samples (Here is one for Truvia) and sometimes buy a small version of something to make sure we can live with it before we go the bulkier more cost effective route.
I am somewhat convinced that the initial cost will not be the permanent cost, and that much of the expense is that we are simply not used to buying 'healthy food'. While unhealthy may be a whole lot cheaper, I try to tell myself that in the long run, if it brings good health, it will save us.
We went around and did some price checking in grocery stores, Wal-Mart, Aldis, Big Lots, and health food stores and gained awareness of where we could get items cheapest.
As for protein, I have made the amazing discovery that it is not just in expensive meat. There are other great sources of protein like Greek Yogurt , Cottage Cheese and even CAULIFLOWER. I'm sure there are others- I just haven't discoverer them yet! Chicken is also always an inexpensive and incredibly versatile means of protein. Eggs are a cheap way to get it in (but I can't stomach them!)

PICKY EATER
Yes… I am, by far, the world's pickiest eater. I grew up on cereal and French fries, and as an adult lived on chicken and pizza. Vegetables look like oddly shaped little monsters and when it comes to textures I am a total sissy. I wasn't sure I could do THM because it looked like a lot of eggs and scary vegetables.  Even though I didn't like eggs I choked them down in the first few days as empty omelets. I thought it was the only way to implement the THM plan. But… I knew if this was going to be long-term, than this was not going to work. Plus, most of the recipes and meal ideas given in the book did not appeal to me. If I had to eat things I didn't like, I knew I could never last.

First, I quit stressing out about the veggies. I like a few (corn, green beans, and shredded lettuce). For now they work, and I plan to try new ones, one at a time, to give others a fair chance. We tried cauliflower the other day, and though my recipe didn't turn out, I'm still going to experiment with it. I think it may just be a doable vegetable for me.
Second, I quit eating the eggs. I realized there were plenty of alternatives to eating eggs, and choking down a food I did not like was just going to get discouraging for the long run.
Third, if you don't like the recipes in the book, check out the THM Facebook page . Great recipes turn up there. Another AWESOME place to find THM recipes is Gwen's Nest and Stacy's Trim Healthy Tuesday blog link-up. And, of course, our beloved Pinterest. You're bound to find an abundant supply of recipes and ideas.


What were some of your Trim Healthy Learning curve experiences? Share with us!
Here is a link to the book if you want to purchase it on Amazon. While you certainly don't have to, if you purchase it by clicking my referral link I get a nice little tip from Amazon and that's always appreciated! 🙂
If enough people do it I may be able to afford some Almond Flour 😉