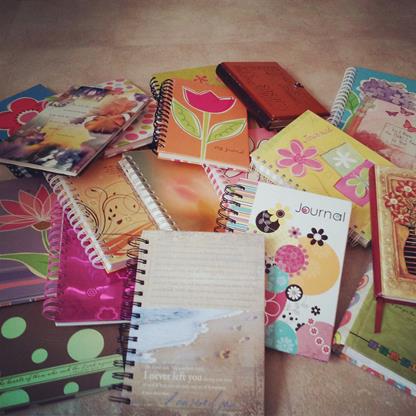 The Trunk of Self & Sentimentality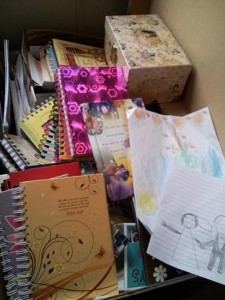 Yesterday I sat down to deal with the trunk of sentimentality. I thought I was going to have to make many hard decisions, but really… I was surprised at how much was in there that had completely lost its sentimental value.
Though I added to it regularly, it had been several years since I dug it out to really look through the things that were in it. While I sorted, sifted and pitched, I discovered something shocking in a very real way.
I am not the person I was.
I am no longer the person that needs loads of cards and notes to remind me that people really care about me and remember my birthday from time to time. I am no longer the girl that needs to hold onto someone's letter of apology so I can privately gloat about the fact that I was right. I am no longer the girl that gets pleasure from the shallow, goofy notes passed between classmates that have not spoken a word to me since school.  I am no longer the person that needs the kind of encouragement many of the notes offered: "Don't be sad! We love you!" "Keep your chin up! You'll make it!" I'm no longer the person that wanted to hang on to a letter that incited anger about past events.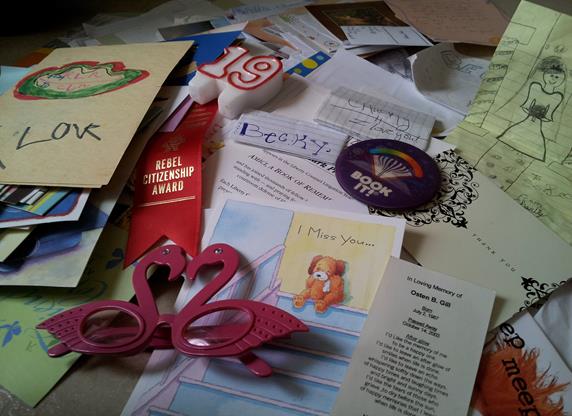 You know what I discovered? I am a very different person today than I used to be.
I realized a second thing equally surprising.
Things like this kept turning up in the trunk…
Thank you Becky for being a good example. Happy Birthday Becky! We love you Becky! Keep up the good work Becky! Great Paper Becky! Congratulations Becky!
This bothered me. I realized, somewhat mortified, that a lot of that trunk was about Becky.
There was a time when I thought I needed those things. I used to be a very timid person with a tremendous lack of confidence and things like that encouraged me to press forward and make a difference. There was a time when, in my discouragement, those things would have lifted my spirits enough to give me strength to go another day.
Funny thing though… a transformation took place. Several years back, unbeknownst to this trunk,  I began learning a lesson that life is not about me.
I learned to stand back and let people be praised for work I had done. I learned to quietly assume a role in the background while people applauded the front liners. I learned to press on for Christ without pats on the back and accolades of appreciation, because I loved Christ.
My heart became so wrapped up in Christ that I wanted to serve Him simply because I loved Him. Not because it was a livelihood or a hobby or a career…. not because it makes people look good… but because it was a passion burned deep within me to obey Him, to follow His leading, to go where He directed and be Who He mandated.
Over time, my confidence grew… not in myself, but in Christ.
And today? Even if I kept all of those notes and cards and letters… in a time of crisis or deep discouragement I would not find the strength I once found in them. If it was all about Becky, they could minister to Becky… but it's not anymore.
I haven't gone to that trunk for encouragement in approximately 7 years… because I had somewhere better to go… I had somewhere that brought greater comfort. I had something I went to that reached way deeper and way farther than a simple note of encouragement could ever reach.
I went to the Word of God…
I spent time in my Savior's presence.
That is where I found encouragement when I needed it. That is where I found strength when I was too weak to go on. That is where I found help when I could not stand on my own. That is where I found promise when the horizon looked bleak.
The trunk kind of… fell by the wayside. The Bible? It found its way inside.
Don't get me wrong… I did save some things from the trunk. I kept the treasures of love between my husband and I; the sweet love notes and cards from him. He is second to Christ, and marriage represents our relationship with Christ, so they are very special.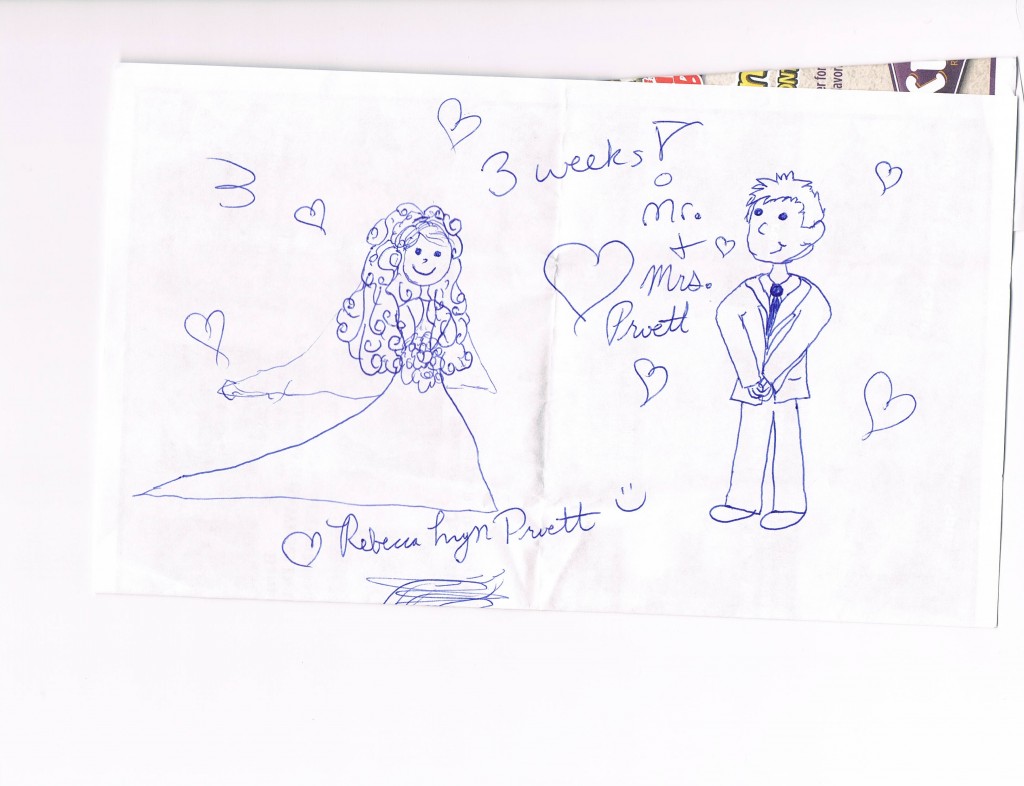 I kept letters from my Grandma and cards from my parents not because they said anything that puffed me up, but because of who they were from.
I kept my old journals because I hope one day when I have a daughter, my little journey through life will encourage her. I have always had this dream of giving them to her as they correspond to her age… or maybe all together for a special occasion.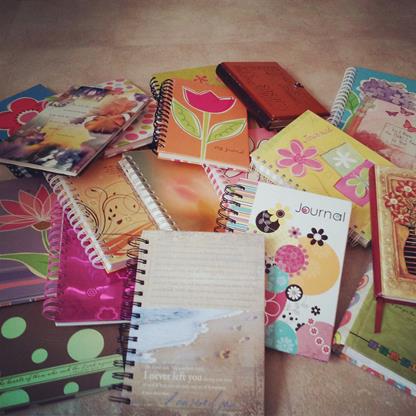 For some things the sweetness or practical information was worth keeping, but the clutter wasn't so I scanned them and threw away the originals:
Pictures drawn for us by little kids, not because they were "for us" but because they were "by them."
College term papers because they contained useful information I may want someday.
Photographs I loved but didn't have digital copies of.
I kept a few mementos from Bible College; my class picture, graduation cap with signatures of my classmates, and of course, my diploma. None of those were kept as a reminder of an accomplishment… rather they were a reminder of a time and place when I surrendered my life to the call of God, established altars and memorials… they were tokens of a place that God used to transform my life.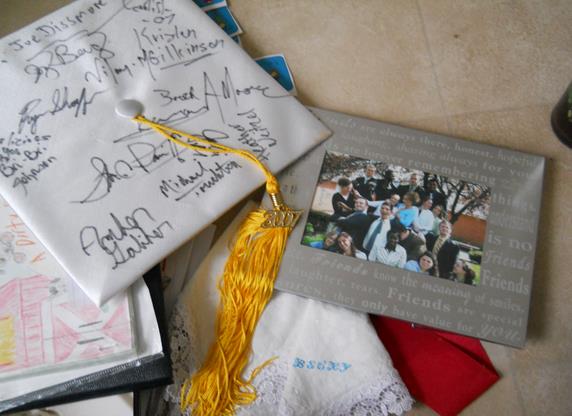 My "Trunk of Sentimentality" now is mostly empty. While it was once bursting with cards and letters that I thought I needed, I now have only a small collection that fits neatly in this little box I got from my Grandma.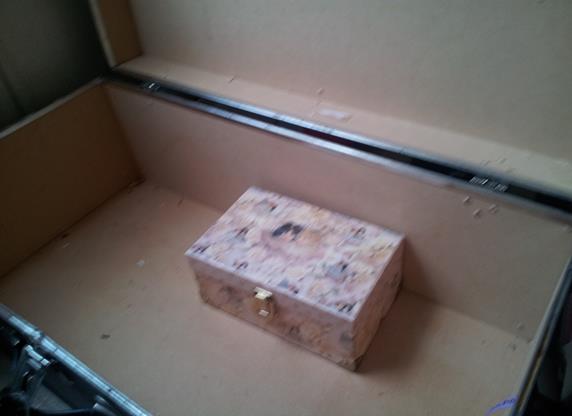 I got rid of loads of birthday cards, graduation cards, Christmas cards, report cards, certificates and ribbons for ridiculous earthly achievements… I got rid of a lot of kind words… not because they were never appreciated, but because I didn't need them to "bear me up" anymore. I didn't need them to carry me through to tomorrow. I have a blessed Savior that is doing a fine job at that!
To be honest, I avoided the dreaded task of tackling this trunk for months… I thought it was going to be a miserable forsaking of precious treasures. Instead, I found the trimmings of an old person that I was happy to say good riddance to and the blessed reaffirming reality that we do not need to lean on encouragement or applause from this world when we are firmly grounded and dependent upon Christ.
What a blessed day and a blessed lesson from my Lord!


Have you ever gone through your sentimental possessions? What was your experience like?
This Post is Linked at the Following Linky Parties:
_____________________________
We Are That Family –FamilyHome & Life -Serving Joyfully-Thought-Provoking Thursdays – Thursday Favorite Things – Hearts for Home – All Things Thursday – The Homemaking Party