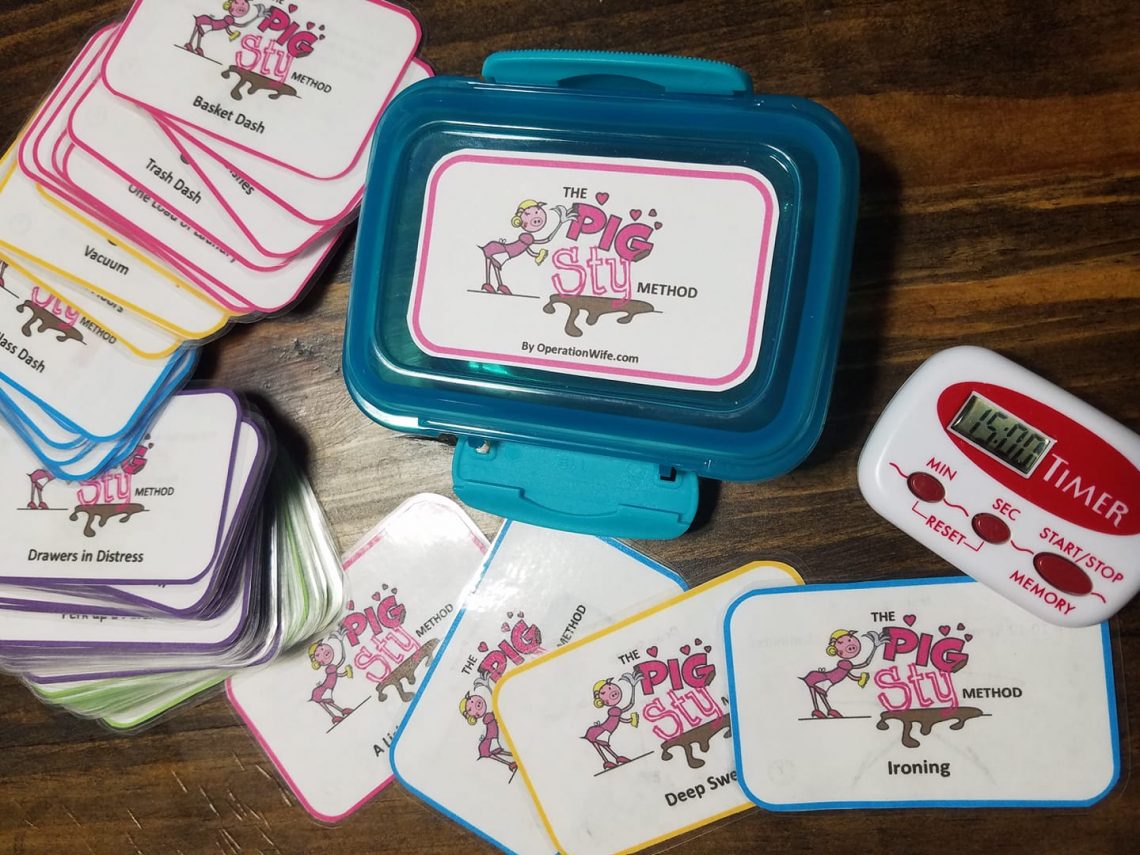 The Pig Sty Method Card Kit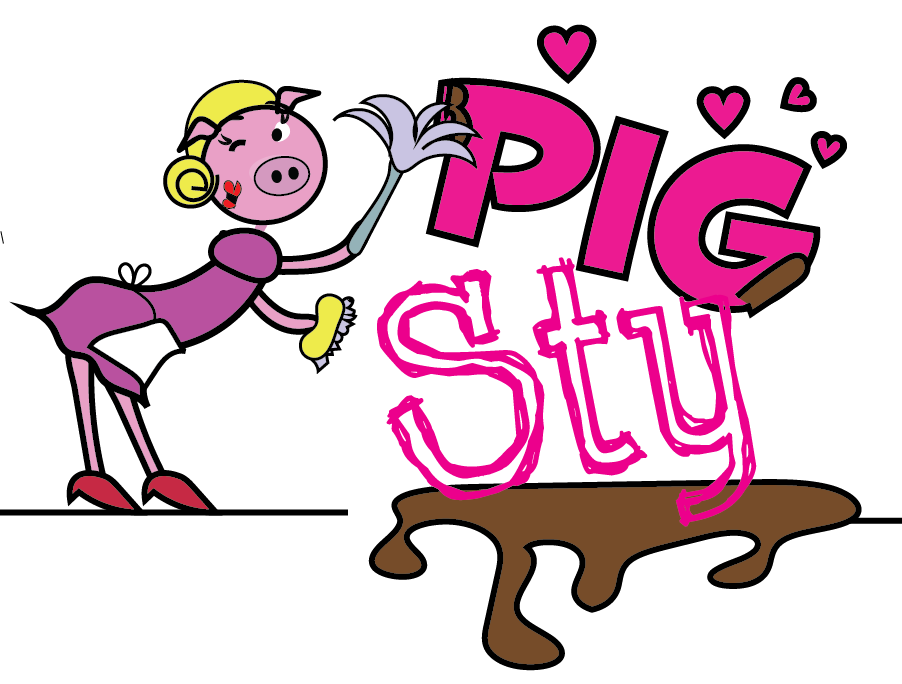 Y'all! My little world has been a bit of a whirlwind the past few weeks.
Several years ago, I began developing my own housecleaning system, and I called it the "Pig Sty Method." If you've followed me here and on Facebook, you've likely witnessed the evolution of it.
As an undomesticated housewife, cleaning and cooking and taking care of a husband just do not come naturally to me. So I wanted to create a system that helped me become that wife. It also had to be something that was fluid enough that it adapted to whatever obstacles were inhibiting my success… like nursing an infant, or a giant move, or a debilitating sickness… and gentle enough, that when you are emerging from something that has left your house a wreck, that you could steadily regain your ground without getting overwhelmed, no matter how bad it got! And when I was done figuring this out, I wanted it to be something that I could eventually hand to others, and help women all over the house-keeping spectrum. I wanted it to be gentle enough that a recovering hoarder or a clutter bug could apply it every day and see total transformation in their home, but complete enough that a Grade-A housekeeper would be satisfied with it. I wanted it to be forgiving for the seasons of sickness, weariness, business, and unforeseen circumstances. But never overwhelming! It could never be overwhelming!
So I came up with these color-coded cards!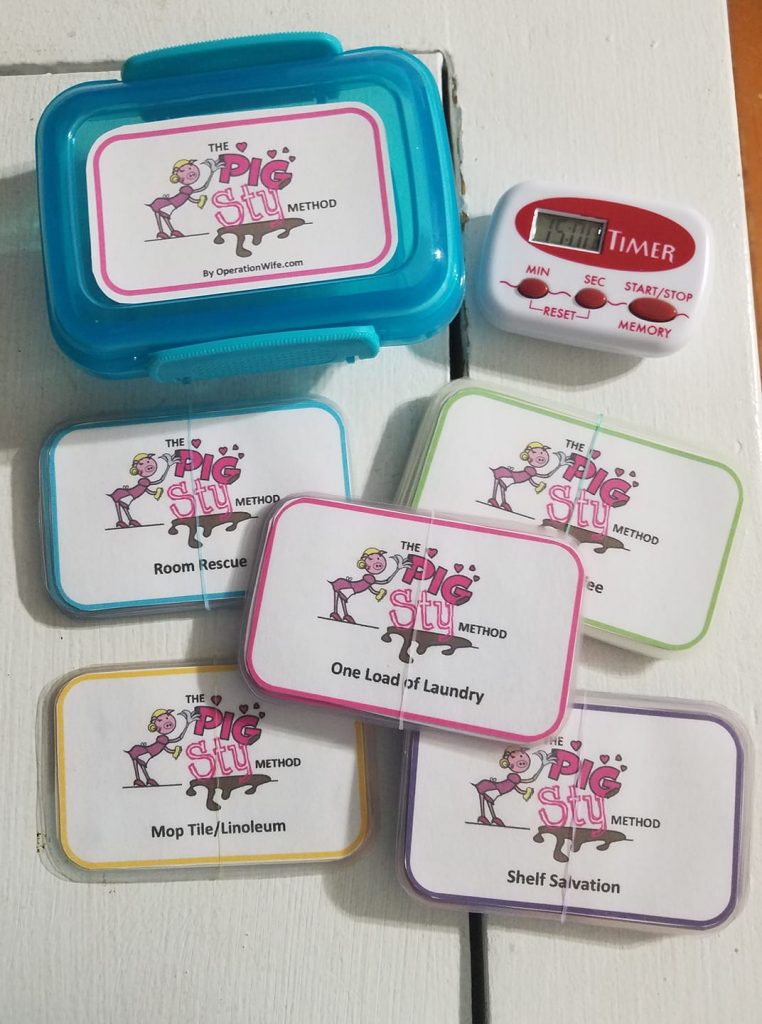 Every day, you do the pink ones. These are quick, easy, maintenance level dashes and sweeps. And then, each day you pick one card out of each colored deck. Each color has a different number of cards, which naturally affects the frequency of rotation of that color. So you'll effortlessly rotate yellow cards more frequently than purple cards. If you are feeling ambitious, you can choose ambitious chores. If something is ailing you, you can choose gentler cards. If your day is going to be wild, or you're going through a season, you can scale it back, and if you're in beast mode, you can crank it up!
Each day, you choose cards that reflect the most glaring things to you in your home. As you go, no matter where you are in your housekeeping journey, the cards will lead you deeper in, naturally unlocking chores that make specific sense in your home. While you work, you'll begin to build strong, healthy habits. Your progress will motivate you. And when you finish your cards, you're done for the day! You can guiltlessly move on to enjoy the rest of your day!
No more running to-do lists rattling through your mind when your hubby's trying to love on you!
Speaking of which, I added a deck of "Hubby Lovin" cards to keep my husband at the forefront of my mind. In addition to my color-coded chores, each day, I choose one card, to do something special for him. It helps me keep my focus and center him as a priority.
What I have discovered in this journey, with these incredible little cards, is that housekeeping and husbands go hand in hand. The more satisfied I am with the house, the less stressed I am, and the less stressed I am, the more enjoyable I am to him. And the more I enjoyable I am to him, the better I feel. And the better I feel, the more confident I am. And the more confidant I am, the more I do for him. And the more I do for him, the more he lavishes me with affection. And the more affection he lavishes on me, the more I want to do for him. And the more I want to do for him, the more he wants to do for me… and it breaks that ugly cycle of unmet expectations and frustrations, and instates this beautiful cycle of blessing and being blessed.
So anyway…. After several years of tweaking the process, I decided to share my epiphany on my Facebook page and tell my friends about my super little card system and it exploded overnight!
So I've been scrambling to put these things together and get them in the mail, and I've just been excited for every person that's receiving a kit. I'm praying that they will be the blessing to others that they have been to me, and I'm excited about the journey we're all on as wives, mothers, and housekeepers!
If you're struggling with housekeeping, this kit might be for you! Check it out and give it a whirl! The kit comes with 5 color-coded decks of chores on laminated cards, with an adorable box to keep them in, and a complimentary timer, to keep you from going overboard (No chores last more than 15 minutes!) and the shipping is FREE. Because nobody likes to pay shipping. It's 2020. And because this whole thing is about straightening my sisters' crowns and helping them stand tall and shine bright in the role God has placed us in.
If this sounds likes something you need, throw it in your cart and place an order and I'll get one to you in a jiff!
Love y'all!

The Original Pig Sty Method Full Kit
Housekeeping is a breeze with this flirty, fun deck of cards! This brilliant little system is designed to make the homemaker's responsibilities work no matter what chaos or obstacles are preventing you from shining in this area. When things get out of hand, it's gentle consistency brings your home back to sanity. Lay out your pink cards, because you do them daily, and then choose one chore (the…