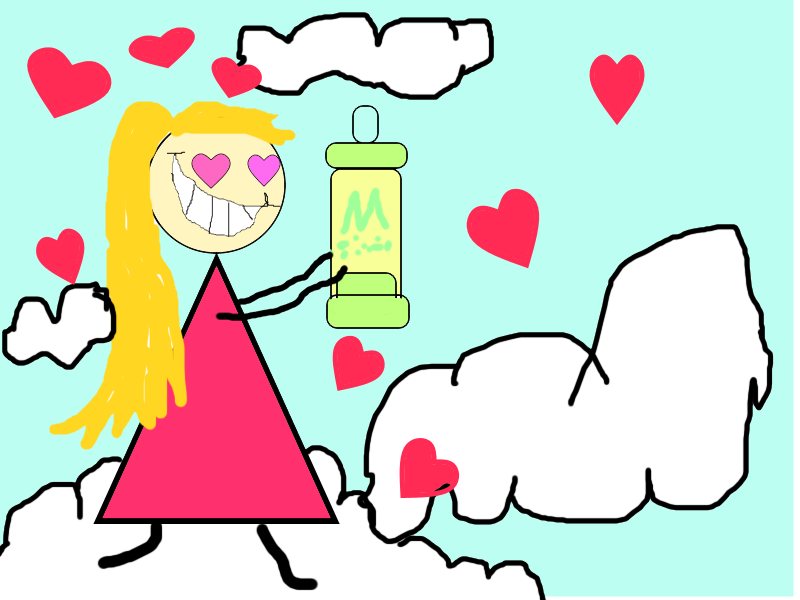 The Only One for Me: Mixie Bottle Review and GIVEAWAY!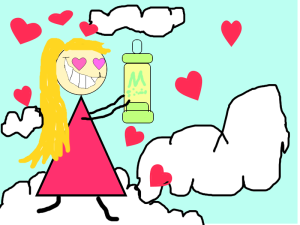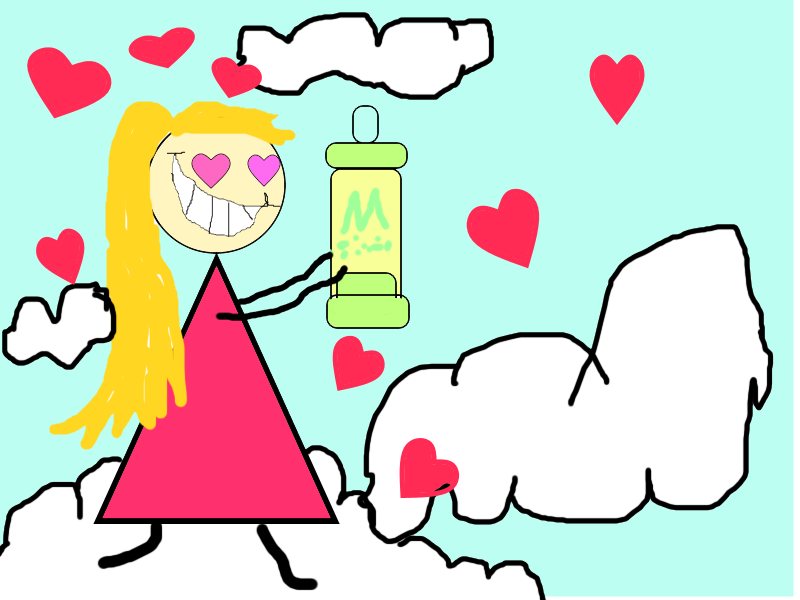 Is it possible to fall in love with a bottle?
I've fallen in love with a bottle.
I mean, seriously. It's real folks.
Every time I look at it my heart bubbles over in giddy excitement.  This bottle has changed EVERYTHING.
A couple of weeks ago I told my husband that being a mom makes me want to be an inventor. When your entire world suddenly revolves around a tiny little human on a three-hour countdown, and everything you've ever done now takes four times as long as it used to, it doesn't take long to spot the inefficiencies of baby products. My mind is constantly wondering why some things do not exist. One of which was a formula bottle that could be prepared in advance.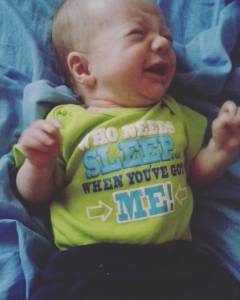 Something for those 3 A.M. feedings when you are stumbling to the kitchen like a Zombie, trying to prep a bottle before your baby goes nuclear. Something for those church services where you are discreetly trying to scoop formula out of a can in your diaper bag and more is ending up in the diaper bag than in the bottle. Something for those times in the middle of a store where your baby starts wailing and while you race to fix his food, people stare at you like you are purposely starving him.
The closest solution I could find was a formula dispenser, and that just didn't make the cut for me, so I decided to diagram my concept one day while Mark was at work. I had the optimistic hope that if I could show him what I had in my head that he could make it happen… because he's basically a genius and he can do that sort of thing. I wanted a bottle with a compartment that you can fill with formula in advance, and then, when it's time to eat, give it a twist or a click, and BAM! Instant bottle.
Well, after explaining to me the challenges of making a product like that work, Mark found something better. It turns out such awesomeness does exist! There were two in fact. The B.Box bottle & the Mixie. Both were the same price, but each had vastly different reviews. B.Box customers complained of problems that my husband predicted; things like leaking and poor seals. Mixie customers on the other hand had nothing but glowing reports. People were so enamored with this bottle that I just had to try it out, and I have one thing to say.
I'm never going back. Ever.
Like NE-VER.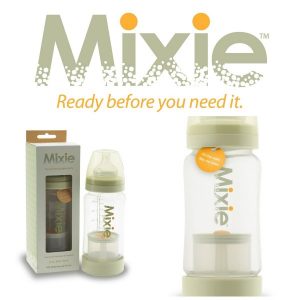 I have a confession. I was so excited about the opportunity to review one that I went out and splurged on a set before the review bottle even got here. I knew I would love them, and I DO. (Did I just say 'I do' to a bottle? I did…Told you I was in love!) Mixies are officially my go-to bottles. I'm pretty sure I talk about them non-stop to anyone and everyone that will listen because these bottles are revolutionary. They are salve to my wounds for the inability to breastfeed my boy. If you are a formula-feeding Mama, these are one of the best investments you will ever make. They have completely changed nighttime feedings. No more stumbling out to the kitchen and groggily aiming powder into a narrow opening. When I hear my boy begin to whimper, I simply reach over on my nightstand, pop the button on the bottom of the bottle, give it a few shakes as I lift my son out of his cradle and have a stress-free feeding.  When we're in the middle of church, it's actually fun to reach over and pop the button. I may be even showing off a little! LOL! "Hey everyone- did you see that… All I did there was push a button… I got that thing in my son's mouth before he had the chance to disturb you all!" Sometimes I even hand it others so they can feel the genuine pleasure of popping that button and creating an instant bottle!
I'm obsessed, I know! Here's a video to show you just how awesome this bottle really is.
It has made feeding fun! Even turned around a situation that just felt sad to me. It just feels so good to push that button and have a bottle ready "just like that" that formula doesn't seem like such a horrific sentence anymore.
If you start Googling to find one right now, you may be a little taken aback by the cost. I will admit that when you look at them as a bottle, they are a bit pricey at twenty bucks a piece. Here is the thing though- you can't look at it like "$20 for a bottle". Put it in perspective and think "$20 for extraordinary convenience and efficiency." The utility and benefit of these bottles is well-worth a $20 investment. I'm certain if you purchase one, you will be purchasing more. What it has done for us and our routine has been a priceless gift. I do not regret one iota, paying nearly $40 for a pair of these innovative bottles! The eliminated-stress they have granted to us on a day to day basis is a precious commodity and worth every cent. I will buy more as soon as a little spare cash flows my way! I plan to get enough of them that I don't have to use other bottles ever. If you wish to be particularly financial savvy, I would suggest buying the 8oz bottles from the start, and purchasing a set of slow flow nipples to use until your little one is ready for the faster flow nipples that come with the 8oz bottles. You can always put less in an 8 oz bottle, but you can never put more in a 4 oz!
It may also help you to know that these bottles are super high-quality. The materials are not going to break down quickly like other bottles do. They're super sturdy and they will last a LONG time. Another thing I love about this bottle- there are no small parts that require tiny brushes and loads of time to wash. The pieces are designed big and spacious so a regular bottle brush will work great. I was a bit skeptical about the water staying safely sealed away from the powder, but they have it covered! I've had no problems with any type of leaking. The assembly is super simple. One thing that may catch you off guard a little, is the measurements on the bottle. When you fill your Mixie, it's going to say the correct amount. As soon as you pop the formula compartment however, you've opened up more space for that liquid, so if your bottle said 5 oz. it will read significantly less. That's typically not a big deal for me, but it does pose a little confusion if my son doesn't eat his entire bottle and I need to know how much he ate. Sometimes as a frazzled, sleep-deprived Mama, I'm not always thinking straight, and I might think he ate more than he did.
And I'm not sure why, but even though my son has had colic and gassiness, and he's required Dr. Brown's bottles all along, for some reason, he doesn't have that problem with these bottles. I'm not sure if that was an intentional feature of Mixie, but it's a nice surprise bonus for us!
I am so hooked on these bottles. I cannot say enough good about them. They've been a sanity saver in our lives. From here on out, these will be my baby shower gift of choice. I can't think of a better gift to give a Mama. I just want to tell the WORLD about them!
And on that note….
I'm happy to announce that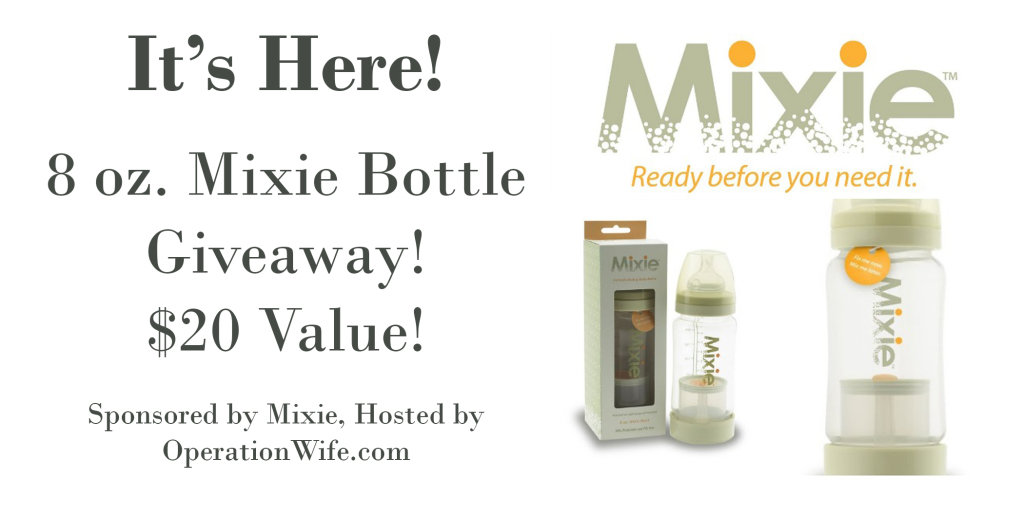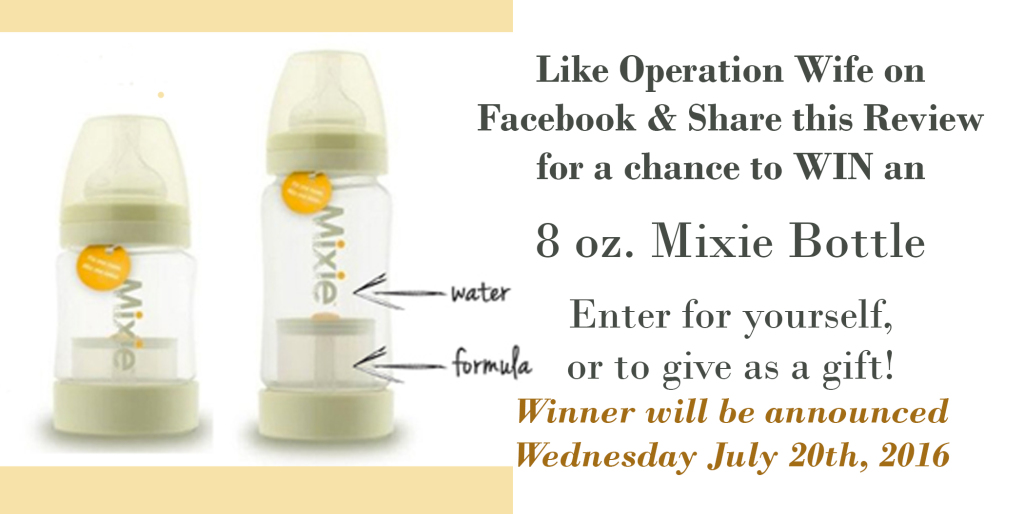 Be sure to use the rafflecopter widget above to verify your entries after you've fulfilled the requirements! Hope you win!