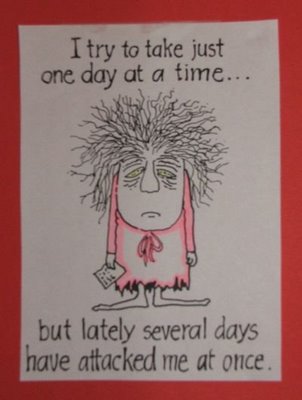 The Ministry-Job-Wife-Life Juggle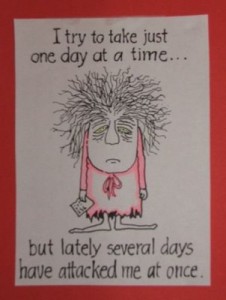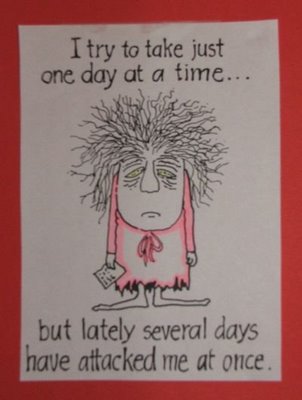 Last week was one of those weeks where I began to feel like maybe I was getting the hang of this "wife thing" where you balance job and ministry responsibilities with your home and wife responsibilities. "Operation Wife" has been a form of organizational therapy as recipes and ideas are perfected to what works and consolidated into one place, and all of the other attempts and failures are relegated to oblivion. I comfort myself thinking that one day, if I have my own little girl that grows up and marries off, I can hand her a book of successes that she can begin her own married life with. In the background I have other recipes, mediocre at best, that I am trying to perfect and tasks that I'm always trying to juggle and grapple with, but… seeing some truly successful recipes and ideas posted gave me that little confidence boost that made me think "hey! I think maybe this isn't so hard! I might be able to do this!"
But… as things usually go, it's just when things seem like they are great when all of the sudden… BAM! You're juggling everything so well and then, something slips, flies back in your face and hits you with full force, knocks the wind out of you, sends you flying across the room, and tops it all off by placing some of those dancing stars and birds around your head.
I don't think I am the only one that can relate to that… "WHERE did THAT come from?" feeling.
Not being alone in that, however, does not mitigate the pains of shortcomings and failures. To say it is "discouraging" to find that you've dropped the ball somewhere would be a very large, very deficient understatement. It's flat out deflating. Nothing kills morale more for me than to find someone is upset with me on part of not fulfilling some expectation. It's one of those things that if I fail at "A", I feel inadequate and unqualified for "A, B, C, D, E, F, G and whatever all those other letters are."  Some would say that is silly, but, when you are juggling all of those things, and "A" is only improving at the expense of "B, C, and D" and "E, F, and G" are just floating by on the absolute minimum… and you realize that to improve "B through Z" you must surrender success with "A", then… no… it is not silly. As sure and certain as "B through Z" are improving, "A" will be suffering.
There is no worse feeling than being torn and divided between priorities. While you're doing the dishes, fixing supper, switching laundry, the irritated voice of angry rebuke echo in your mind: "do your job"  "you're not performing at the level I need", "if your job is going to revolve around your marriage that's not what we need." And when you're sitting at your desk at work trying to dissolve the pile before you and figure out how to manage the thousand job responsibilities, that disappointed, but understanding tone in your husband's voice haunts you, and all you can think about is "I guess I'll eat a PB&J", and your inability to offer him any better because you haven't had much of an opportunity to even think about preparing a meal. That division and tug-of-war has a way of squeezing the heart and life out of a person. It is a crushing weight, unbearable at times and nobody understands why you just don't perform "up to par".
I wish I could please everyone. I wish I could go above and beyond at work, and pour my life into the ministry, and give my husband and his domain my undivided time and attention. In short, I wish I could give each role in my life, my all. But all I have to give is… my all. And "my all" must be so divided that nobody reaps the benefits of "my all." They all reap the consequences of my juggling act.
In times like this, I have to surrender my need and desire to make everything excel, and the deep concern for what others think and entrust my service to the eyes of God, knowing that it is Him that I ultimately have to please. I am encouraged in these hours by the fact that priorities do not have to be a guessing game, because God gave us the best Instruction Manual ever written.
I'm thankful that the Biblical pattern of prioritizing is not some elusive mystery as some might paint it to be, but is quite simple.
God ALWAYS comes first.
This stands to reason since we are His created beings and when our face to face meeting with Him comes it's not going to be how efficiently you did the laundry, or how pleased your boss was with your work that He asks about. I mean, in a certain context those things will matter because we are commanded to be faithful in the small things, but overall… it's how we served Him that will matter.
Marriage comes second, children (if applicable) third.
After God, there is the highest earthly relationship- that of a man and wife. This surely comes before all others because it is the very God-ordained, God instituted reflection of the most important relationship in all of eternity, Christ and His bride, the church. Husbands are commanded to love their wives as Christ loved the church, (Ephesians 5:25). Loving your wives as Christ loved the church is a pretty lofty commandment. Christ's first responsibility after glorifying and obeying God the Father was the Church. It stands to reason then, that a husband's first priority after glorifying and obeying God would be… his wife. Likewise, his wife is commanded to submit to her husband, as unto the Lord (Ephesians 5:22). This puts a remarkable weight of priority on pleasing, obeying and following her husband. You are to follow him with reverence, just as you would the Lord. The magnitude of that command suggests that the wife's husband MUST be second only to God. For who else is she commanded to follow and submit to so closely? None!
After that, because man and wife are one flesh and their responsibility to each other is second only to God, it makes sense that the result of marital relations, the children, should be the next in line after the spouse. Parents are instructed in God's Word to raise children that will love the Lord. They will be the next generation to love and serve Him, and in their own lives should reflect what you have demonstrated with your own life, that God comes first.
Fourth, is the Great Commission and Ministry
When Christ came to this earth, He came to save sinners. We were commanded to go into the highways and bi-ways and preach the Gospel to EVERY man. It was a MANDATE. Not an option. So it IS a CRITICAL aspect of our faith. For a man to be saved and never see the necessity of winning the lost… there is a deep spiritual problem. That debt of gratitude to the Giver of Salvation should be so intense and the realization of what you were saved from should be so soul-jarring, that you cannot keep your mouth closed about it. Salvation is the single most important decision a man will ever make in his life, and therefore it should be a major point of attention in prioritizing. What could be more important than man's eternal welfare? What could be more important than reaching out to rescue a soul from hell?
The Great Commission was not meant to be an "extracurricular activity". It was important enough that Christ taught his disciples the necessity of forsaking their homes and jobs to follow Him. Hence, you have people that surrender all for the sake of full-time ministry.
Outside of this…
You are merely faced with man's opinion, pleasing people, and measuring up to earthly standards.
There is GREAT danger in elevating any man's opinion above God's opinion. Imagine, all your life, you struggle to keep everyone around you happy, while aspects and elements of your relationship with God have been put on the back burner and neglected. When you finally see God, and the most important moment ever in your entire existence, you learn that EVERY EARTHLY EFFORT was in vain because those were not the things that mattered… it will be the most devastating hour for you in all of eternity. God MUST be put before pleasing ANYONE.
| | | |
| --- | --- | --- |
| Galatians 1:10 | For do I now persuade men, or God? or do I seek to please men? for if I yet pleased men, I should not be the servant of Christ. | |
| Proverbs 29:25 | The fear of man bringeth a snare: but whoso putteth his trust in the LORD shall be safe. | This includes fear of your boss and consequences of not putting work first! |
| John 12:43 | For they loved the praise of men more than the praise of God. | An accolade for your success is great, but God's opinion matters infinitely more than man's. |
| Galatians 2:20 | I am crucified with Christ: nevertheless I live; yet not I, but Christ liveth in me: and the life which I now live in the flesh I live by the faith of the Son of God, who loved me, and gave himself for me. | Who should receive our highest efforts, but He Who gave His LIFE for us?  |
| Isaiah 2:22 | Cease ye from man, whose breath is in his nostrils: for wherein is he to be accounted of? | Man will not be the one to Judge you… |
| Romans 12:1-2 | I beseech you therefore, brethren, by the mercies of God, that ye present your bodies a living sacrifice, holy, acceptable unto God, which is your reasonable service.   | I do not pretend to know the theological depth of the statement "which is your reasonable service" but I did notice it says "reasonable" service… Not irrationally high expectations and demands… |
| Matthew 10:28 | And fear not them which kill the body, but are not able to kill the soul: but rather fear him which is able to destroy both soul and body in hell. | Don't neglect God based on fear of consequences in this world! |
| Proverbs 29:26 | Many seek the ruler's favour; but  every man's judgment cometh from the LORD.: |   |
By putting God's opinion before all other opinions, you win the priority game. If anything falls through the cracks, but God was first in all you did, and you lined up the rest of your priorities according to His Word, whatever falls through is… not that critical. Oh sure… it may SEEM critical and it may have PLENTY of earthly consequences, but… rest assured you've managed what truly counted and mattered.
In summary (I know… this was a long one!) I know that I must put God first always, and think mainly about obeying and pleasing HIM. After that, it is obeying and pleasing my husband. After that, the ministry and Great Commission. If something after those priorities throws off the main priorities, it is the things that follow that have to be adjusted- NOT my main priorities. As long as I am doing my best and God is front and center I must trust that everything else will fall into or out of place as He sees fit.
What are your priority goals and methods of balancing them?
Technorati blog claim token: BKXWV5KCRWWS