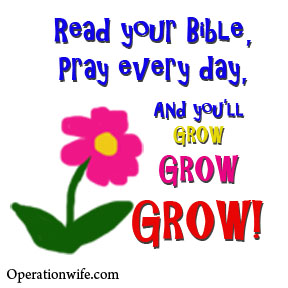 The Long Forgotten Service: Prayer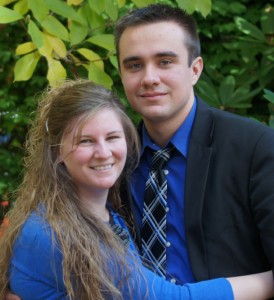 Because we are experiencing many changes in our lives here, several of my posts have centered on the adventures surrounding milestones and major events. Each experience we go through together is part and parcel of a "marriage learning process" and fits the 'genre' of this blog and thus, I hope may be profitable to someone reading. But, setting all of this "in between time" and "adventure" aside, there has been something lingering in my mind for several days on a more practical level.
Currently, Mark and I are in a transition phase, seeking God for the next move. As we packed our belongings and overloaded our Camry, one thing burned on my heart throughout the process and that was this: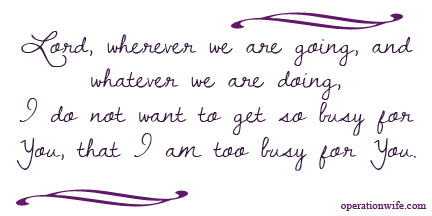 We are called to be in the ministry, and we are called to labor and serve, but I don't want to make the mistake of falling into that age-old snare that E. M. Bounds refers to as the "barrenness of busyness."
It is so easy to get caught up in the duties and the juggling act of responsibilities doing good and noble deeds, until God once, then twice, then over and over, gets pushed so far back on the schedule that we hardly ever get to Him. Prayer becomes a haphazard performance, or a rushed through procession to merely ease our conscience, and our souls, like sponges deprived of water, become so dry that we cannot properly do what God intended us to do.
Before we know it, though we work so hard and may be valuable to so many on this earth, we have evicted the single, most crucial element of our very existence; being valuable to God in eternal matters.
Even though our hands can go on serving, and we can go on with our labors utilizing our will, emotions and intellect, service to God in "eternal matters" can only be unlocked through times of prayer and truly seeking the face of God.
As we set out on the road, I purposed that this would be a time when my priorities were set a right, where I established with the most unbending resolve that God was going to be first and God was going to come before service. That before I set out on some task that benefited God's men, I was going to commit myself to that sacred time of prayer, where I am privileged to have the God of all creation make Himself an audience to my earnest petitions. That every day, the hours, the encounters, the duties, the decisions, the people, the actions and all that lay ahead, will be bathed, drenched, and saturated in prayer.
In the past few days, though we have no home or fixed schedule, I have utilized several pockets of time and spent hours upon hours, on my face, on my knees, pacing the floor, worshiping, thanking Him for everything and everyone I can think of, and making supplication for every specific person and need I know of. (1 Tim. 2:1) In just a few short days, I have felt God revive things in me that had lain limp for months. I felt my heart come back and my spirit revitalized. I felt God deal with me about things in my life and I was able to surrender with little struggle. I felt contentment from another world. I felt eager to fight and labor again.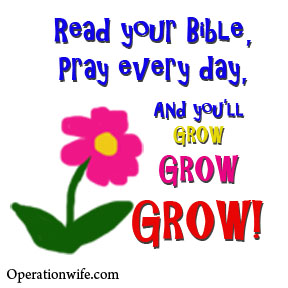 I believe, as rudimentary as prayer is meant to be to the Christian walk, it is a long forgotten, or at least a terribly misused aspect of the faith. If most Christians were honest with themselves, they would admit that their prayer life is either lacking, or leaves something to be desired. If they remember to pray at all, their prayers have become so dry and listless that they cannot be called praying. Perhaps they pray diligently and heartily but their petitions are so filled with selfish desires and requests, that desire for Him is nowhere to be found.
We need a generation of people that will recognize the true need for prayer warriors; people who will lay aside pleasures and earthly matters, to pursue heavenly matters. People who will recognize that going to church three times a week and teaching a Sunday School class matters NOTHING if you do not truly speak to Him and build a closeness with Him that draws You back daily. We need people who will refuse to do a single task until they have met God that morning, and invited Him into every part of their day.
Without that, though we serve in the most 'ministerial posts' and with the most arduous commitment, we are merely frittering our lives away to some temporal end where God is not pleased with us, and may not even 'know' us. (Mt.7:22-23) What a shame and horror it would be to arrive before His throne believing all of our service here on earth was to good purpose, only to be cast out because, though we served valiantly, we did not truly serve Him. That will be the case when we profess to know Him through our service, but never knew Him through prayer and communion with Him. That is not the testimony I want of my life, and if I have to scale back on tasks to see that I get that most crucial aspect down, I will do whatever it takes. Prayer, of the most heartfelt nature, will supercede all matters in this life. Without it, I am nothing. With very little of it, I would be gambling with the eternal fate of not only those all around me, but my own.
How Can I Become A Praying Wife?
If establishing a deep, meaningful prayer life is intimidating to you, you can try this. While there are many methods, and all of my prayer time is not staunchly governed by this, this is the method that I have found works best for me right now.
MAKE A LIST:       Type or write out a prayer list that includes categories in the order below. You can add your own categories where appropriate.
| | |
| --- | --- |
| Worship | For Who He is |
| Praise & Thanksgiving | For what He has done and given, and specific people |
| Intercession | For every person you can think of, and every specific need you know of |
| Yourself | For personal needs and requests |
| Scriptures | That God brought out to you that you can apply in prayer- you can also add things that God brought out to you through books, sermons, study, etc. |
| Answered Prayers | Thank Him for every prayer He has answered. (Move them down from other parts of your list as they are answered) |
2.    GET SPECIFIC:    Under each category, list everything you can think of to pray for under that topic. Be very specific, because you will find each day as you work through your list of things to pray about, that God answered several. You can move the answered prayers down to the last category, to wrap up your prayer time by thanking God for those things. Do not be intimidated or worried about a really long list. My list is currently 25 pages long. I do not always get to everything on it in one session, and if I don't get to it all, I make my way back to it later
3.      ADD OFTEN:       One of the things we are commanded in scripture is to pray for and thank God for 'all men' and to 'watch and pray'. I make a habit of looking for things to pray for. When prayer requests are taken in church, I jot them all down to add to the list. When someone presents a need in conversation, I make a note to add it when I get home. Each day I go through the list and add according to what new or specific situations will be coming up.
4.      LET GOD LEAD YOUR PRAYERS:  Having a list does not mean perfunctory, manufactured prayers. It simply jogs my memory, and from there, I allow God to direct me while I pray. One day the Lord may cause me to linger a while on my Mom, while another day, He may cause me to pray longer for a cousin. Some days I get so stuck in the worship category that hours have passed and I must go forth and meet the day, and I must return later to pray for the rest.
5.      Look for Answers:           There is no point in praying if you do not want to see God fulfill the things you pray for. If you earnestly desire the answers, you will look for them- you will check on the people you are praying for to determine whether any change has occurred. And when you discover them joy will be yours to have! My faith has increased so much as I have seen God answer prayer after prayer, and the ever-lengthening list encourages me to continue laboring in prayer. Record the answers! Many of the prayers God answered may have gone unnoticed if I had not been watching and recording, and it is such a faith booster when you are feeling discouraged for any reason.
When you have a list of things before you to pray for, emphasis is taken off "meeting a time requirement", and placed upon that time of communion. If you have a personal time requirement, you will almost invariably meet it without even trying. You also do not struggle through recalling the things you promised others you would pray for, or remembering the needs of your loved ones, and prayer time goes more smoothly. It also prevents the "vain repetitions" that the Bible warns us about, that we are so prone to falling prey to. Many people have wasted a number of hours uttering meaningless cycles of "Hallelujah, thank you Jesus, glory to God, hallelujah, etc" or "Lord… work and move… work and move dear Lord." Most people that are honest will admit that when they catch themselves doing that, they have let their minds wander away from prayer, and aren't truly praying at all.
If you would like to establish a deeper prayer life, I would like to recommend a book:
Prayer & Revival by E.M.Bounds
Also, if you would like an example of my list to build your own, just leave a comment. I would love to help others pick up the mantle of prayer for this generation!