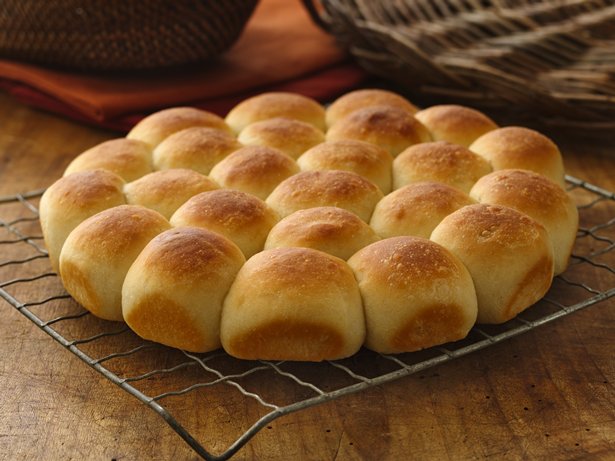 Super Easy, Super Soft Pan Rolls
                 I have a large purse that I don't always carry, but I make sure to carry it with me when we dine at the family buffet restaurant, Golden Corral. Why? Well… they serve THE most incredible rolls there. BIG, SOFT, FLUFFY, BUTTERY HOT rolls. The very thought of them sends a thrill through my body. The reason why I take my big purse is because I often load my plate so high with those rolls (big eyes, you see) and at the end of our time there, I cannot bear to leave those extra beauties behind. My stomach is too full to store them… so they must be wrapped up in napkins and deposited into my satchel for the ride home. Usually, they do not even make it home.
               I really don't know if putting rolls in my purse is a bad thing… I mean, what was the restaurant going to do with them? Pick them up off my dirty plate and put them back in the buffet? If so… I saved some poor customer from that kind of dining experience. What can I say? I like rolls. I LOVE them.
                I'm not sure how you become a lover of bread or a lover of meat, but there is one of each in this household. I could live most of my days and never give meat a second thought. I like it, and enjoy eating it, but it's not like I crave it or anything like that. My husband on the other hand is a meat eater by every standard. It is essential for him, and for him it is one of those "musts". Me? I could eat bread in every way shape and form and be content for the rest of my life: bread sticks, rolls, french bread, pasta, biscuits, pancakes, etc.
         Anyway, I've always thought I'd like to learn how to make a nice dinner roll one day and here it is! These aren't quite "Golden Corral dinner rolls" but for a simple homemade recipe, they're pretty good.
Here's the recipe:
Super Easy, Super Soft Pan Rolls
Ingredients:
2 1/2  to 3 cups all-purpose flour
1/4 cup sugar
1/4 cup shortening
1 teaspoon salt
1 package regular or quick active dry yeast
1/2 cup very warm water (120°F to 130°F)
1/2 cup very warm milk (120°F to 130°F)
1 egg
Butter or margarine, melted
Directions:
1.  Mix 2 cups of the flour, the sugar, shortening, salt and yeast in medium bowl. Add warm water, warm milk and egg. Beat with electric mixer on low speed 1 minute, scraping bowl frequently. Beat on medium speed 1 minute, scraping bowl frequently. Stir in enough remaining flour to make dough easy to handle.
2. Turn dough onto lightly floured surface. Knead about 5 minutes or until smooth and elastic. Place in greased bowl and turn greased side up. Cover and let rise in warm place about 1 hour or until double. Dough is ready if indentation remains when touched.
3. Grease bottoms and sides of 2 round pans, 9×1 1/2 inches.
4. Punch down dough. Cut dough in half; cut each half into 24 pieces. Shape into balls. Place close together in pans. Brush with butter. Cover and let rise in warm place about 30 minutes or until double.
5. Heat oven to 400°F.
6. Bake 12 to 18 minutes or until golden brown.
To save the extra rolls, let cool to room temperature, and freeze. When you want to serve them, thaw in room temperature for 2 hours.
What are some of your favorite bread recipes? Tell me about them!