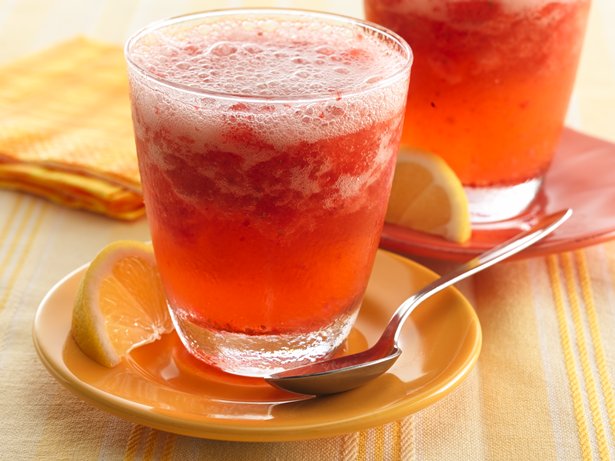 Sparkling Strawberry Lemonade!
I LOVE Strawberry Lemonade! The problem is I don't often find it with the flavor I love. I don't like it sour, bitter, or flat. I love it SWEET. When my hubby and I got married I insisted on having Strawberry Lemonade for our beverage at the reception. I had it at a friend's wedding and it made the 4 hour drive, the expensive gift, and the mild despair of watching yet another peer marry off into happily ever after without knowing when my turn would come, ALL worth it.
Because I was preparing to be a wife and everyone knows the best wives NEVER take shortcuts (role model wives have been deceiving me for years, I know!) I tried to make it completely from scratch. Yes, I SQUEEZED the juice from my own LEMONS! Talk about super wife-to-be. And I didn't have a blender so I used a hand mixer. (That was interesting. I think I found strawberries on my curtains a month later.) Well, when all was said and done my pitcher was filled with a really chunky, bitter pink solution that eventually found its way coursing through the drain pipes to wherever drain pipes go. It was a good thing it was only a trial run because it was definitely not wedding beverage worthy. I gave up on the idea of a strawberry lemonade from scratch for the wedding and didn't have any extra money floating around to spend on more experiments, so… I settled for the store bought powder. Disappointing I know. It was flat and unappealing and I'm sure it didn't make any guests trips to our wedding worthwhile. I hope the candy buffet, cheesecake and pizza made up for everything the strawberry lemonade could not do.
Even though the last two strawberry lemonades were epic failures, I have held a sliver of hope that one day, perhaps, just maybe, I would find that recipe for lemonade perfection.
 Well… today was that day!
I FOUND THE PERFECT STRAWBERRY LEMONADE RECIPE FOR US!
              It may not be what you want in a strawberry lemonade, but it is great for Hubby and me. And…I hope I won't offend the perfect wives among us who never take shortcuts, because there are some wonderful shortcuts involved here. 🙂  Here is my success:
Ingredients:
1 can of Frozen lemonade concentrate
1 10oz. bag of frozen strawberries (thawed)
1 cup of water
1 2 liter of lemon-lime soda
Directions:
In a blender, mix the lemonade concentrate and strawberries until smooth. Pour into a pitcher and add the water and stir. Freeze for at least 4 hours. When you are ready to serve, pour 1 cup of lemon-lime soda into a glass and make up the rest of the glass with scoops of slush. Stir and serve!
           So simple! There are so many great things that I love about this recipe besides it's flavor.
1)     It has a thick slushy texture that both hubby and I love.
2)     It has FIZZ! I am a pop drinker, so anything with carbonation makes me ecstatic!
3)     You can make this healthier by buying organic frozen lemonade and organic strawberries
4)     I was able to use strawberries my mom and dad picked and froze for us instead of buying them from the store, which saved us money!
What are some of your beverage recipes and favorite drinks in your home?