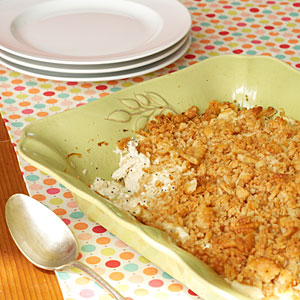 You will probably discover, eventually, in this blog that we eat a lot of chicken. There are several reasons for this.
1) We both like it.
2) It's versatile.
3) We cannot afford anything else!
Meat costs are through the roof right now, and when you are scraping by on a meager salary, and chicken is on sale for $1.77/lb… well Honey, we're havin' chicken tonight. And the next night, and the next night after that, and nightly until God convicts the hearts of meat providers across the nation. Or at least until something else goes on sale… which I may never know when it does because SOMEONE keeps stealing the newspaper ads! (Thank goodness all of our local stores post their fliers online!)
I got the idea for this from the school I work at. They serve this in their cafeteria and it's always a hit with the students. With a few modifications we had ourselves a staple meal with several benefits.
 

It's delicious! (That's always a plus when you've tasted my cooking…)
Though there aren't often leftovers, if there are, they are actually good as leftovers (I am the queen of snubbing leftovers, so I should know.)
Poppy seed chicken many times originates from leftovers themselves.
It's inexpensive and only requires 5 or 6 ingredients.
It's so quick and easy!
It's PROTEIN for my hubby. (He craves protein the way I crave sugar…)
Now, I am not a leftover kind of person. But… I'm learning that leftovers do not have to be "re-heated mush from yesterday."
You can actually take yesterday's dinner and TRANSFORM it into something else. 
For instance, yesterday's Parmesan chicken can very quickly and easily become today's poppy seed chicken. I just wash the breading off the chicken, dice the chicken breasts up and they are now the base of a completely different meal! Woohoo! Go me!
Here's the Recipe:
Ingredients:
2 Cups of cooked chicken breasts (diced)
(aka:leftovers)
1 10 oz. can of Cream of Chicken Soup
($.59 at Aldis!)
1 8oz. container of sour cream
1 row of butter round crackers (crushed)
Half a stick of butter (melted)
Poppyseeds (however many you want)
Directions:
Preheat oven to 375 degrees. In a large bowl, mix your chicken, sour cream, and soup and pour into a 9×13 glass baking dish. In a separate bowl, mix the crushed crackers, melted butter and poppyseeds. Spread evenly over chicken mixture. Place in oven for 25-30 minutes or until edges are bubbly.
When you are done, you will be rewarded with creamy goodness with hearty chunks of chicken that will fill you up, with a crunchy, buttery topping. A fast and easy, delicious weeknight meal!
P.S. –
I never have figured out what the poppy seeds do other than make you a potential drug test failure, but… I add them anyway. I'm sure that even if you left them out you'd still have a great dish on your hands.
What are your favorite chicken recipes? How do you feed your family on a budget?