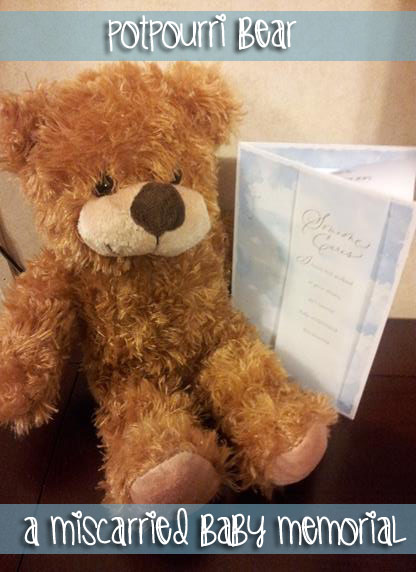 Potpourri Bear: A Miscarried Baby Memorial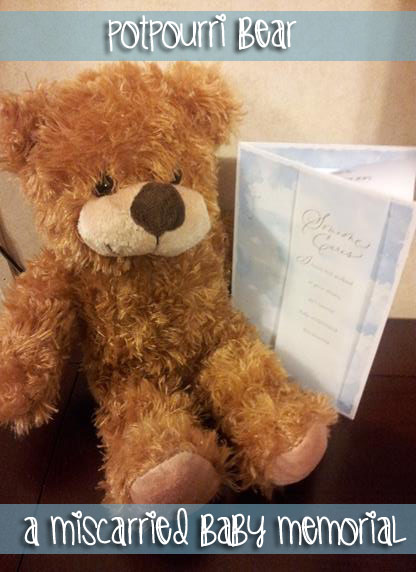 My husband gave me these sweet treasures on Valentine's Day of this year, only minutes before we both found out that we would be parents.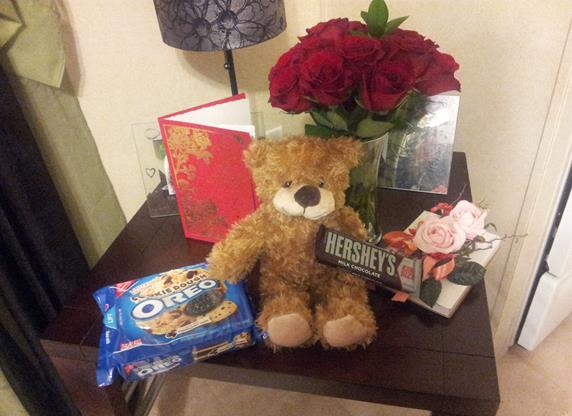 What a blessed joyful experience that was for us. We had waited so long, and then all of the sudden it was happening!
While Mark gave the teddy bear and the roses to me before he had any idea I was carrying his child, after we lost the baby at the 6 week mark, both became inextricably linked to that child. In the weeks following the miscarriage I went back to and stared at the roses that had long since dried, and would often rearrange the way they nestled against the teddy bear where they were displayed. While I did that, I would muse about our child, wondering what exactly she was doing in Heaven.
From the day it was confirmed, I wanted to do something to memorialize our child. I didn't want her to be forgotten. She was an important life, regardless of how brief it was. She is our child and she is waiting for us in Heaven. She will always be numbered among our kids, even if we have a dozen healthy ones on this earth. At that point though, I wasn't sure what I wanted to do to remember her and honor her little life.
Since we are soon leaving Pennsylvania and we can only take a small amount of possessions with us, I realized that the roses would probably never survive a move even if we could take them. They were already fragile and crumbling. The teddy bear would be coming with us no matter what, but I just kept thinking… I wish I could just put the roses in the bear and keep both. It wasn't a serious thought at first, but the more I thought on it, the more I liked the idea… so… I did it and realized this isn't a bad idea really. Not only is it a way to preserve special flowers, but it creates a memorial for my precious child.
You could do this to not only memorialize a miscarried child, but any loved one, or… you could just use it as a keepsake for a special occasion or a way to preserve a particular bunch of precious flowers.
This is what I did:
Potpourri Bear
1. I pulled the blossoms of the roses off the stems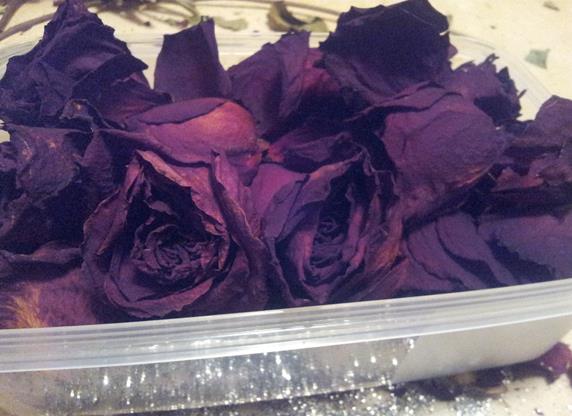 2.  I opened a seam on the back of the bear and pulled out the stuffing.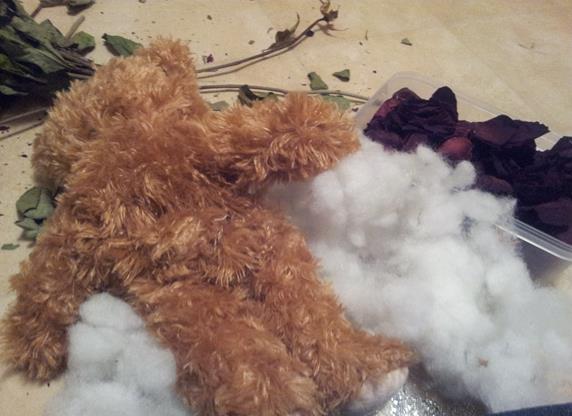 3.  I placed the full rose heads in the bear (you could also crush them to make a softer bear- I liked the idea of them being in tact.)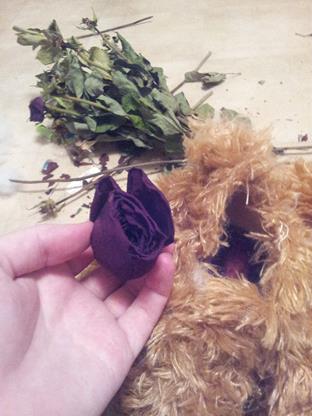 4.   And, since I had him open I stuck the positive pregnancy test (another memento I could not part with!) in his leg, then sealed him up. He is now perched on an end table beside a sympathy card from our Grandmother, emitting a sweet rose fragrance in honor of our baby and our Savior (the Rose of Sharon) with Whom our baby resides. 🙂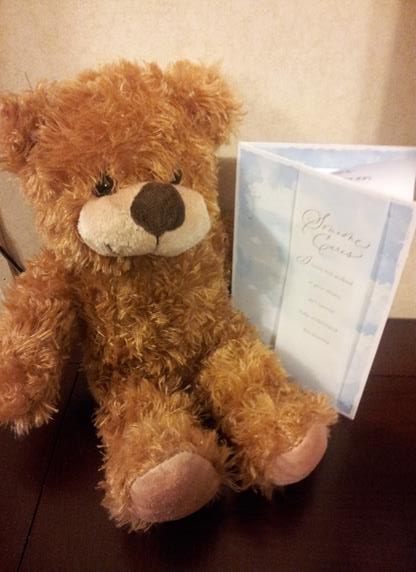 5. If you wanted, you could add a small notion to indicate the baby's name. I plan on doing this, but am still considering exactly how. I'll fill you in later. 🙂


Did you do something special to memorialize a miscarried baby? What was it?
This Post is Linked Up at the Following Linky Parties:
_______________________________________________