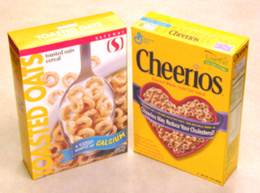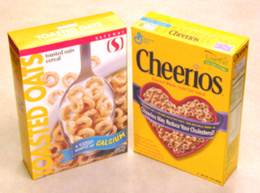 I have a built in radar for generic items. I believe I inherited it from my Dad. You can not fool this girl with store brand goods. When I was single and living on my own, that didn't matter much. $6 bottles of shampoo or body wash… $4 boxes of cereal… double the cost for the assurance of quality… I was willing to pay the price for the most trusted and well-known. With marriage, however, comes sacrifice. We never had a lot, so we had to make it stretch. While "Ion" shampoo is pretty much out of the question now, sometimes I can get "Herbal Essences" but… a good deal of the time it's good ol' Suave now.
Mark, is an entirely different person in the world of brands. Since he and I said "I do", I have learned that what looks inexpensive to me, is astronomically expensive to him.
"Three dollars for a stick of deodorant? Honey! That's awesome!"
"THREE dollars?!"
And thus… even though I was always really good with my money, my eyes have been opened to a whole new level of frugality as Mark, in his loving patience, has begun weaning me from name brand goods and costly convenience.
I will say up front that I was never entirely opposed to generic brands. Sugar is sugar no matter where you get it and what name is on the label. The same goes for flour, sour cream, butter, pasta, etc. There are however some things that I really did not want to budge on though… laundry detergent, cream cheese, cereals, pasta sauces, pudding, hygiene products, so on and so forth. That list is ever decreasing however, thanks to my wonderful husband.
I had good reasons for shunning certain generic items, truly. I tried generic laundry soap and broke out in a rash. I tried generic chocolate pudding in one of my favorite desserts and it tasted like sawdust. I tried generic Alfredo sauce and about lost my supper all over the table. I tried generic shampoo and it fried my hair, and generic deodorant and had Niagara Falls type consequences. By the time we got married, I was set in my ways on some of this stuff. It wasn't "I will not buy them…" It was plead-for-my-life-while-hyperventilating "please do not make me buy them!"
My husband truly is the most patient man alive however, and it really amazes me how he has slowly peeled me away from a mindset, not by force or restriction, but by example. We go out to eat, I'm thinking about a "Number 10" which is almost $6. He orders and gets his entire meal for $2.50 and conviction smites my heart…  "I'll have whatever is cheapest Honey." I want name brand cereal because I cannot stand the other stuff, and he says, "You can get that. I'll eat the generic stuff." What??? You're going to eat generic while I eat name brand? Then I imagine him sitting at the table eating "Fruity Marshmallow Bites" while I eat "Lucky Charms" and a dagger strikes my innermost being… how could I? What kind of wife sits at the table eating the "good stuff" while her husband eats the "cheap stuff"?
After several weeks of this a slow transformation has been taking place inside of me. Sometimes, without any discussion or prompting, I decide, because I want to be like my incredible husband, that I want to stretch those dollars in his wallet, and of my very own free will, will select a generic brand of something I never tried before. Through this I am learning that not all generic is bad, and you cannot shun ALL generic brands just because you had a bad experience with one. Sure… that one made you break out in hives and may have cost you a trip to the emergency room… but try a different store brand, or another cheapie. Give others a chance! My list of "SAY NO TO GENERIC" is shortening in length almost weekly. I have been converted to $1.98 laundry soap, $.59 cans of soup, Suave deodorant, $1.00 dish soap, and so many more things… things I never dreamed I would buy from Aldi's, I now seek there on a regular basis.
            One of these most recent "free will" decisions in the generic department was "Baker's Corner Chocolate Chips" from Aldi's.
Chocolate Chips were one of those, "Honey… don't mess with me on this one…  NESTLE TOLL HOUSE CHOCOLATE CHIPS are the only ones I will use! I can smell a fake chocolate chip a mile away. I don't know how many times I went to the baking aisle and snubbed all of the generic chocolate chips.  But… the other day we were at Aldi's and in the baking aisle I saw their chocolate chips and I thought…. it cannot hurt to try them. I had Mark check the price to see if the cost made the experiment justifiable and the consensus was "who can argue with half the cost of what you normally pay." When groceries take giant gouges from your paycheck week after week, you really start looking for ways to cut corners and generic doesn't seem so ominous. So… I bought my bag of chocolate chips, brought them home, and skeptically but hopefully, placed them into the cupboard until tonight.
Tonight those chocolate chips went into cookie dough and were part and parcel of some fine cookies. I used the Toll House recipe like I always do, and found…. there wasn't much noticeable change at all. You could tell a slight difference but Toll House morsels certainly didn't reign over them enough to justify paying double the cost of these chips! What a revelation this was to me! And how grateful I am for my husband and his example for I never would have discovered this otherwise!
My Favorite Chocolate Chip Cookie Recipe:
Ingredients:
2 1/4

cups all-purpose flour

1

teaspoon baking soda

1

teaspoon salt

1

cup

(2 sticks)

butter, softened

3/4

cup granulated sugar

3/4

cup packed brown sugar

1

teaspoon vanilla extract

2

large eggs

2

cups

(12-oz. pkg.)

Chocolate Chips
Directions:
PREHEAT oven to 375° F.
COMBINE flour, baking soda and salt in small bowl. Beat butter, granulated sugar, brown sugar and vanilla extract in large mixer bowl until creamy. Add eggs, one at a time, beating well after each addition. Gradually beat in flour mixture. Stir in morsels. Drop by rounded tablespoon onto ungreased baking sheets.
BAKE for 9 to 11 minutes or until golden brown. Cool on baking sheets for 2 minutes; remove to wire racks to cool completely.
And, lastly, a trick I learned from my Grandmother:
To keep your cookies from getting hard, place a piece of bread under the saran wrap with them. 🙂
And: Since cookies never taste good stale, there's no reason to bake them all at once. Wrap the extra dough tightly in *cough* generic saran wrap and put it in the fridge. Fresh is always best!
What generic products were you pleasantly surprised with?
____________________________
Blog Hops & Link-Ups