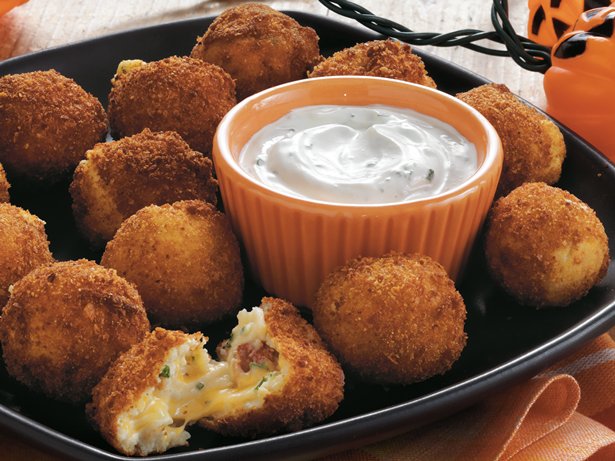 Hellooooooo bite-size loaded potato goodness! If you have been reading this blog, you know that last week I featured "Cheesy Ranch Potatoes" which… I still haven't come up with a name for. Well… today is the heavenly transformation of the leftovers from those potatoes.
Think "Arby's Loaded Potato Bites" better by 1000%.  If you have never had Arby's Loaded Potato Bites, you are an unfortunate creature, especially since they discontinued them a long time ago. I have despaired at their drive-thru every time I've gone there ever since… "Oh ARBY'S! WHY oh WHY did you get rid of the BEST THING on your menu!?" To fill you in though, they were small breaded triangles filled with the flavorful fillings of a baked potato. DELICIOUS!
Years ago when I first tried them I thought, I have to figure out how they make these… they are soooooo good!  I made a couple attempts and failed. Time went on and I continued to buy them from the fast food chain, regardless of their outrageous price of $2.39 for only 5 bites. I had given up on the idea of making my own, but… the other day I stumbled upon a recipe that looked a lot like the idea. The ingredient list was a lot different than what I put in my own potatoes, but… I was imagining those cheesy ranch potatoes as "fried potato bites" and it sounded like a magnificent idea. So… I pulled them out of the fridge and whipped these up:
Loaded Potato Balls
1.    Cold Leftover Cheesy Ranch Potatoes (Click link for recipe)
2.   Bread crumbs (you can use whatever bread crumb you like- panko make a nice crunch, but we chose "italian seasoned bread crumbs" for the flavor
3.   Vegetable oil for frying
Directions:
1. Heat oil to 375 degrees
2. Roll the potatoes into 1″ balls.
3. Roll the balls in the bread crumbs once, then in the egg bath, then again in the bread crumbs
4. Fry for 45-60 seconds, (watch for a golden brown color) lay on napkin covered plate to absorb excess oil
5. Serve with ranch dressing to dip!  Mmmmmm!
Tip: Make sure your potatoes are cold for optimal results.
FREEZER FRIENDLY:   To freeze, fry for 15 seconds only, let cool COMPLETELY, freeze in a single layer on a cookie sheet and bag once frozen. When you bring them out to fry though, let them thaw in the refrigerator. They will not cook right if fried when frozen. Fry for 45 seconds.
Frugal Find: The best part? I had about 3 cups of potatoes left and got well over 50 balls. GUESS what I would have paid at Arby's for that…   $119.50!!!!! These? It was a hearty dish earlier in the week for less than $3, and… in that same $3, with a couple of eggs ($.07/ea) and free bread crumbs, still barely $3.  NEVER BUY ARBY'S LOADED POTATO BITES AGAIN! WHAT A RIP OFF!
What "imitation recipes" do you enjoy?  What fried goodies do you make for your family?