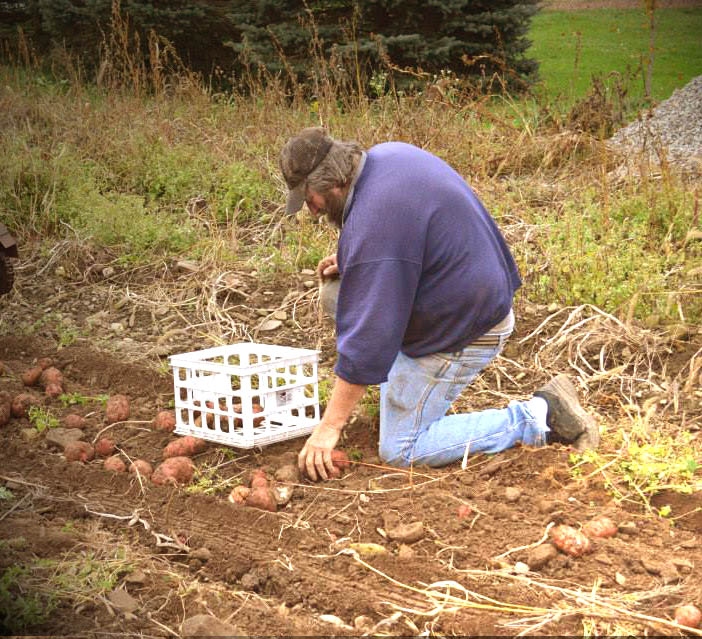 In a Pair of Wal-Mart Sneakers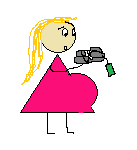 Moseying through Wal-Mart the other day my eyes landed on a familiar pair of sneakers. A feather light pair of gray men's shoes with velcro fasteners, priced at a mere $14.00. Recognizing them immediately, I picked them up off the shelf and held them for a second. They felt just as cheap as they looked. I couldn't imagine them holding up through any normal day to day routine. There could be nothing comfortable or even safe about them, especially for the rigid daily grind of the man I knew that wore them. Maybe it was the pregnancy hormones, but suddenly, I was overcome with an immense wave of love and gratitude. Resting in my hands, staring me in the face, was one small example of the immeasurable selflessness of my father. These were the exact shoes I had seen on his feet for years, and it was a humbling moment for me.
I stood there and thought about my Dad; a man who owns only two pairs of clothes. A set of work clothes that Mom washes for him every night, and a newer set for times when he wants to get cleaned up. Only when his work clothes have worn so thin that the legs are nearly falling off and the shirt threadbare, will he transition to that newer set for work clothes. No need for excess or frills. He lives the most basic of lives, fulfilling the same routine for decades: arise early, work late, eat, sleep, repeat. Someone that works so hard ought to be driving the nicest truck, living in the most spectacular of houses, and wearing the nicest of clothes. But here I stood, holding the same meager pair of $14 shoes my Dad has worn for years.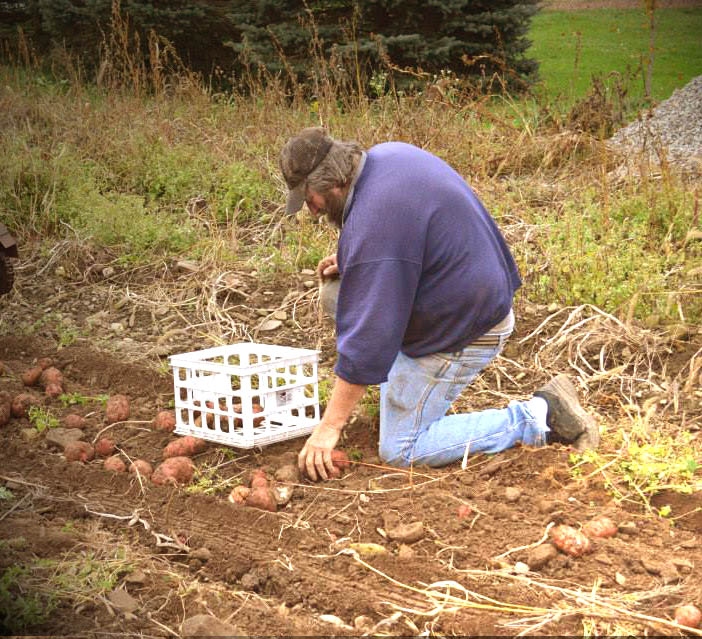 I thought about the shoes I had owned over the years. I don't remember specific pairs as a child, but I remember Dad taking me to pick them out. And I never remember any complaints about the price. If I wanted the Barney pair, or the Barbie pair, or the light up pair, or the sparkly pair, or the changing color pair… that was the pair I got. As I got older and became more aware of prices, I remember steering Dad to the cheaper pair, and him steering me back to the one he could tell I truly wanted. I remember as a teenager, picking up my piles of shoes that had gathered around the doorway. Dad looked on so inquisitively and asked, "What on earth do you need so many shoes for Eddie?" I explained that denim required one pair, and dress skirts required a number of pairs, depending on the color, the season, the weather, the length of the skirt… Browns, blacks, whites, sandals, flats, heels, boots…
Dad had one pair. That was all he needed.
That was all he wanted.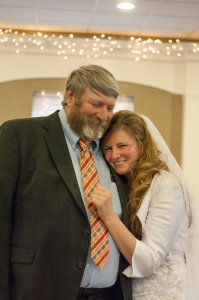 We were never spoiled children by any means, but Dad chose the least for himself to give us the best he could give. His driving force was food on our plates, a roof over our heads, clothes on our backs, shoes on our feet, merry Christmases and Happy Birthdays… I thought about the things Dad had given me over the years. My BB gun and paintball guns, my skateboard and tent, my bean bag chair, Barbies, Polly Pockets and Littlest Pet Shops… my roller blades and John Deere dinnerware. The microwave, the GPS, the vacuum cleaner, the wedding dress… the list goes on…
And he wore $14 shoes.
I'm almost 28 years old now. I've been out of the house since I was 16. I've been married now for nearly 3 years and now have a little boy on the way… and just the other day after Mark and I were showered with generosity and gifts from friends and loved ones, Dad pulled me aside and asked, "What do you still need for the baby?"
Maybe I looked odd standing there holding those shoes, but I didn't try to stop the tears that started to flow. My Dad has never thought of himself. He has given and given and given… and given.
While he wears Styrofoam-soled shoes and threadbare jeans, he asks me "what more can I give?"
As a young person with my own little growing family I look around and think "what can I give him?" I don't have the resources to offer the things he deserves. I'd love to be able to walk into the store and buy him an expensive pair of leather boots, or drive his truck to the gas station and fill it up with fuel. I'd love to buy him whatever it is he really dreams of having, or send him on an all-expense paid vacation… but after all his years of giving, I'm still not in a place where I can give back in those ways.
All I can do is be grateful for what he has given me. Not just all of the material belongings, though I always remain appreciative of every one of those gifts… but for the priceless example he has lived out before us. For the model of what a "man" consisted of… for his sons to become the men they are, and his daughters to seek husbands with similar qualities.
As I put the shoes back on the shelf, I remembered why I was there in the first place.
Right now, the soles are falling off Mark's shoes. I've pleaded with him  to no avail, to get a really nice pair that will be comfortable and durable. Instead, he looks for glue and tacks and tries to repair them, even though they are long gone. I go in shoe stores and try to convince him to buy this pair or that pair, and he shakes his head. He won't spend the money. But when I mentioned the other day that my feet were sore and my shoes uncomfortable, he was ready, right away, to take me to the store and lay down whatever amount necessary to put a comfortable pair on my feet.
When new shoes for his own feet comes down to an unavoidable mission Mark must fulfill, I know where I will find him. I will find him in this aisle, among the cheapest of shoes, buying himself the most inexpensive pair he can get by with.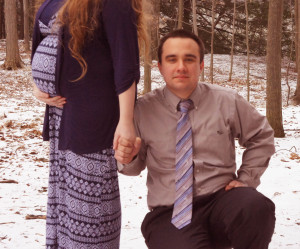 I look at Mark and I just marvel. Somehow, I married a man just like my father. One who never thinks twice about meeting my needs, but wrestles with meeting his own. A man who doesn't mind at all when I buy our yet-to-be-born son a little suit for church, but absolutely cannot bring himself to replace his own threadbare suit with a new one.
When I think about these two men in my life, I am overwhelmed at what I have been given. My father didn't pick out a husband for me, but somehow, I feel like my Dad gave me my husband. By living out the character and devotion so innately built within him, I knew I could never settle until I found another man like him. I had no idea however, that one day I'd be standing in a shoe aisle, staring at men's shoes, wishing I could only convince my husband to spend more on himself, but here I am. I'm married to a man that is starting the journey over. He wasn't raised by my father and didn't glean from his influence over the years like I did, but he's so very much like him. He's working hard each and every day to provide and sacrifice so Zane and I can have more than we need. He's laying down his needs to supply my wants. When I look at Mark, I see that same inherent nature of sacrifice spilling forth from him. He loves to give and provide more than he loves himself.
My heart is warm and full as life unfolds. I'm not the little girl anymore, with Barbie sneakers under my arm and my hand in Dad's as he leads me to the checkout. I'm a grown women now; the undeserving wife of an unassuming man who would buy me a dozen pairs of shoes before he breaks down and buys his own.
I'm married to a man that is walking in the same humble path my Dad walked… in a pair of Wal-Mart sneakers.