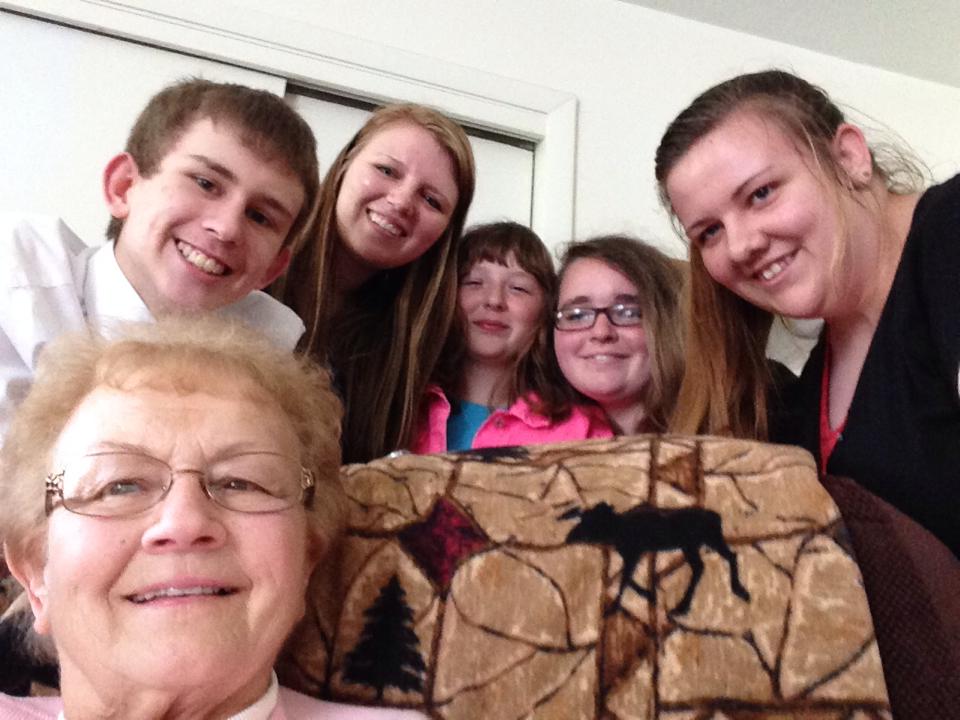 If Words Can Honor Her… I Must Try
So many words rushing through my mind.
I've sat here for an hour, desperately yearning to connect what I feel deep in my heart to a bank of vocabulary in my brain, wondering if somehow the two could flow together. I want to honor her. To tell her how much I love her. To somehow cross the barrier of the thousand miles between us with the written word. I want to string words into sentences that will convey the magnitude of respect, love, and appreciation I have for her in a way that is worthy of her, and I cannot.
My heart is scrambling to find a way to pour itself out. Maybe I could collect pictures of her and… Maybe I could write something on her timeline. What if I made a video presentation? Would a phone call say it all? I have to get up there…. A plane ticket or a cross-country road trip with my infant son to see her in person. I feel that crushing weight on my lungs of an impossible-to-deliver message. There is nothing I can do or say that will fully express what I want her to know.
I have been staring at a blank screen knowing that somehow, someway, I must mobilize words on paper to express my love to her before it is too late.  In any other situation, words would flow freely, but here, the flashing cursor is reminding me that there is no cohesiveness to my thoughts.
I see her face.
I imagine her smile.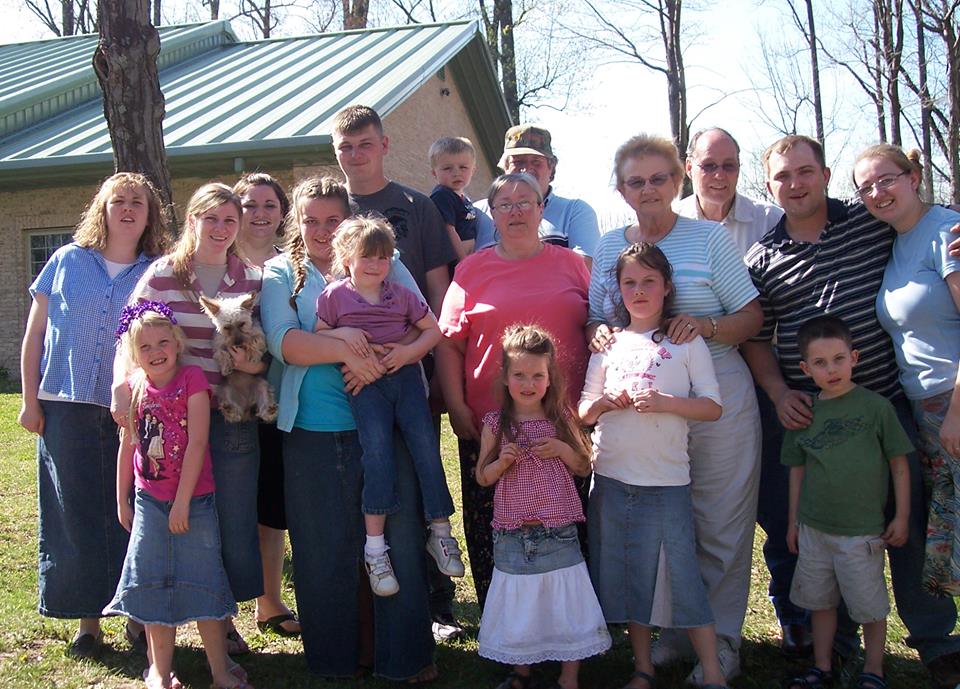 I think about how she called me "Miss Minnie" as a child, and how stunned I was to learn that "In Ohio" was not her last name. I grin when I recall the burst of laughter from all of us grandkids at the revelation that she used to be a trucker named "Hoot Owl." I envision her bending down to place a bowl of ice cream on the floor, spoiling a pair of dogs who hit the jackpot when Grandma found them.
I chuckle about her first "selfie."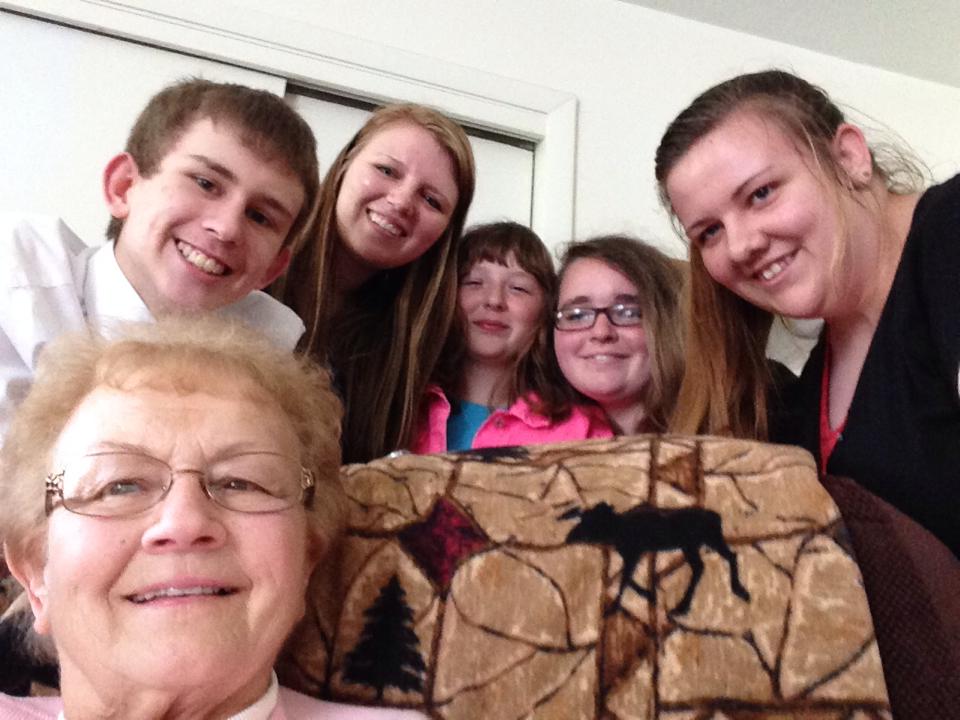 She's our "techno Granny."
I click through pictures on Facebook and feel a surge of anger when I see her 70th Birthday party.
I wasn't there.
I didn't share in it because at that time a deeply engrained loyalty to a controlling figure kept me from making my family a priority. It was only a couple weeks ago that Grandma listened as I recounted the events that led to our decision to move on and what that meant for our priorities. I told her of the drastic change it has made spiritually and she was quick to affirm:
"That is the most important thing. And I know that you and Mark are exactly where God wants you to be."
She was so pleased to hear of Mark's happiness and how much he was enjoying his job. I know that she loves and cares about him just as though he was born to one of her own children.
Last night I pulled out all of her cards and read her fine cursive. Everyone else on the planet could forget your birthday but there is not a chance in the universe that Grandma would forget to send a card. I thumbed through each one, faithfully marking every special day and life event for the last several years and thought I'd like to take that up for her… to remember to send cards to everyone on their birthdays.
I smiled at the diagonal "ands" between "Grandma" and "Grandpa".
In every single one there is the assurance of her prayers. She said often how much she adored her "kids" and how she enjoyed seeing our posts on Facebook. She was so happy when I got the "man of my dreams".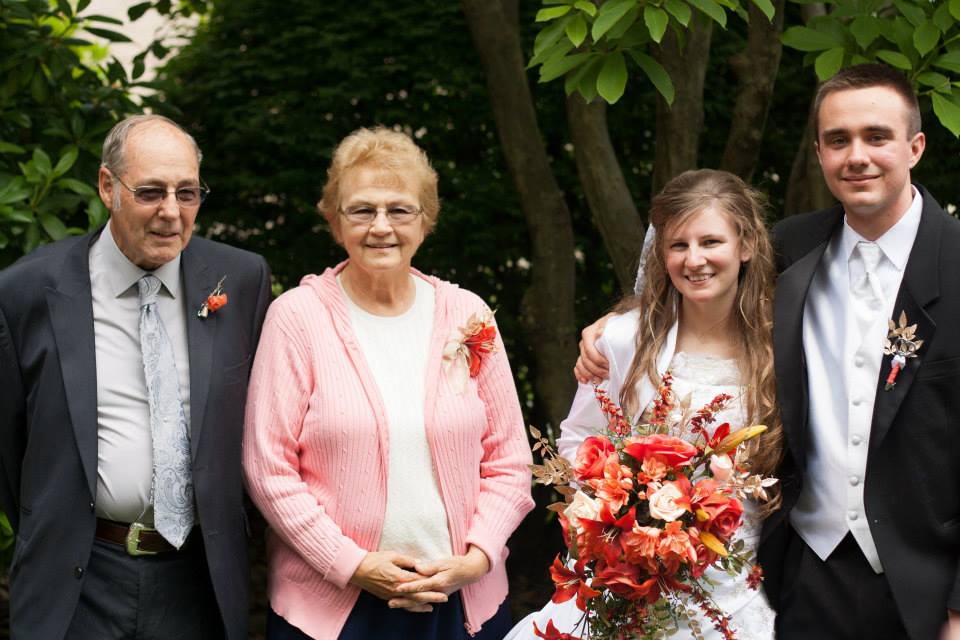 I hear her, faithfully and sweetly echoing my own sentiments.
"Becky Honey, you have a gem. A precious treasure.

Mark is such a splendid young man."
It always felt so good to hear her beaming with approval for the man I love. Her opinion of my husband is something I have always cherished. I keep her priceless words about him tucked neatly within my heart and replay them often.
I remember her pulling me aside at our wedding with a mischievious smile in her voice. "Becky, I must say that all this fabric is refreshing! I told your Mom that there would be much more fabric at your wedding, and I was right." I always smile when I think of how she appreciated the modesty.
In my mind I go back to the last conversation we had and I hear her sweet soft-spoken voice on the other end of the phone. She told me how much I look like Grandma Nichols.

"What an honor, Becky. She was an incredible lady. Such a tribute to a beautiful woman."
I don't know how to explain how precious her sentiments were to me. I have always felt honored to bear a resemblance to Grandma Nichols, but to hear Grandma vocalize how special that is… to look like such a special woman… I was humbled by the undeserved and unearned blessing. And to hear one Grandma praise the other.
As she admired Grandma Nichols, she connected herself to her in my heart. She gave me a great gift, that now, when I think of one, I will always think of the other.
I smile because Grandma Morris' words are like treasures. In every conversation nuggets of gold tumble into your heart and they linger there forever.
I picked up the card she gave me after having Zane. She reiterated the many miracles and told me how her church family faithfully prayed for me and enquired of my well-being while I recovered from a life-threatening situation. Under that card was one I had never seen. It had come during a time that I was so ill that Mark must have opened it and read it to me. She was always there with support in times of crisis.
When our first baby died she was the only one to send a card or commemorate her life. It's just like her to understand someone's grief in a way no one else can. I'll never forget the healing balm I felt as I read and cherished every single word. That card is by far one of my most special treasures, because with it, she validated my sorrow.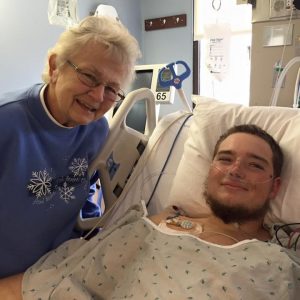 How desperately I long to be with her right now as she is battling through these horrible hours; to offer the support she has so often been for myself and so many others. I found a plane ticket and talked it over with Mark and I was going to strap my little son to me and close the distance in mere hours… but I can't leave for another week and they just don't know if I will get there in time.
Words on paper are all that I have right now. I have to hope that somehow they will erase the miles and put me beside her. That somehow, even if they don't say everything I want to say, that she'll be able to take hold of what I feel in my heart.
With all travelling options dismantled, I realize I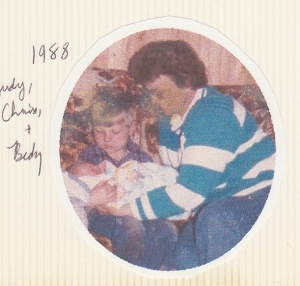 may never see my Grandma in person again. I can't explain the weight of sorrow that bears down on my soul with that understanding.
Questions tumble around inside until they smack the surface of your heart, confronting you with a swift thump.
Why her? She's such a good person. You'll never meet a more beautiful soul.
Why now?
Why like this?
I'm not looking for answers or questioning God's sovereignty. I'm just clinging desperately to her life, willing her to stay with us.
Oh, that she could rally strength and conquer this wicked beast!
I wonder how to say "goodbye" just in case, without sealing a fate. How to ask her before it is too late, if she'll look for my little girl and hug her when she gets there without making it seem like she's for sure going anytime soon. I imagine everyone that loves her is battling the same dilemma.
I want you to hear my goodbye… but I don't want to contribute to the idea that there is a reason to say it.
Grandma, my heart aches terribly with the thought of losing you here. I would give anything to keep you with us… to receive your golden nuggets of wisdom for decades to come. To hear you playfully scold my mom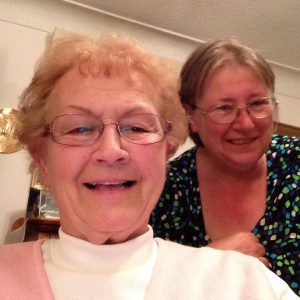 when she can't contain her humorous opinions.
"OH CINDY!"
To see you hold Zane.
To show up at a wedding or a shower and see you there.
I just can't comprehend days, weeks, years ahead without you in them. If I could strap bricks to your feet to hold you here I would do it.
But I think too, that what lies ahead of you is so much more beautiful than all the experiences of this world combined.
You are so close to bowing at the feet of Jesus, and that overwhelms me with joy. I know of no one more deserving of that honor.
Walls of jasper and streets of gold.
A mansion prepared.
Your own mother, and probably others that you love that I've never met or heard of.
And my daughter!  What I would give to meet her myself!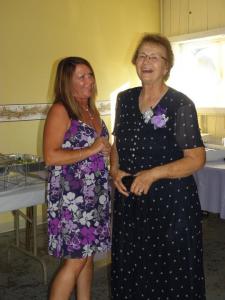 And who knows… maybe it's actually a son. I can just imagine you asking Jesus to take you to this 2-year-old girl and out from behind Him steps a little boy. I can hear you laugh with glee, "oh, won't those kids be so surprised!"  
I know I'm not the only one with a "perfect child"  and I imagine what fun it will be for you to meet these children before their own parents. You'll probably burst with excitement about how happy we'll be when we get to meet them ourselves.
I've mused about the reception you will receive when you walk through those gates.
The "well-done thou good and faithful servant" that will ring through Heaven when you show up.
I would be crazy to try to hold you here if it was your time to experience those incredible things. And only God knows if it is. I was comforted recently myself, when a friend reminded me that we are invincible until the precise time that God has appointed for us to go.
We can rest in that assurance that your life and your future are safe in the hands of God, and there is nothing better for all of us in this matter than His will.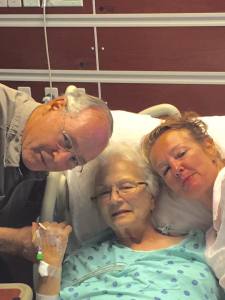 Whether you stay… or go… God knows what is best.
I want you to know though, how much I love you; how much I have cherished having you in my life. That there is no one on earth that could replace the influence you've had upon me and my family.
That every card… every letter on colorful stationary… that every text and phone call and Facebook comment were treasured. That every prayer you offered up on my behalf was counted and heard. That even though I can't find a way across this country, that in my heart I am standing at your bedside. That I have bathed my pillow in tears praying for your comfort, your peace, your healing… and I know that you are in God's hands.
I love you Grandma. More than these crazy, incoherent babblings convey, I love you. And if you slip away before I can see you in person, I know that it is not forever. I don't know when or how long it will be be, but I will meet you over there in that City. I imagine that in the light of eternity the seperation will seem like a mere blink.
And that is my consolation.
The distance… whether its a handful of states, or two different realms… it's temporary. If I don't make it to Ohio in time, I'm still going to make it to Heaven. So I'll see you. One way or another we will be reunited, and I look forward to that day with all of my heart. Thank you Grandma, for making my life sweeter, just by being here.
Thank you for being such a special woman. Every bit as special as Grandma Nichols. Thank you for being such a wonderful Mom to my own mother… for raising her to be a mother I can look to and cherish just as she cherishes you. I love you with every ounce of love that exists in my heart. I pray that these words can carry the message… that you'll recieve every bit that I can't wrap limited words around.
I'm planning to be there. But if I'm not there soon enough, I love you.
Love always,
"Your Becky"