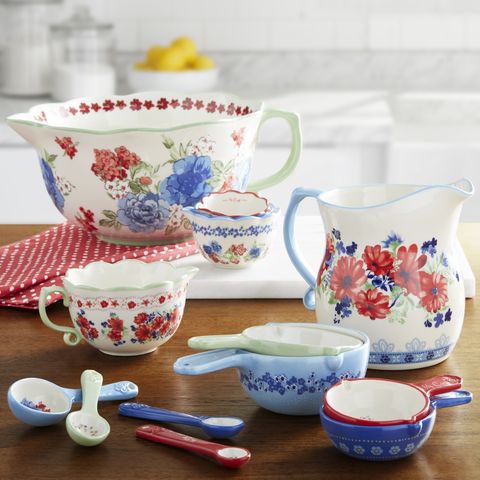 Shortly after we were married, my husband and I moved into a tiny apartment that came with something I never had the privilege of owning before…
It was a dishwasher.
Prior to this, the only time I had ever used a dishwasher was when I was thirteen. I was spending the day at my Grandpa's, and, trying to be helpful, I decided to do his dishes. Since he had a dishwasher, and automatic dishwashing sounded wonderful to me, I looked the beast over, and determined to try it out. I filled it up, put some dish soap in, hit the start button, and went on my way.
When I returned, I was shocked to find the house FILLED with TIDAL WAVES of suds. Floor-to-ceiling, wall-to-wall, the kitchen and living room were packed with fluffy white mounds of lathers.
This experience left me moderately intimidated by dishwashers, and from that point on, I had absolutely no desire to own one. Mark, however, was eager to teach me how splendid these machines were, so, I swallowed my apprehension and became his pupil. He showed me how to load it, taught me how to fill it with soap… properly (apparently that was my error), and what buttons to push. Much to my delight, it worked magnificently! And there were no heaps of suds!
At first, the dishwasher was a mesmerizing novelty. At the time, we were fully-emersed in the season of bottles and sippy cups and round-the-clock demand from a tiny, newborn Zane, so it was a welcome help. When dishes began piling up and their presence seemed to jeer at me while I struggled to keep my head above the water, it was nice to be able to slip them into the dishwasher, slap a couple of buttons, and let the machine do it's thing.
However, as babies grew and the years slipped by, I found myself hand-washing the dishes more and more. After two C-Sections, my back did not appreciate the tedious process of stooping over to load and unload the dishwasher and many times, the dishwasher's performance was so poor that I had to re-wash my dishes in the sink anyway. I began avoiding the dishwasher and opting, with subtle enthusiasm, to take my position at the sink instead.
It was through those daily sessions at my kitchen sink, that I gradually discovered the underrated therapeutic value of washing your dishes by hand. While arguably inefficient, I discovered that I would much rather stand at the sink, lost in sundry pleasant thoughts, for 20 to 30 minutes, than to methodically bend and stoop for five. There's something about taking each dish and turning it in your hands; tending to and noticing its details, giving it personalized love with warm water and suds, scrubbing it attentively with a trusted rag, and giving it a thorough inspection as the water runs over it in a final rinse. It's not that I have a great love for the actual chore of dishwashing, but I've found that washing dishes by hand gives me time to reflect on things that make me grateful. Bowls and plates and platters… each piece provides an abundance of inspiration to occupy my thoughts while I am stationed there.
This past Christmas, Mark gave me the beautiful blue and red "Heritage Floral" dinner set from Pioneer Woman, and I never grow tired of admiring the plates and bowls during their nightly bath. Like most women, I'm pretty obsessed with Ree's beautiful collections, and I find it difficult to resist the ritual detour to the kitchen aisle to drool over everything that bears her cheerful, brightly-colored florals. Over time, whether by gift or valiantly saving, I have collected many of her pieces. I have a slightly older "Vintage Floral" dinner set that Mark bought me, for a different Christmas, that gets used just as much. While I wash the two sets, I smirk, because I am reminded at how perplexed Mark was to learn I wanted dishes for Christmas AGAIN. Clearly men do not understand "Pioneer Woman". As I continue washing piece by piece, a happy spring bubbles up within me, as I recall how he astonished me with OODLES of Pioneer Woman for Christmas, and how loved I felt unwrapping that seemingly endless string of floral gadgets and surprises. From there, my mind wanders to the great storehouse of precious memories I have with my beloved husband. I travel through the corridors of his innocent pursuit of me and those sunshine-filled days of bliss where we got to know each other. Our first date, our first kiss. Experiencing heights-of-happiness I never knew existed. The warmth of loving and being loved by another person. The security of his arms. The beauty of shared griefs. The awe of his sacrificial love. The strength and courage we have gained from each battle. As I stack those "Vintage Floral" bowls and "Heritage Floral" plates, my heart swells with thanksgiving for my dear husband, and I muse about all the ways I am going to show it.
I also have a set of Pioneer Woman teaspoons that were a gift from my sons. I enjoy washing them every day. As I rinse cranberry juice out of the half cup, and lingering drips of Apple Cider Vinegar from the tablespoon and swipe my wash rag covered finger inside the teaspoon to rub away remnants of molasses, I think of what a relief it is to finally own measuring cups and spoons with numbers that won't wear off. The day they were given to me, I chucked every single "mystery measuring cup" and "mystery measuring spoon" I owned into the trash. It's been such a pleasant change to be able to quickly identify the cup and spoon I need during meal preparations. After I have my moment of gratitude for these colorful melamine gadgets, my mind shifts to my sweet boys, and what handsome little bundles of joy they are to me. I begin to ponder their personalities and characters, and think of ways I can be a greater blessing to the tiny treasures God has entrusted to me. I think of the virtues I want to instill in them, and little things I can do that day to bring them joy. As I finish washing those spoons, I'm often resolved to carry out, once my hands are dry, a special bit of inspiration that came to me, to improve the day for my boys and their Daddy.
Not long ago, I added a set of Pioneer Woman's stoneware, "Flea Market" serving bowls and casserole dishes to my collection. After reading and being inspired by Karen Andreola's book, "Mother Culture", I decided I wanted to elevate the atmosphere in our home with a variety of small touches, like "pretty serving bowls". Perhaps it seems silly, but my treasured dinnerware had already revealed to me the difference a beautiful bowl makes. There was a time, not so very long ago, that I avoided dirtying dishes at all costs and I constantly opted for paper plates. When my husband bought me those lovely Pioneer Woman bowls and plates, however, I couldn't help bringing them out, meal after meal. I did not mind the extra work of cleaning them after dinner because I adore them so much.
Beautiful bowls beg to be used.
Their loveliness motivates me.
Having learned from this, I made the decision, that when I could, I would purchase for myself other beautiful pieces to prepare food in. I had a few favorites collected online, and while I saved, I would occasionally "check on" them. I would scroll through the selections and click through all the pictures of the prettiest ones, regretfully leaving them behind after a few moments of pining. Eventually though, a glorious day came when I was able to put them in my cart and actually checkout.
As I wipe away the brownie batter in one, and the flour dust in another, I enjoy the same small burst of glee I felt when they arrived on my front porch and I triumphantly carried them inside. How victorious and satisfying it felt to unbox these beauties. I couldn't wait to mix up some sweets for my crew and fill them full of delicious vegetables and sides at dinner. When I wash these bowls and casserole dishes, I am intrigued by the difference they have made for me. They represent inspiration. Because they are lovely, I love to use them. They persuade me to go the extra mile when I am making dinner. They encourage me to step into the kitchen and make little treats that will bless my family. While I rinse of the remaining suds on each one, I am encouraged, because I know I am no longer floundering and despairing of inferiority in the role God has called me to. These dishes represent a weakness that was conquered, and when I wash them, I experience a quiet strength and confidence, as my mind dances with inspiration for their futures.
Like my dinnerware from Mark, and my measuring spoons from Zane and Asa, most of my dishes were gifts from people I love. I have never owned, or even wished to own the kind of fine China that many of the most domesticated wives are proud to have, but my kitchen is filled with dishes that have lots of character and memories attached to them.
I own a lovely set of John Deere dinner and server ware by Gibson, from younger days. As I carefully tend to each piece under the water, I notice places where the designs have faded away, and I smile because these dishes have been very-much-loved. I smile because their weathered paintings remind me of the weathered man who gave them to me; my late father. These old, wore out dishes are very dear to me.
While I lovingly rinse and rub away the meal, I am transported to the time of life they were given to me. I was a teenager, fresh out of college, and beginning independent life. I had just moved into my first home, and Dad surprised me with these much-longed-for dishes. I had always said, that when I grew up, I wanted a "John Deere Kitchen".  My heart is often flooded with warmth when I think of how well Dad knew me, and how much he loved me.  And not only him, but others. Over time, Dad, Mom, siblings, relatives and friends got me the whole John-Deere-Shabang; I accumulated everything from the serving platters and stoneware pitchers, to the butter dishes and glass tumblers. My taste for kitchen décor has changed over the years, and I'm no longer the girl that desires green and yellow curtains and tractors at every turn, but I still love and enjoy these dishes immensely. They are some of my most-loved treasures. They aren't brought out as much anymore, because I don't want my children's rough utensil habits to scrape away their designs completely, but I do bring them out for meals from time to time. When I do, I always look forward to spending time at the sink with them afterward, reflecting on Dad and all the friends and family that collected them for me in that season of my life. Each of these dishes represents someone who knows me well, has celebrated me, and at some time down through the years, has extended a token of their love to me. There have been so many times I believed an evil whisper in my ear that nobody cared about me, but my clean, medley of dishes pile up next to me as a monument of truth. I am loved, and they remind me of what it is to be loved and known by others.
As each-precious-dish gets its moment, plunging from the dirty side of the sink, into the water, to receive its thorough scrubbing, its rinse, its inspection, and is finally passed to air dry on the towel, I am stirred with so many edifying thoughts.
When I am finished, I look down at the clean pile of dripping dishes beside me, and I am refreshed.
There is something beautiful about standing at the kitchen sink, doing dishes by hand, that has been lost and forgotten with the deluge of modern convenience. Maybe it seems old-fashioned and inefficient, but it's one of the most blessed hours of my day and I wonder if all our clamoring for faster, easier ways has left others missing out like I once was.
That eclectic mix of John Deere and Pioneer Woman is a medley of memories, strength, courage, motivation, inspiration, prayers, love, and friendship…
Every once in awhile, when I'm overwhelmed, I briefly entertain the idea of running the dishwasher….
But then I think of how much I would miss…
So I tie my hair back and take my place at the sink, and within a few moments, I am happily swept away in precious thought to places and people and ideas that lift me up and leave me feeling new, clean, and inspired.
I could run the dishwasher, but I can't imagine my day without these moments.