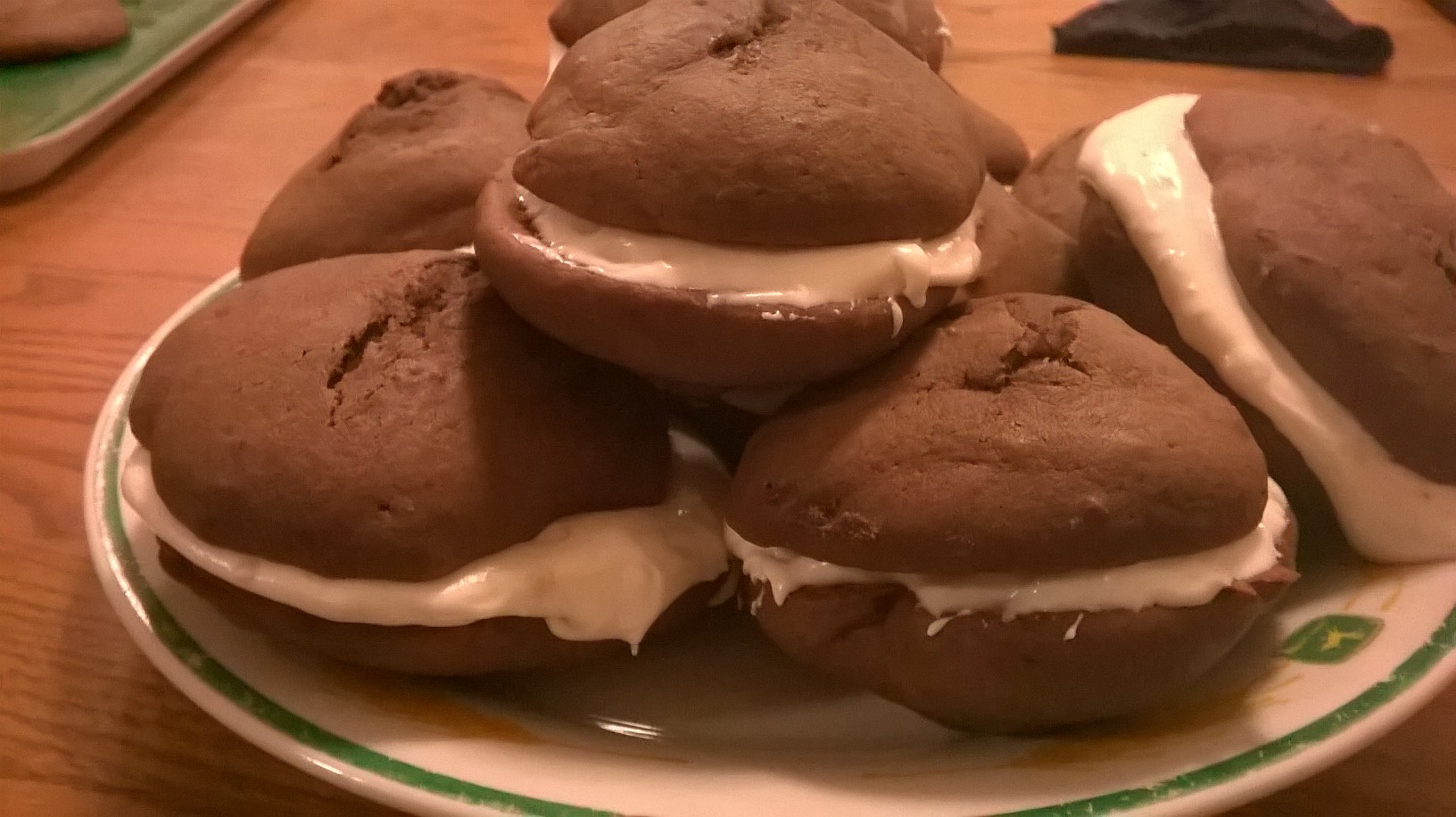 Gobs: A Tribute to the North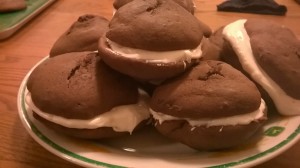 Most people call them "Whoopie Pies", but where I'm from, they're "Gobs." Gobs of chocolate and gobs of cream, gobs of deliciousness, and gobs of memories.
The sight of a Gob does more than make my mouth water. It invokes a flood of sweet childhood memories like the elation of toddling into a kitchen to find Mom baking them, and seeing all those chocolate cookies lying eye level across the table. Or Mom setting aside that last little bit of dough for me to use in my Easy Bake Oven. And tea parties with the people remodeling our house always included Gobs. In fact, I thought Mom made them just for my tea parties with Mike and Jane and their crew.  While the construction crew labored, I prepared my tea set  and on their breaks, they gathered around to sit Indian style on the floor and eat Gobs that were bigger than the flimsy plastic saucers they sat on. When we were finished, the crew  washed the goodness down with the tiny swallow of "tea" (water) in the microscopic tea cups I provided.
Gobs are one of those things that just makes you think of home. They are one of those treasures from childhood that deserves to live on and be carried into your own children's lives.
For years, I couldn't get a hold of the original recipe that my mother used when we were growing up. It was hand written on a blank white sheet of paper, stained with frosting and batter drippings from its many sessions on the counter while Gobs were being prepared. Eventually, I did get the recipe from my Grandma, but I never seemed to have a lot of luck with it. Climate can influence certain recipes drastically, and my success with that recipe was very sporadic due to the temperamental weather in Pennsylvania. So, I adapted. I found, and tweaked a recipe that doesn't seem to suffer when rain or humidity are in the forecast. So, in honor of my Northern roots and Yankee heritage, I shall include this recipe in the repertoire  I may one day pass to children who may very well be Southerners.'
Northern Gobs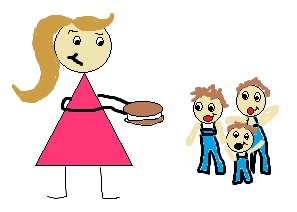 Ingredients:
Cookies:
2 sticks of butter, softened
1 1/2 cups sugar
2 eggs
2 tsp. of vanilla extract
4 cups all-purpose flour
3/4 cup baking cocoa
2 tsp. baking soda
1/2 tsp. salt
1 cup water
1 cup buttermilk
Filling: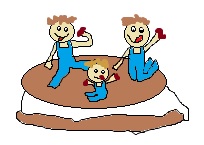 4 cups confectioner sugar
2 jars Marshmallow Fluff
3 sticks of butter softened
2 tsp. vanilla extract
Directions
1. In a large bowl, cream butter and sugar until fluffy
2. Add eggs and vanilla
3. Mix the flour, cocoa, baking soda and salt.
4. Alternately add the dry mixture, the water, and the buttermilk to the creamed mixture. Mix well after each addition.
5. Place blobs 2 inches apart on a greased cookie sheet.
6. Bake at 375 degrees for 7-9 minutes, or until firm.
7. In a large bowl, mix the filling ingredients. Spread on the bottom of the cookies, and top with another cookie.
8. Enjoy!