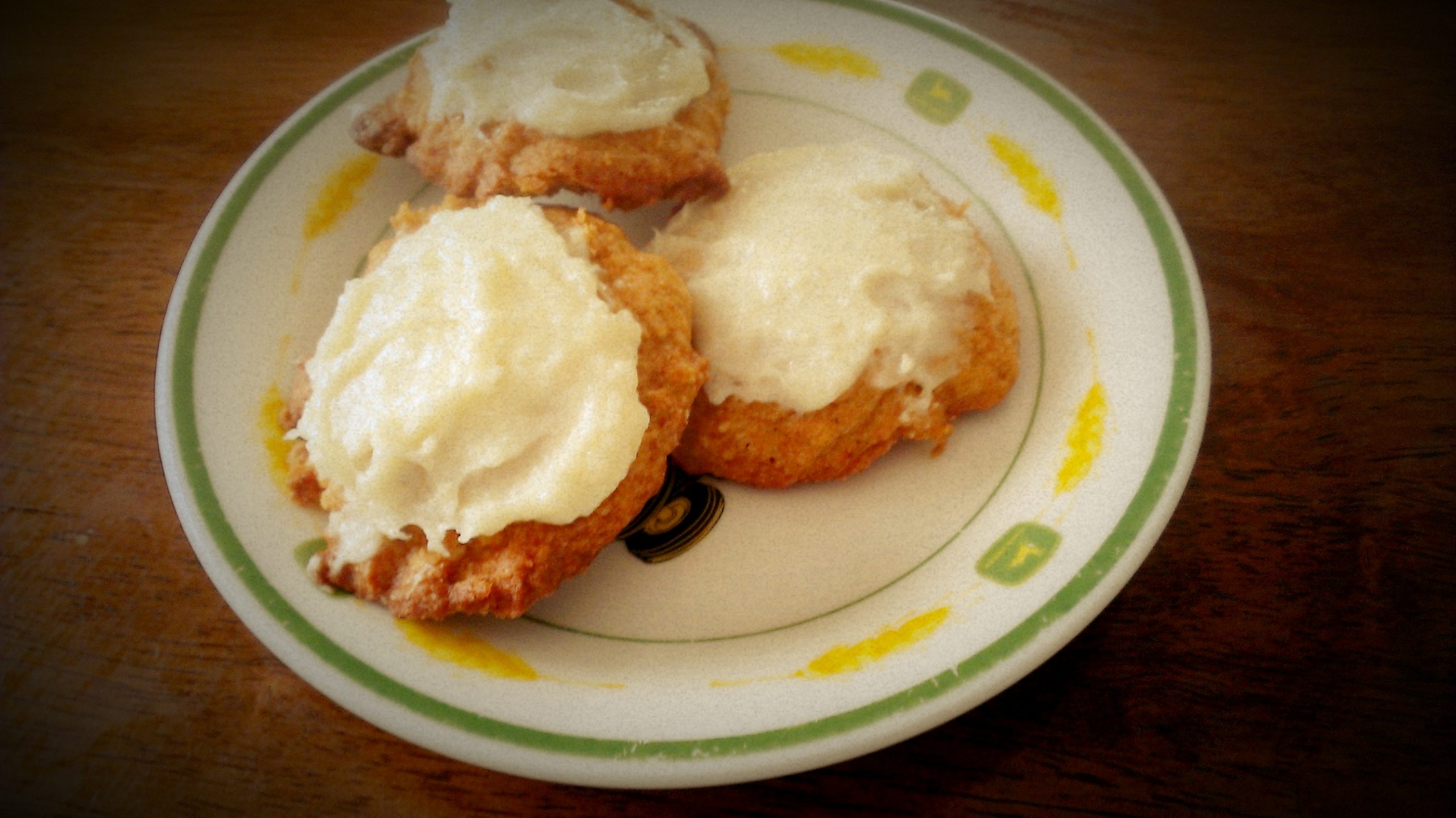 Pumpkin Cookie & Cream Cheese Icing
I always look forward to autumn. The temperature is always perfect, whether it's crisp and cool or those last golden rays of sunshine wrapping you in their warmth before the winter descends upon us. Pumpkins and mums decorate porch steps every few houses. The bright blue skies are painted with the radiant colors of shimmering foliage. The giant hillside tree marks the points of the season as orange slowly migrates over the green from the very top to the very bottom. Once the orange hits those bottom leaves, the top of the tree begins to bald, and the baldness migrates through the tree, until its emptiness declares winter has all too soon arrived. BUT… while autumn is here, it is a time to celebrate. It's God's grand finale of the seasons, giving the landscape a peak of beauty before it morphs into a cold, dry, desolate hibernation. It is the time of apple cider, crunching leaves beneath your feet, AND…. anything with pumpkin and cream cheese!
I LOVE cream cheese treats. If it has cream cheese in it, I don't even have to try it. I like it. I have been warning my husband for months that when cream cheese goes on sale around Thanksgiving, I will be stocking up. I have been dreaming of that moment when the grocery store flyers reflect the season and cream cheese becomes affordable in abundance. Since it has not been on sale, I've been disciplining myself not to purchase any… except for the other day… the other day I splurged and bought a 2 pack and one of those precious bricks became the icing of my favorite fall cookie.
This particular heaven-inspired cookie:
Pumpkin Cookie with Cream Cheese Icing 
Imagine pumpkin roll without having to roll the roll. That's what this is, and it's quite remarkable.
Here is the recipe:
Cookie
Ingredients:
1 cup white sugar
1 egg
1 cup shortening
1 tsp. vanilla
2 cups all-purpose flour
1 tsp. baking soda
1 tsp. baking powder
1 tsp. salt
1 tsp. ground cinnamon
1 cup canned pumpkin
 Directions:
Preheat oven to 350 degrees F (175 degrees C). Grease cookie sheets.

In a large bowl, cream together sugar, egg, shortening, and vanilla. Sift together flour, baking soda, baking powder, salt, and cinnamon; stir into the creamed mixture. Stir in the pumpkin. Drop dough by teaspoonfuls onto the prepared cookie sheets.

Bake 10-15 minutes in the preheated oven.
Icing
Mix together until smooth:
8oz Cream cheese
2TBS butter
1 cup confectioner sugar
1 TBS vanilla
(Over the years I have had a lot of different "cream cheese icings" on various desserts. Most are too bland, and don't have enough cream cheese flavor. This by FAR is the superior cream cheese icing. Just the right balance of sweetness and cream cheese, and I use it for ANY recipe that calls for cream cheese icing. I don't even bother with the icings that recipes list.)
TIP:   When covering iced treats, if you don't want the icing to come off on the plastic wrap make a "tent" by sticking tooth picks in the cookies, and resting the plastic wrap over them, and then tucking over the sides of the tray as you usually would. 
What are your favorite fall treats? What cream cheese goodies do you love most?