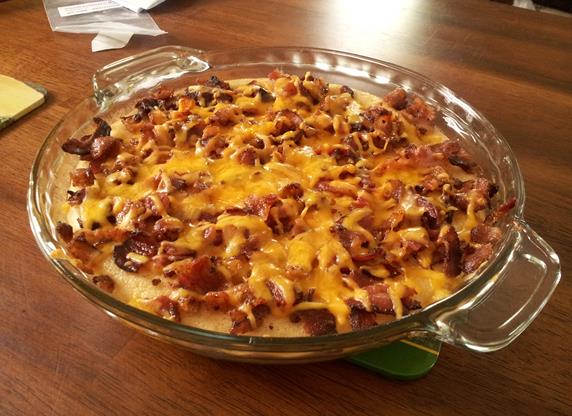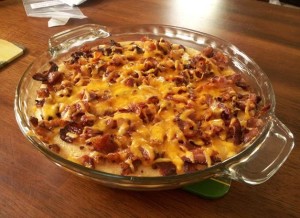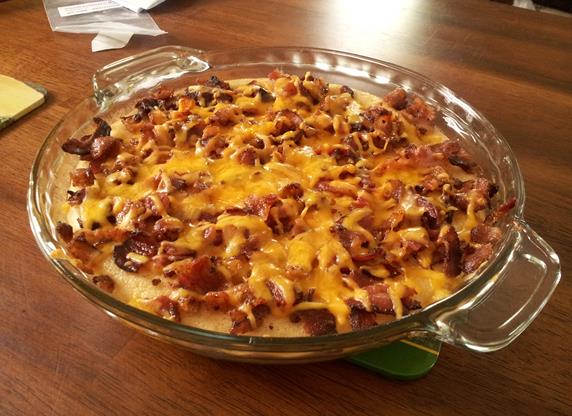 Bacon is not something we have frequently because it is astronomically expensive, but, when we do have it, we use it to create divine luxuries such as… The MAPLE BACON PANCAKE!
Hello sweet and salty breakfast!
This is one of those recipes that never gets old and that is a good thing because it's quick and easy, you will be tempted to throw it together all the time!
Maple Bacon Pancake
Ingredients:
4 oz. bacon (but the more the better! YUM!)
1 cup baking mix
1 1/4 cup shredded cheddar cheese
1/2 cup milk
1/4 cup of maple syrup
2 TBSP of white sugar
2 eggs
Directions
Preheat oven to 350 degrees F
Place bacon in a large, deep skillet. Cook over medium high heat until evenly brown. Drain, crumble and set aside. Spray a 9 inch pie plate with non-stick cooking spray.
In a large bowl, beat together baking mix, 3/4 cup cheddar cheese, milk, maple syrup, sugar and eggs until only small lumps of cheese remain. Pour into prepared pie plate.
Bake in preheated oven for 10 to 15 minutes, until a toothpick inserted into center of pancake comes out clean. (DO NOT do the next step until the pancake is cooked through)
Sprinkle bacon and remaining 1/2 cup cheese over top of pancake. Bake until cheese melts, about 3 to 5 minutes.
SERVE WITH WARM MAPLE SYRUP!
What are your favorite quick and easy breakfast recipes?
_______________________________
Blog Hops & Link-Ups
Mouthwatering Monday, Weekend Potluck
&