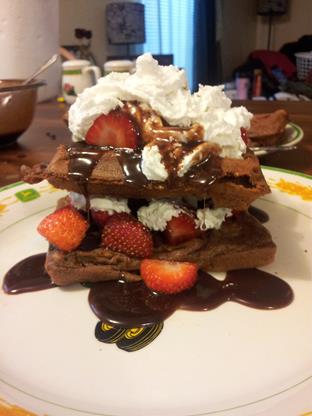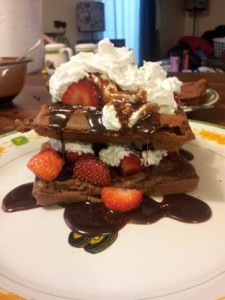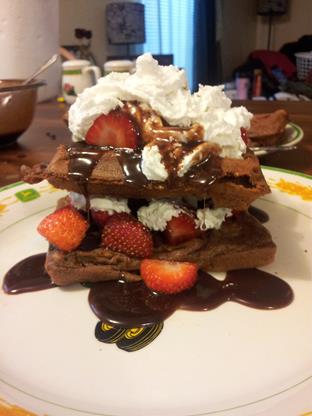 Chocolate waffles… fresh strawberries…. whipped cream! Oh my! Oh… and don't forget the chocolate maple syrup!
This is one of the most delightful breakfasts! A real treat for your husband or family on a special occasion!
While it is super easy to fix, I would recommend it for a Saturday, or a morning when you will not be any hurry.
Why?
Because it's so pretty you need time to enjoy it!
Space
Space
Space
Ingredients
2 cups Buttermilk Pancake & Waffle Mix (Just Add Water) We use generic and it works great!
1 1/4 cups water
1/4 cup Pure Canola Oil
1 egg
3/4 cup Chocolate flavored hazelnut spread, divided
No-Stick cooking spray
3/4 cup Maple Syrup
4 cups sliced fresh strawberries
aerosol whipped topping
Directions
Heat waffle iron according to package directions. Whisk pancake mix, water, oil, egg and 1/2 cup chocolate hazelnut spread together in large bowl just until blended.
Coat hot waffle iron with no-stick cooking spray. Pour about 1 cup of batter onto center of waffle iron and close lid. Bake 5 to 6 minutes or until steaming stops. Repeat with remaining batter.
Combine syrup and 1/4 cup chocolate hazelnut spread in small microwave-safe bowl. Microwave on HIGH for 30 seconds. Stir until smooth.
Place waffle on serving plate. Top with 1/4 cup strawberries, whipped cream, another waffle, 1/4 cup strawberries and finish with whipped cream. Repeat with remaining waffles. Serve with chocolate hazelnut syrup.
What dishes do you fix for special "treats" in your home?
_________________________________
Blog Hops & Link-Ups