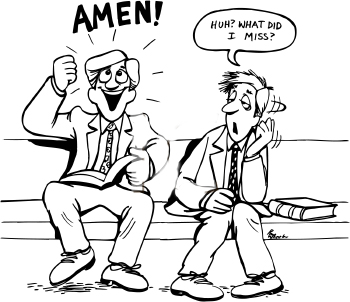 Are You Ready for Church?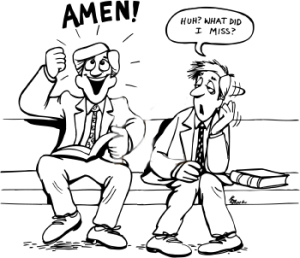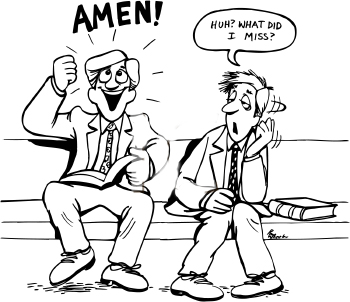 Comb your hair, straighten your tie and pull your suit jacket on.
Strap on your heels, dust your hair with a final cloud of hairspray and take one last look in the mirror.
Grab your purses, your Bibles, your keys and head out the door. You're ready for church.
But are you ready for church?
It's easy to forget the entire purpose of coming to the house of God. Our motive shouldn't be fueled by an empty obligation to fulfilling the social protocol for being a Christian. We don't go to church simply because that is "what we're supposed to do."
The purpose of coming to church is to set aside a time to come into God's presence as a body of believers. To worship God, to hear His Word preached, and to take part in edifying the saints. We come to church not only to receive, but to give, and give our best.
It is an interesting concept, but none of us would ever think of going to church looking sloppy, half-dressed, or like we just crawled out of bed, but so often we bring our spiritual state to church in a shabby, unkempt state.
It shows up in a variety of ways as the service unfolds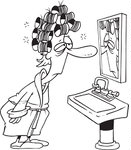 How attentive you are to the Word as it is being preached.
A "ready heart" listens with earnest desire to glean whatever it can from the sermon.
An unprepared heart busies itself with any distraction from clipping fingernails or balancing checkbooks to entertaining wandering thoughts.
2. How eager you are to worship at any opportunity.
A "ready heart" is excited to throw up their hands at the first opportunity to praise God, and is not bothered by how others may or may not be responding.
An unprepared heart is hesitant to worship, too tired to raise their hands, and holds back.  They are hindered easily by the stops and starts of the music or the fear of what others may think
3.How prepared you are to testify and edify fellow saints
A "ready heart" has a scripture or a testimony on their heart, ready to give public praise to God for something He has done or spoken to them. They are ready to contribute something to help their brothers and sisters in Christ, by glorifying God and pointing to Him.
An unprepared heart cannot think of anything 'worth saying' or struggles to remember what God has done for them recently.
A "ready heart" has already given their own difficulties over to the Lord, and is ready to minister to and bear the burdens of their brothers and sisters in Christ the moment they walk through the door.
An unprepared heart drags so much unnecessary baggage through the door that they are not able to help their fellow believer war in the altar.
4. How fervent you are in prayer
A "ready heart" has already spent time in prayer before service, so it is already in the attitude of prayer IN service.
An unprepared heart may pretend they are praying, or find a reason to get out of praying, or feels uncomfortable praying for some reason. You can almost be certain that a person that cannot pray in church is not doing much praying at home!
5. How you respond at the altar call
Depending on what the altar call is for, a "ready heart" is eager to respond simply because they desire to grow and develop a deeper walk with Christ. Even if it does not seem the topic preached about was exactly 'for' them, they eagerly search for a way to apply it to their lives on some other level.
An unprepared heart hangs back and feels awkward responding to an altar call. They worry about how it will look, or they let bashfulness prevent them from responding.
When no one has prepared themselves to give God worship or to edify others in some small way no one has anything to offer, and all leave empty handed; perhaps even with less than what they came with. It's the surest recipe for a dead, dull, dreary, dried up service that leaves EVERYONE feeling discouraged.
But when everyone comes with a heart overflowing with praise from prayer time they set aside before church, and with a song on their heart, a scripture on their mind and a soul hungry for meat from God's Word, everyone is ready to give, ready to receive, and everyone is blessed.
Ironically, when we give more than we think we have, we are blessed in such a way that we walk out the doors doubly strengthened, and with more than we walked in with.
Challenge:
This week, spend time in prayer preparing your heart for church before you arrive.
 Loosen up the soil so the seeds of God's Word can be planted well. Be ready to listen attentively to God's Word being preached.
Have your mind fixed upon worshiping God and entering into His presence and jump into worship head first at the first opportunity that arises. He's been so good to you, be ready to give back to Him in sincerest worship.
Come to church with a scripture, and be ready to share how it blessed you.
A "church ready heart" will never leave the house of God disappointed.