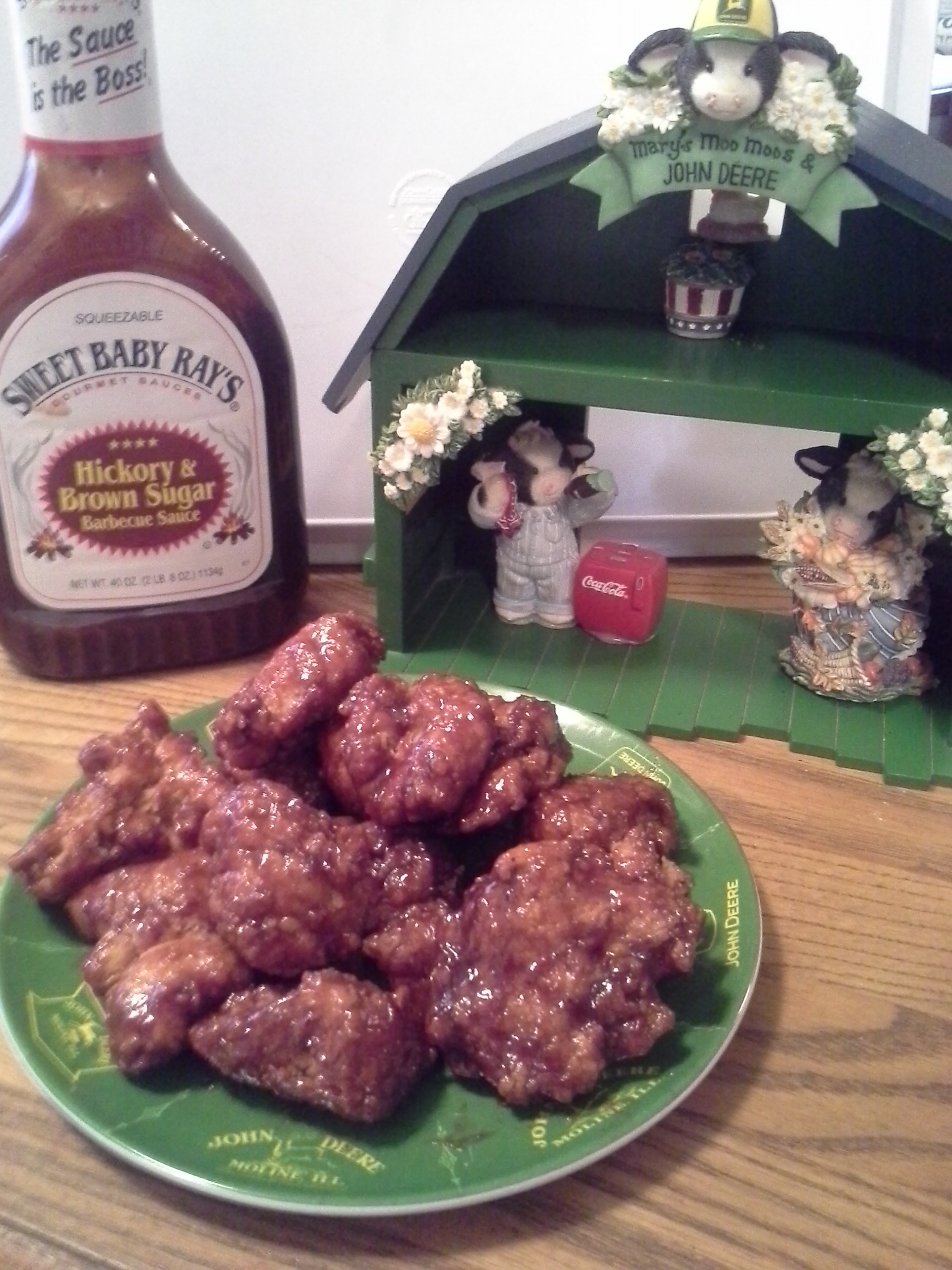 Applebee's Boneless BBQ Wings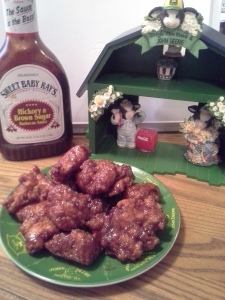 Before I met my husband, Applebee's was my favorite place to eat and Boneless Honey BBQ wings were my favorite menu item. In spite of their high calorie status, I was a faithful, weekly customer during their half price appetizer hours.
Then, Mark and I started dating and I found out he didn't eat at restaurants that serve alcohol. After my initial panic while considering a lifetime without the plethora of restaurants I was used to, I decided that Mark was worth giving up everything from Applebee's to Olive Garden and more. 🙂 As it turns out, it really has not been that big of a deal. So, for the last few years, I have been a trooper. Occasionally, silently pining after Applebee's Boneless BBQ wings, but resolutely standing beside my husband's convictions, and…. it has paid off.
Mark often contends that we can figure out the recipes of these delicious entree's ourselves, but I am generally not convinced. Sure, we may come up with something similar, but it could never truly be the same. I mean, any attempt at Applebee's Boneless wings would wind up a desecrating fail. Not these though! These are the real, real deal.
Hubby gets the credit for this one. He kept teasing me about the wings he knew I couldn't have and acting like I could just "whip them up" myself. Once I was on the verge of despair he revealed the recipe he was mischievously concealing on his laptop.
These disappeared almost instantaneously. While I was trying to take a picture of them for this post, Mark was plucking them out of my arrangement! As soon as the camera snapped there were barely any left for me!
Without further ado, the recipe of all recipes, and the secret behind getting them just right.
Applebee's Boneless Honey BBQ Wings
(Makes 4-8 servings)
Ingredients:
2 Chicken breasts, halved, and then cut into app. 2″ chunks
2 Cups of White All-Purpose flour
4 tsp. Salt
1 tsp. Black pepper
1 tsp. Red Cayenne Pepper
1/2 tsp. Paprika
1 egg
1 cup milk
1 cup of Sweet Baby Ray's Honey BBQ sauce (We used Hickory and it was just as delectable!)
Directions:
1. Mix the dry ingredients in a large bowl.
2. Whisk the egg and milk to make an egg wash.
3. Dredge the chicken chunks in the flour mixture.
4. Saturate the chicken chunks in the egg wash.
5. Dredge chicken in flour again.
6. Saturate in egg again.
7. Dredge in flour mixture again- (They should go in the flour mixture 3x total, to get the level of crispiness you experience at Applebee's!)
8. Place breaded chicken on a tray and refrigerate for 20 minutes. (This helps your breading stick when you fry it!)
9.  Fry batches in a deep fryer at 375 degrees for 6 minutes.
10. Drain wings on a paper towel lined plate.
11.  Pour 1 cup of Sweet Baby Ray's (more if you like them extra saucy!) in a large bowl, along with all the fried chicken. Stir with a spatula until all wings are coated evenly.
Sweet Baby Ray's is truly the secret to these wings- you won't get a divine "Applebee's Wing" using any other brand. 🙂
Hope you enjoy them as much as we did!