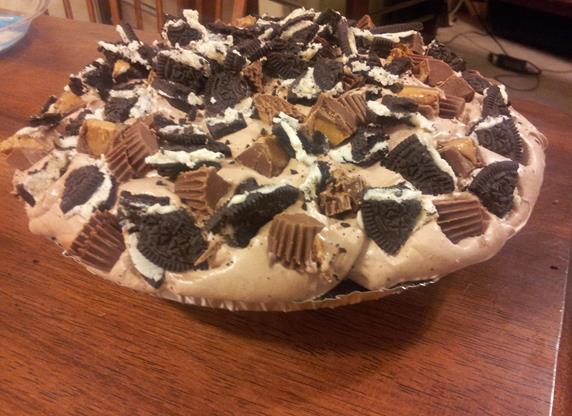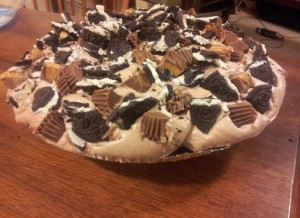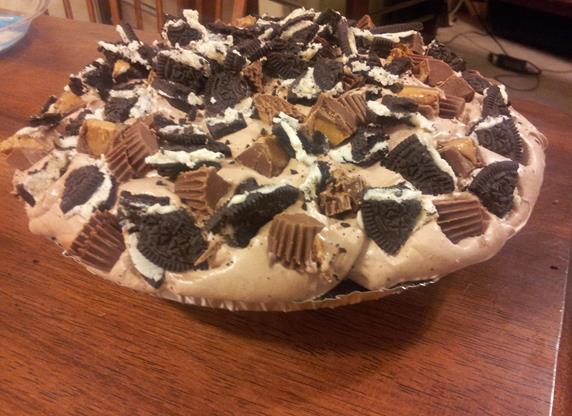 And… this is why my husband and I have put on weight. 🙂 Still… there's nothing wrong with an occasional splurge on a special occasion! This one was for our first party with invited guests to watch the Bill Nye vs. Ken Ham debate on Creation and Evolution with a few of our close friends. I must say I thoroughly enjoyed playing "hostess"! I plan to do it again when I can!
I dubbed this the "All-Terrain Pie" because you need an "All-Terrain fork" for this beauty!
This wonderful dessert is ALL THINGS INCREDIBLE! Oreo crust, peanut butter pie, chocolate pudding, and sweet goodies on top! You can even add caramel and/or Hershey syrup on top to make it even more delightful!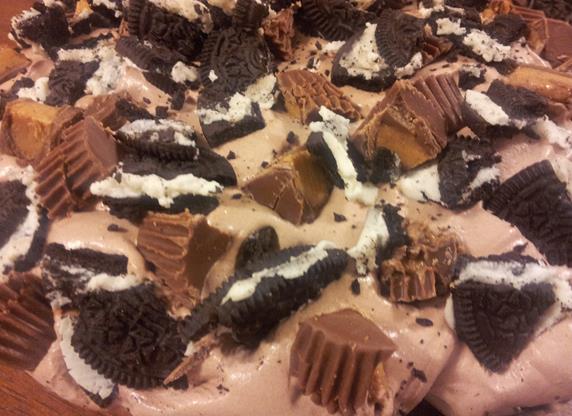 Ingredients:
1 pre-made Oreo crust
1 8oz. package of Cream Cheese
1/2 Cup Creamy Peanut Butter
1 1/2 Cup Confectioners Sugar (divided)
1 Cup cold milk
1 small box of instant chocolate pudding
1 16oz carton of frozen whipped topping (thawed and divided)
Miniature peanut butter cups, cut in quarters (as many as you like!)
Several Oreo cookies, broken, but not completely smashed
Directions:
In a large bowl, beat the cream cheese, peanut butter and 1 cup confectioners' sugar until smooth. Fold in half of the whipped topping. Spread over crust. Sprinkle with peanut butter cups (you can add some of the broken Oreos here as well if you'd like)
In another large bowl, beat the milk, pudding mix and remaining confectioners sugar on low speed for 2 minutes Let stand for 2 minutes or until soft-set. Fold in remaining whipped topping.
Spread over peanut butter cups. Crush remaining cookies; sprinkle over the top. Cover and chill for at least 3 hours.
CUSTOMIZE:
The best thing about this? You can customize this with so many "extras"! You could add nuts, caramel, chocolate syrup, your favorite candy bar crushed, etc! No reason to limit it to Reese Cups and Oreos!
What is your favorite indulgent dessert recipe?
___________________________
Blog Hops & Link- Ups