This post may contain affiliate links, which means I may receive a commission, if you make a purchase by clicking on the links on this page.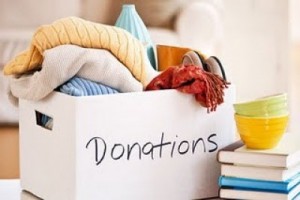 With less than six weeks to go before my husband's graduation from Bible College, the big move is getting ever so near. I am excited about embarking on a new journey with him and seeing what the Lord will unfold. I mentioned several weeks ago about our decision to whittle away our possessions to make the move less of a financial strain, so I have been working through the sifting process of our belongings.
I had a small sale for girls on campus and allowed them to come over and go through things. After that I sold several garbage bags full of clothes to some friends. That was helpful and gave us a nice little "tip" for some extras we had been needing for awhile.
Even with the sale though, it left a lot of stuff to get rid of. I decided I better just jump in completely and commit to getting rid of the stuff even if it couldn't be sold, so I began boxing for Goodwill. I had to force myself past sentimentality in a lot of places, and I had to think hard about the true value of each item, and… I had to ask myself difficult questions like "Which is more important to you?" and "How long has it been since you used this?" Sometimes that resulted in some uncomfortable tossing, but… ultimately, it feels liberating!
So far I've gotten rid of TONS of clothes and shoes, all of my craft supplies, lots of food that just wasn't getting used, a large number of books, several small kitchen appliances, a multitude of blankets, a lamp, board games and toys, random household fixtures, all but the necessary dinnerware, the doubles of anything we had two of, a Christmas tree, a huge box of Christmas lights, and another box of Christmas decor. Once we got it out of the house I was able to regain possession of 2 out 3 of our bedrooms, which is a WONDERFUL feeling. At this point I'd say about an eighth of our possessions have made their way out the door to new homes with many, many more things waiting for their turn.
Mark and I went inside Goodwill the other night just to look around and I happened to see several pairs of my shoes sitting on the shelves there. It's always a strange feeling when you see your former possessions hanging on racks and stacked on shelves in a thrift store, but oh…. did it EVER feel good knowing they were not my problem anymore! 😛
After clearing the hallway once, I've restocked it with another round for Goodwill and friends who have expressed interest. I started to go through a footlocker that holds all of my journals and special little notes from friends and drawings from kids down through the ages… but I found I didn't have the heart to sort that yet. I know it will have to be done and I will have to do some sifting. No doubt there will be some tough decisions in that trunk, but in the end it will all be worth it. 🙂 I am genuinely looking forward to a more minimalistic lifestyle on the other side of this process.
So… to encapsulate…

1.   Have a designated place to relegate the unwanted to.
Keep a box or two handy to put things in as you stumble across them. When I am cleaning or doing anything in the house, I often find something here or there that I think, "I can part with this…" and instead of letting it lie around and get reabsorbed into our life, I take it straight to the boxes. When a box fills up, we drive it off to Goodwill.
2.   Don't Rescue.
Be committed when you put something in a box to get rid of, that it will NOT be reacquainted to the world you detached it from.
3.   Reassess your inventory of possessions frequently.
A lot of things we can't bear the thought of parting with the first time around, are easily parted with a second time around. We have a clearer mindset of priorities and stuff we bypassed becomes clear Goodwill material. I have a book shelf designated as my "Do not part with zone" while we prepare to move. I can't tell you how many times I have returned to that shelf and found things that I could part with easily.
4.   Don't hold out forever with the intent of listing on Craigslist, eBay, having a yard sale or otherwise making a buck.
The guilt of giving away items you spent money on can sometimes drive us to clinging to possessions with the hopes of getting some of that back. If you want try to make money on them, do it quickly, make that last ditch effort, and whatever doesn't sell, refuse to drag it back into your home.
I also have an organizing pattern regarding things to get rid of. If I am willing to give it away immediately, it goes directly into a Goodwill box. If I want to try and get something out of it I put it in a "to sell" box. If I can't bear the thought of it going to Goodwill, I put it in a box to give close friends "first dibs".  If the stuff in the "to sell" or "first dibs" boxes are there too long, I simply force myself to send them to Goodwill.
5.   Keep the better one of any multiples (or extremely 'similars') and get rid of the duplicate.
Two of anything is generally more than you need. This past week I weeded out 3 out of 4 spring-form pans, 3 out of 4 cookie sheets, 2 out of 3 baking pans, and… kept a blender in favor of a food processor… to name a few things.
6.   Be selective with sentimental choices.
If you have a lot of belongings with sentimental value attached, choose the best of the best. Several mementos from a particular occasion? Choose one or two. A box of drawings from kids you love? Pick one or two. As a side note, if you really don't want to let go of several paper mementos, you can scan them, put them on your computer, and ditch the paper copy! You keep the sweetness, but ditch the clutter. I think I am going to do this with some when I tackle my trunk of notes and cards!
7.   Ask yourself when the last time you used the object was.
If it has been a year, just let it go. You aren't going to miss it. I saw a neat trick similar to this on another blog once. They suggested putting items in a box and closing it with the date written on the outside. If you have not gone to that box in a year from that date to get anything out of it, get rid of it without looking inside so you don't try to rescue it!
8.   Don't let guilt govern decisions.
For a long time I kept this large bulky object in my house. I did not like it, but because it was a gift, I just couldn't part with it. I WANTED to be rid of it, but GUILT kept me hanging on… I finally had to recognize the only reason I still have this is guilt… so I let it go and forgave myself.
9.   Keep the ultimate goal in mind.
When I am having trouble making decisions, I remember that the ultimate goal is to minimize our possessions to make moving more affordable (and as a perk- achieving a clutter-free environment) it gives the process more clarity and helps me ascertain the true value of whatever object is in question. I enjoy my curtains, but do I like my curtains so much that they HAVE to go with us and we HAVE to spend money to make room? Nope…
10.   And… most importantly, remember what God's Word has to say about possessions.
"Lay not up for yourselves treasures upon earth, where moth and rust doth corrupt, and where thieves break through and steal: But lay up for yourselves treasures in heaven, where neither moth nor rust doth corrupt, and where thieves do not break through nor steal:For where your treasure is, there will your heart be also." Matthew 6:19-21
It is so important not to let our earthly possessions take hold of us. Jesus commanded the rich young ruler to sell all he had and give the money to the poor and follow Him, but the ruler went away sorrowful because he had much. So much that he could not part with it to obey Christ. It is my goal to reduce our possessions to the point that they do not create any hindrance to fulfilling the call and commission of Christ. If He says "Go!" We want to be able to get up and go, and not be shackled by the chains of earthly possessions!
And…. One box at a time, we are getting there. 🙂
What are some ways you keep possessions from taking over?


Blog Hops & Link-Ups
_______________________________