This post may contain affiliate links, which means I may receive a commission, if you make a purchase by clicking on the links on this page.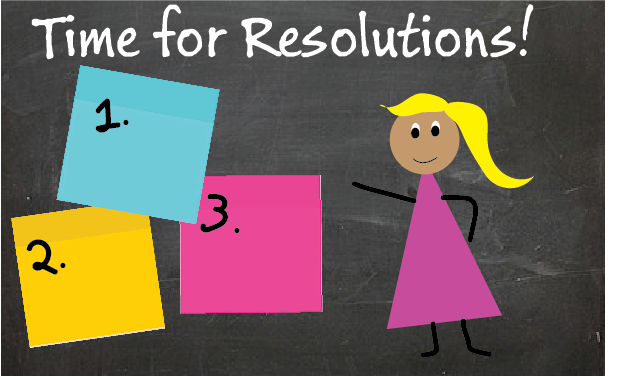 While some people find the concept of "resolutions" cliché and pointless because of the failures associated with them, I find it refreshing to sit down every January and put goals to paper. I would be lying if I said I'm successful with every item on my list. I may not have made it to Revelation chapter 22, or tried every vegetable like I planned, but I did try about 8 new ones, and I lost 59 pounds. I had a lot of personal victories in 2017 as well, so I'm happy about the strides I made in the last 12 months.
Even if we don't accomplish everything, the act of setting goals is an important part seeing ourselves, being aware of what we need to improve, and taking action to get there.
So, here are my goals for 2018
Building Relationships
I've spent my lifetime being a hermit, and content tucked away from civilization, but in 2017, I often caught myself feeling lonely. I'm surrounded by scads of potential friends, and people that have tried to include me, but I struggle with an immense level of social anxiety.
This year I am pushing myself out of my comfort zone and investing in the relationships in my life. Making time to hang out, to go to the mall with the girls, to have friends over for fun and games… and hopefully, deepen my friendships as a result.
Reaching Goal Weight
I started my weight loss journey in September, with a goal-weight-date of April 20, 2018; my 30th birthday. Thirty is a scary number, but it's even scarier if you don't like what you are when you cross that threshold. I lost myself in my latter twenties, and this journey was about "taking it back." I am currently on schedule to reach my goal weight on my projected date, so turning thirty has become something exciting that I am now looking forward to. I'm excited about the next decade, and getting to spend it as "me" without the weight obscuring how I feel about myself!
Developing a Skill
Reaching Goal Weight comes with a special gift from hubby that I plan to hone a skill with. I know that completing my weight loss will probably lead to a "what-now-crisis", so I've lined up a goal to transition all of my drive and motivation to when I get there. I'm excited about taking up this hobby, and getting good at it, and by the end of the year, I hope to be making money from it.
Teaching My Boy
 I realize Zane is a toddler, but toddlers are SPONGES that soak up information and skills at sonic speeds. I've always planned to take advantage of this age with my children, but life gets busy, even as a stay-at-home Mama, so I haven't been as consistent as I envisioned. This year, I plan to spend three hours a week, teaching Zane fundamentals like colors, numbers, letters, shapes and such.
Decorating My Home
I had to accept the fact last year that completely decorating our home all at once was unrealistic. I made some great strides in 2017, getting most of the furniture, and painting almost all of the rooms and establishing foundations to work from but… there's still a lot to be done. Paint touch-ups, curtains, mantle, wall décor, area rugs, throw pillows, counter tops and new carpet… painting the kitchen and acquiring smaller furniture pieces. I won't get to EVERYTHING I dream of doing, but I do have a REALISTIC list this year for my home.  My goal is to take it slow, do one thing at a time, but stay consistent, and watch it come together.
Bible Reading and Family Devotions
I already confessed to flopping at this last year. But… I've downloaded my Olive Tree app, and I'm attempting M'Chyene's plan again, along with a Bible story with Zane every day.
Spiritual Growth
For the past several years I have been distracted by questions and inconsistencies, and I've spent a lot of time sifting through and analyzing things I've believed simply because it's what I was taught. But this year, I want to just set that distraction aside, and instead of seeking answers, I want to seek Jesus. I feel like I can't go wrong if I simply seek Him, and get closer to Him, so that's my goal for 2018.
Cooking Variety
I think I'm probably in the same boat as most wives when I say I am cooking in a rut. I prepare the same five meals for my family over and over, and we are ready for variety. Last year I was pretty unrealistic, thinking I could do a new meal every week, but… that's 52 in a year and new recipes take a lot more effort to plan so I didn't get very far. This year though, I decided to scale back and try a new recipe once a month. If we like it, we'll add it to the rotation, and hopefully, by the end of 2018 I'll have 10-17 recipes in the rotation.
So… other than a few personal things that were left out, that's how I plan to improve in 2018.
I'd love to hear some of your 2018 resolutions in the comments!