This post may contain affiliate links, which means I may receive a commission, if you make a purchase by clicking on the links on this page.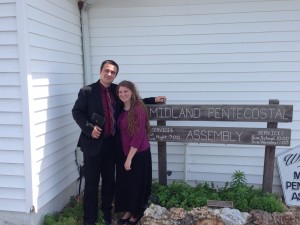 Two weeks ago we crammed as many of our possessions as possible into our little Toyota, and left a world behind to begin a new life.
Our destination: Arkansas.
It didn't take long for us to drive out of Sprint territory, and life on the road makes internet availability pretty spotty, so… it probably seems like we have dropped off the face of the earth. I can assure you though that we are both alive and well.
In the months leading up to our departure, we were asked a lot of questions. I learned the skill of 'deflection' with the steady supply of inquiries about where we were going, why we were doing it, and what our plan was when we got there. It wasn't that I was trying to evade the answers. I just couldn't give anyone the kind of answers that would satisfy them. I didn't have them myself. I couldn't offer any of the initial assumptions people had such as a job offer, or ministry offer, or family in the area, or a specific calling to the location.
To put it very simply, we completed a huge chapter of our lives, and we didn't know what the next step was. There were a handful of unlikely opportunities, but we were keeping an open mind and heart about them. Still, we needed a place to seek God for His direction.  We put our heads together; decided what was necessary in such a crucial time was a good holiness church, a pastor with the mind of God, and to be a 'good long way off'. That led us to the decision to move, at least temporarily, to Arkansas.
A few days before leaving, a slight alteration was made to our itinerary with the passing away of Mark's Grandfather. We had not intended to stop in Missouri, but when this happened, plans were changed so we could attend the funeral. Because we were going to be in the area, Mark agreed to preach a special service in the local church on Thursday. By Friday, we were supposed to be on the road again for the final 8 hours of our journey.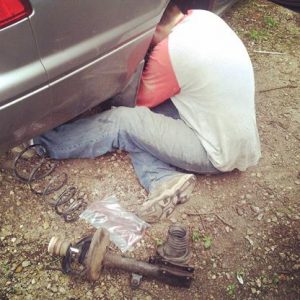 While we were at Mark's parents' house though, we ran into a bit of car trouble. We knew when we left Pennsylvania that the struts would need to be replaced when we got to Arkansas, but we hadn't considered the extra damage the weight of our belongings would inflict as we traveled. By the time we got to Missouri, repairs were mandatory if we hoped to go any further.
Still, as Mark collected the parts and tools, my hopes remained high that we would be on the road in no time. I was looking forward to being on our way again. I was experiencing an uncomfortable sense of 'homesickness without a home' and getting to Arkansas meant discovering that elusive "home."
While Mark worked on the car, I spent a great deal of time making those 'priority changes' I said this time of my life was going to be about. I spent time thanking God for every blessing, worshiping Him, interceding for others, and… praying for ourselves, seeking that direction we set out for. I prayed for God to lead us, for Him to direct our steps, to give us a ministry and lead us to it, to lead Mark to the perfect job and home.  I was bathing our lives and our entire existence in prayer. While I was praying, I discerned that Mark was struggling with a stubborn bolt and, being assured recently that God answers the prayers of the pure in heart, I prayed FERVENTLY for that bolt to come loose.
As the day went on, Mark remained at a complete standstill because of that one small bolt that refused to budge. It was Friday, our anniversary was Sunday, and as much as I love my in-laws, I really didn't want to spend our first anniversary stranded at their house. When Mark broke the news to me that he hadn't gotten any further, I was completely devastated. After spending so much time praying, believing in faith that God would answer my prayers, the tiniest one of all… for God to remove a simple bolt… was not answered. I couldn't wrap my mind around it, so… I plopped down on the tire next to my husband, tearfully shared my disappointments… and then took those disappointments to Jesus and, remembering those other things I prayed about guidance and direction, prayed for Him to help us see and understand the purpose.
Since the car was taking so long to fix, and Mark was in the area, it was arranged for him to preach again at Midland Pentecostal Assembly. We knew they were looking for a Pastor; Mark was asked to consider the role several times in the past few months. We had prayed about it, considered it, remained open to it, but because of a variety of circumstances, we really had no intention of pursuing it. We knew there was a need but we also knew that God's hand and calling was VITAL if we were to accept such a position.
That night, because our anniversary was Sunday, some kind soul arranged for us to stay in the empty parsonage. Saturday night, we were able to get alone with God and seek His face and a burden began developing in our hearts.  We sought Him earnestly, and laid our all of the altar- God… if there is a reason You delayed us, something You want us to say, to do… we will do it. We are available.
On Sunday morning we went to church and throughout the morning I heard them discussing their need of a Pastor and how they longed for someone to come help them.
The scheduled lesson in their quarterly that morning then astounded me:  Paul's Macedonian call.
As we read through the scriptures, the words made a fiery brand in my heart as it echoed our situation, and the cry of these people. Paul "thought to go to Bithynia, but the Spirit suffered him not" and he saw a vision of the Macedonian saying "come help us!"  "Mark and Becky thought to go to Arkansas, but the Spirit suffered them not. The people at Midland cried "Come help us!"
For the remaining portions of the day that weren't spent in church, we didn't go out and do romantic things to celebrate our anniversary. We spent our first anniversary seeking the direction of God, imploring Him for His will, and making ourselves available to Him in spite of all of the inadequacy we feel.  Passion, inspiration and zeal for the church, love for the people and burden for the community… they were all born in that time of prayer.
Monday morning my husband asked me if I was willing to be a Pastor's wife. It became apparent that God had obviously been working on his heart in the same way He had been working on mine. We stepped into the temporary role with willing, available hearts, ready to see what God has in store, and to fulfill whatever purpose He has for our time here . Keep us in your prayers as we remain obedient to His will!